FL Studio Groove for Windows 8.1 updated with MIDI controller support and more!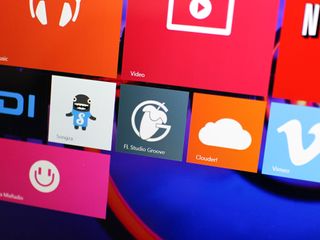 It was last September that we told you all about FL Studio Groove for Windows 8. It's groovebox that allows you to produce live, loop-based electronic music and it's optimized for touch. Perfect for making beats on your Surface 2. FL Studio is one of the biggest names in digital audio workstations and a lot of folks like using their software. FL Studio Groove features a 10 pad sample-based drum machine and 5 polyphonic synch channels for users to compose, arrange, edit mix and perform professional quality music.
FL Studio Groove just picked up a really nice update for Windows 8.1 users that will make a lot of you with MIDI controllers happy! Let's check out what's new in the latest version of FL Studio Groove!
Head into the Windows Store and you'll see FL Studio Groove (image-line.com/ (opens in new tab)flstudiogroove (opens in new tab)) sitting at version 1.2. The update is actually pretty big and adds a ton of features. You'll need Windows 8.1 to take advantage of it. Here's what's new:
MIDI controller support (select device from Control Bar under MIDI). NOTE: Requires Windows 8.1 Update 1 [KB 2919355].
Link a parameter a MIDI controller by moving it and clicking 'Link' located on the upper right of the interface.
Keyboard now has Pitch Bend and ModWheel controls.
Playlist (Automation window) is now loopable. Double tap, hold and drag along the lower time-bar.
Tempo control has changed from a slider to a jog wheel.
Instrument Channels can be renamed without saving.
Graphics optimized for a wider range of screen resolutions.
Many small optimizations and bug fixes.
A lot of you expressed the desire for MIDI controller support in FL Studio Groove when we first covered the app last fall. Now it's here! Have a MIDI Controller laying around? Plug it in and let us know what you think of the support in the latest version of FL Studio Groove. MIDI controller support is probably the biggest change and addition to the app, but there's a lot more.
Version 1.2 of FL Studio Groove also throws in new controls for the keyboard, tempo control is now a jog wheel and there are various other optimizations and bug fixes.
FL Studio Groove was available for just $4.99 when we first covered the app, but we told you guys and gals that was a limited time price. The app now goes for $9.99, but is definitely worth it for the best and most full featured music maker on Windows 8.1. Let us know what you think of the app! Don't forget to check out the getting started video for FL Studio Groove or read their getting started guide!
Download FL Studio Groove from the Windows Store (opens in new tab).
Get the Windows Central Newsletter
All the latest news, reviews, and guides for Windows and Xbox diehards.
Pretty cool for musicians I believe

So I guess the question is, was it an API limitation ? Or did they just decide to get serious in supporting the platform

API limitation from what I understand. Windows 8.1 enabled them to include MIDI controller support. The app initially came out a few months before Windows 8.1 was available.

Woo! Thanks for sharing Pete. Not sure why you couldn't drop the link in. For anyone interested here's the Build talk - http://channel9.msdn.com/Events/Build/2014/3-548

Looks like a few of my messages disappeared after the fact. Very odd. Anyway, you have the link that tells the story. Thanks for posting it. :)

Will vlc for wp8 ever be released?

It's already on marketplace :S

Unless free app is a must for you, moliplayer is very very good app for video playback.

I use to play around with FL studios back in the day now it's an app this is cool

How do I play .midi files on WP 8/8.1?

Looks nice, but I think I'll stick to the desktop version.

Should be cool to have an app for wp... They got me if they do!

I hope Propellerhead release a Reason companion app for RT that works alongside full Reason. That would be awesome! Although I might pick this up...just to come up with melodies that I can save as midi files to work on later.

Great! I needed this yesterday and was wondering if it had that feature... Now I can use my surface2 in the home studio.

That's awesome. Let us know how the MIDI controller support works out for you.

X2! I've got a MIDI controller keyboard I'm going to use with this as well! Also... I was lucky to have purchased FL Studio back when it was only $4.99 ...w00t!

Still needs custom samples upload capability.

Can you record non midi instruments, i.e. Guitar tracks?

I'm guessing it should be able to through the mic in or line in if you have one.

Please make it for Windows Phone. Had this on my old phone, so it must be doable.

Go to their support page on their website and ask them to.

Finally! I was so impressed with the depth of this app until I realized it was almost worthless without midi controller support. Also, not to be too negative, but this wasn't even possible before a preview API came out during Build. No wonder no other serious music creation apps are available like what's on the iPad... They really need to speed things up to mature the platform. Still, those is good news!

The MIDI controller support is great, but I found the app quite usable just with touch. MIDI control just makes it that much more fun :) This example shows FL Studio Groove and MorphWiz side-by-side on my Surface 2. https://www.youtube.com/watch?v=SX6WwQrZiio Pete

Cheers for the vid! Exactly what I was looking for. P.s nice set up.

So does the DI.FM app in the pic actually work? It wasn't available the last time I checked

Works on my Surface 2 (RT) with my Korg nanoKEY2 midi controller :)

I try it and is Great. I suggest you to first see the video tutorial. Easy, intuitive and powerful. Love it *****

I like the update, but there is no midi support for my Surface RT (1st gen).

Are you sure? You should be able to install Windows 8.1 Update 1 on your Surface RT. Which MIDI device did you try to use? We're still working through a few that aren't showing up, but that's on Intel architecture with custom drivers, not on ARM devices with MIDI class drivers. Pete

I have 8.1 Update 1 installed (search button on the home screen and everything) and the FL update. I used an APC20 and later a Microbrute. They appeared in the windows settings, but I don't see the midi button in my app.

If you see no midi button at the bottom of the app, it's possible you may not have v 1.2 of FL Studio Groove. You can tell by pressing the acorn/logo button and checking the version. If that's the case, uninstall FL Studio Groove and then reinstall from the Windows Store. If you do have 1.2, it seems strange that both the APC and the Microbrute would fail. I don't have a microbrute, but I do have a Minibrute. I just tried that, and it works with Surface 2 and FL Studio Groove without any problems. Just make sure you plug in the MIDI controller before starting FL Studio Groove; it doesn't detect hot plug changes of devices. You can close FL Studio Groove by dragging down to the bottom and then holding there until it flips over to the splash screen. That kills the app (works for any Windows app). Then plug in and turn on your MIDI device and then start FL Studio Groove. LMK if that works for you. Pete

Thanks for the support. My issue was that the app wasn't closed before I plugged in the devices. Definitely a user error on my part. Note: Although the APC will connect with and send MIDI notes to the app, it doesn't really work. Each row is treated as its own note, so I can only play about 6 notes in total. The Microbrute is fine and worked as expected.

Glad you got it working. The MIDI implementation in FL Studio Groove is basic (Image-Line implemented it pretty quickly, in time for Build). I have a Novation Launchkey Mini, and the keyboard is the usuable part there. It's not wired up for pad control for things like drums, or for mapping controls in such a way as to support multiple tracks at once. The controller mapping always works on the current in-focus track, but does work quite nicely for that. I will let them know about the hot plugging limitation, though. I've hit that myself and imagine others will. I believe there's a way to detect this through our API, so I'll look into that. Thanks again for the info.

From their website:
MIDI functions are enabled only for computers running Windows 8.1 Update 1 on X64 CPUs (this excludes Windows RT/ARM/x86 until such time Microsoft makes the MIDI functionality available for these systems).

No wireless MIDI: no modern music aps for me. That's a strong reason why iPad music aps are so prevalent in pro music applications.

Proper wireless MIDI should be should be OS independent, as it would look just like a regular MIDI interface to the computer host. If it requires special software, then it isn't really wireless MIDI but a custom protocol, perhaps like MIDI over Bluetooth? Also, there are no truly pro-grade music apps on iPad either. There are some fun toy apps and some interesting and useful helper apps, but nothing really Pro yet in terms of recording software.

I forgot to test the midi controller capability while waiting for a load of laundry to finish: I played with Sonar X3e and some Komplete 9 VSTi's instead. I'll try it tomorrow.

I've got a MIDI controller keyboard that I'll try with this later, but I'd really like it if I could also use my Surface Music Kit (Music Blade) with this app. (or even the Magix Music Maker Jam app) The Surface Music kit app has it's limitations.. I'd to see some other "music creation softwaret ake advantage of this "limited edition" Microsoft hardware. Hell... nobody even talks about the Music Kit anymore... :(

I want to see this and Deckadance on WP 8.1. I'm not a serious DJ and hardly qualify as a producer, but I like using them both.

Is it possible to add your own samples? I know in the first version you could't import your own samples

Have been fan of Fruity Loops since it was 3.5 for PC :)

This is a great app. There only problem is there is no forum support for it as it is a budget product.

A great little app, using it on Latitude 10 Windows Tablet. Only problem is that I cannot select notes to edit. It allows you to select automation but not notes. And yes, no way to register to allow comments on forum.

Pete is on every music forum I regularly visit. He is trying to put W8.1 on the map for serious creative music pros and wannabes. Although, it doesn't matter which OS you use now, these are the kind of apps we need so more pro could switch and not spend $3k on a computer.

I already have the app. How would I update it? Posted via the WPC App for Android!