Flappy Bird refuses to call it game over as new clone launches on Windows 8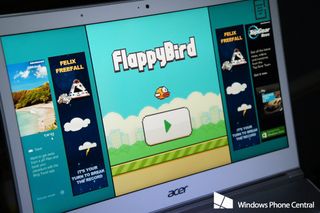 We're just about as sick and tired of Flappy Bird as you all are, but it's worth covering news that a super popular clone of the mobile game is available on the Windows Store. This means should you have a tablet or Windows PC, you'll be able to enjoy the highly addictive, yet soul-destroying title on larger screens. Pass the break for more details and links.
The game itself plays pretty much exactly like the mobile counterpart. Players are tasked with controlling a bird (by touch or mouse/trackpad input) and make their way through the level, scoring as many points as possible. Multiple medals are available for those who are able to endure the addictive gameplay. Those who fire up Flappy Bird should expect thoughts of ragequit.
The advertising can be quite ridiculous.
There are adverts on show when playing in landscape mode, but switching to portrait removes them for a full-screen experience. We've previously touched on how we're strongly against people making money from cloning work that isn't actually their own, but we'll let this one slide slightly due to it being on Windows 8. Still, we'd rather have zero advertising involved and would like to see the publisher of this version do just that.
The developer of this release got in touch with us to reveal that the game had been downloaded more than 80,000 times within 3 days. What's more is the developer received numerous requests from consumers for improvements, altering sound effects and more. The demand for this simple game is nothing short of astonishing.
You can download Flappy Bird (opens in new tab) from the Windows Store for free. If you don't support this publisher making money off Dong Nguyen's work, be sure to check out Flappy Bird alternatives available on Microsoft platforms. What's your best score?
Windows Central Newsletter
Get the best of Windows Central in in your inbox, every day!
Rich Edmonds was formerly a Senior Editor of PC hardware at Windows Central, covering everything related to PC components and NAS. He's been involved in technology for more than a decade and knows a thing or two about the magic inside a PC chassis. You can follow him on Twitter at @RichEdmonds.
it is unplayable on a desktop computer , way too fast

Sick and tired, you bet! :D

Flappy bird is dead. Long live Flappy Bird! Only on Windows!

Good! Maybe some other developer will be fine with his "complicated" life.

When will surface 2 launch in India?

"...and this is Rich Edmonds, for FlappyBird Central" -_-

Lol yeah they have been going a little overboard with these flappy bird updates.

If the guy didn't quit and released a WP version, we could have just got away with one article. The man is just cursed, no matter what he does he just keeps getting more and more attention. :)

"...and this is Rich Edmonds, for FappyBird Central" Fixed that for you

this game deserves a movie

Man, I am totally working on the wrong type of apps... The success of simple game like this is just astonishing.

Games like these can be played by a 2 year old and a 65 year old alike. That gives it success. Open app, click start and go. When game is over, Repeat. No complicated menus, no settings, no points for in-app purchases. Just click and play.

Just installed it. Tried it. Uninstalled it. Oh Well.

Enough with a comma insinuates you have more to say...

Is it really that hard for a Win8.x dev to create it from the ground up instead of porting it? Golly, that aspect ratio is joke. Don't get me started with those ads (which could be showed in a more better way)

No wonder Microsoft is thinking the absurd idea of allowing Android apps...

This is the exact quality we're going to get if they go android...

I'm starting to think I might be missing out on something. Then I remember the incessant whining about temple run, and when I finally tried it... Really? And they went on to whine about temple run 2? I want to know the mode age of wpcentral's userbase.

I installed this game played it less than five times, then uninstalled it. I don't understand the hype over this.

But you installed it, because of the hype. 1) Create a pointless, incredibly simple "game" that becomes mildly popular. Bonus points if you steal all your art from Nintendo. 2) Make a giant fuss over how the popularity ruined your life, and you're emo-quitting. Bonus points if you throw out a ridiculous fake revenue number like $50k/day to really stir up the sensationalist media outlets. 3) Secretly have many clone games ready to go, published under a pseudonym, to capitalize on the rampant prairie-dogging and "omg I don't want to get left out" that ensues. 4) Profit.

Now imagine if Microsoft convinces Flappy Birds dev to make a Xbox Live Enabled and exclusive for WP8 and Windows 8...

That would be easy. Make one achievement: make it to 50 pipes.

Ahm... I did that just trying out the app for 10 minutes. More like 200 pipes.

I understand that some clones that were on Android were full of Malware

Techno kitten adventures my flappy bird.

Now that's the good stuff there

Rudy, where's our 6Bird?! :D

hey Rich, noticed you're using the the Aspire S7. How's it holding up? I believe you have the first generation. I'm considering buying the first generation one as opposed to paying up for the newer one. Don't really need cutting edge speed to browse the web and listen to music. Give us an update if you don't mind. Thanks!

I had the first gen, Rich has 2nd ;) I think he really likes it, just not the tracker pad.

oh i see that was you that reviewed it about a year ago. so can you answer my questions instead Sir Daniel :)? just curious how its treating you a year later. comments, complaints, advice? Trying to pick one up in the $500-700 range on ebay or something.. Thanks

Mobile clone keeps crashing...

I don't want the clone. So I guess that I will have to spend the $90,000 for a phone that does on eBay.

17 on laptop and 27 on phone...its simple and fun tough and annoying all at once...

This is why THE OTHER BIRDS ARE SO ANGRY. .. I HATE birds now lol

Actually, it's not worth covering that news

anyone tried flappy fish?

Reminds me of all the old instagram related threads,ohhh the old days
Windows Central Newsletter
Thank you for signing up to Windows Central. You will receive a verification email shortly.
There was a problem. Please refresh the page and try again.