Flick for Windows Phone can quickly share files between Windows, Android, and iOS devices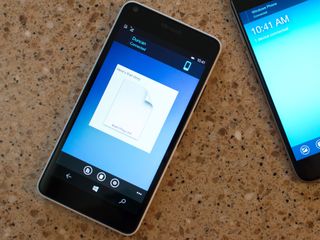 If you wanted to share or transfer a photo from a phone to a local PC, you might have used a cloud-based service. Now there's a faster way to do it with Flick. The company has recently launched a Windows Phone app that allows for a local Wi-Fi connection to share documents, photos and videos from that phone to a Windows, Android or iOS device with a quick flick.
Flick says
Here's a list of the features for the Windows Phone version.
Flick photos, videos, notes, and documents to Apple, Windows, and Android devices
Pick files to send from anywhere on your device, including cloud storage
Broadcast files, photos or notes to all connected devices
Set photos, notes and other documents to Auto Destruct
Save received photos to your library
Take a photo directly within the app
Save documents received to your device or cloud storage
Choose your own wall paper for your Flicktop
Add files to your Flicktop directly from Dropbox
If you have a Windows PC, you will need to download the Windows desktop app to "flick" from Windows Phone to that PC.
Download Flick from the Windows Phone Store (Free)
Windows Central Newsletter
Get the best of Windows Central in in your inbox, every day!
It's via local wifi though in it?
I have wifi at home only :-(

Sharefolder Explorer does the same for PC, and no need to download anything to the PC. I use it all the time to transfer items back and forth from our house server. Easy peasy lemon squeezy.

I use Easy Transfer for that, it couldn't be more simple and it works perfectly so far, never crashed during transfer and trust me, i use it a lot. 3 Easy steps: 1. Turn Wi-Fi on on my Samsung ATIV S i8750 (WP8.1.1) (the app holds the screen on until you close it) 2. Open the browser on my lap top and open already saved url in bookmarks. 3. Upload/Download files (it's fast as a bullet)

Hey , thanks for the tip . Works beautifully

I tried shoot a week before... I hope this does a better job

I thought it is flickr.. The official app. >.

I read as "Flickr" too.. Ughh.

Do people still use Flickr?

Yeah, Flickr is still good for high-res photos :D

You guys need reading glasses.

All we need is to share apps

Android user spotted...!!!!! Dude why cant you just download from store and run your phone Genuine apps instead of pirated way like Crapdroid.... If you have multiple windowsphones means download app via UC browser speed mode or PC and install it via "install local apps"

Stop. Don't jump to conclusions.

No offense , but does not your process seem a little bit lengthy .. At least of course when compared to just a flick .. I see most of here just telling others crapdroid or what not shit .. But I don't understand why cant any one praise the good .. I am also a windows phone lover but do miss out good quality features of android ..
One thing all must remember that that what you call crapdroid or lagdroid is the no. 1 mobile OS now .. And that's really not a joke ... Try to respect others .. I am no way offending you .. But I guess we should respect others too .. I guess no one is perfect .. So what an OS has good , it indeed has good .. That OS is surely gonna remain the no. 1 OS no matter how much you say crapdroid or what .., unless and until our OS excels .. So we must always support our OS, but not by only criticizing other ones , all peoples are not fools using them .. So we rather must compete them positively and admit what good to be good .. And try ourselves to be better ... Gone are the days when only negatively criticizing meant winning competition ..
Please don't do idiotics like this ..
Again I'm apologizing if I have offended you and all you ..

Hat's off! Nirjhar.
It is said that, If someone's line is bigger than us, we shouldn't erase his line to make our big, instead we should draw/extend our line to make it bigger....

Cool it boy. Whats wrong with wanting a useful feature? Let Microsoft find a way to check if the apps are getting pirated during installation while we share the installation package. How hard is that? And whats with the spotting? Put a lid on it. Its good if other OS users are here and curious about WP.

Agreed. In markets where still 2g(or limited data plan) is widely used, it could be helpful. But Open source is really not a good idea. It'll definitely harm the ecosystem, folks. I, one for all, wouldn't ask for it. Those who ask, shouldn't get disappointed either if they don't get the "feature".

Bro Electrodude16 , although and actually I don't know much about any high end tech matters .. Neither do I completely understand what open source is what it can harm .. I just know one thing that it has helped to grow one OS by leaps and bounds ..
Ya I have heard many people say that open source would harm the ecosystem if it was put on as a plan.. But has it really harm that other no. 1 OS.. That being said, I am not a android promoter here , and neither I am saying that open source must be the only thing that should be done to our OS..
But certainly there must be done something .. I see here in this ecosystem most of the core users don't like having extra software features , just because it is a feature of another OS, they just wants to say like this feature is of crapdroid so definitely is gonna be bad..
I remember some time here there came a question whether launchers , I mean third party launchers should be made available .. Or not .. Well many did say yes .. But most , who describe them as core users said a no, just stating the above mentioned ridiculous reason ..
I donno why these people don't like options .. If you like stock interface , very good you need not launchers , you need not slow down you phone like you say it happens in so called lagdroid..
But there are people who wants to tweek with interface , and what wrong if they love windows .. I mean most say then go to fcuking lagdroid and lag your phone .. Don't you think that is ridiculous..
Well its not only launchers.. Many things, may be I don't remember all at this time .. But why don't people like options .. If you like stock then use stock, let the ones who want to use third party use them, .. Ya say about keyboard .. Ya I'm not telling stock keyboard is bad. .. But there are pretty much good keyboard based on ones own choice..
There are thousands who like stock android and like that nexus or Moto feeling.. But there are also thousands of people who likes different.. So they all are there in one ecosystem.. And that's why that OS is no.1 , not for joke.. Or gives option.. How many developers you see interested in windows phone developing ? May be a few , at least when compared to android, why must be that, What you all think Google has given payments, I mean bribes to all those thousands of small big devs .. Well I guess that's just because they cannot make any thing different from the stock here in wp .. Which theye seriously can make in android , ,. And why would people use them , when they have the stock ones ..,
If not open source , Microsoft will have to do something in order to drag devs .. They have to do something so that one can create variety .. Then only an OS can flourish ..
And if you say I don't need it to flourish man .. I need it just as I like man stock and stock ,. Then well my boys you will see more and more apps erasing from wp ., cause no one would like to make an app for few .. Ya I know now in w10 one can just port apps .. That's good for that reason .. But something must be done to let others create .. An OS with creativity only stands .. That's why windows xp , 7 stood .. And 8 fell like hell ..
Iam sorry for if have offended any ones feeling ..

You lost me bhai. I just said ki agar open source na karen to log nirash na hon. I too want the OS to grow. Has it affected the no. 1 OS? Yes definitely, it has.
Customization and options are good. But windows(PC) is the same to every manufacture. Its the same in Lenovo, Dell or any other vendor. That's the point.
Regarding developers, I'm sorry but they hate that their apps are being shared or lemme say getting pirated. Especially the paid apps.

No ok .. I am also not telling that open source is the only way .. You said open source affected the other OS.. I mean , has it really affected negatively ? .. If so why does it continuously seems to flourish each day ? I don't know ..
And as you said that all wants the same pc on be it dell , Lenovo , or what not hp .. Etc , etc .,.. Ya of course .. Rather I at least would not go to customize pc .. Lol .. But phone, isn't that a bummer .. I told let the default be stock .. I mean if windows other than coming up with open source, does come up with something that there will be some thing default .. Then you can customize it personally according to your likes .. Not only ui .. Or rather launchers .. But everything .. Be it keyboard , Browser , and pretty much everything.. So the ones who would like to continue with stock, good ., do it .. And for ones who would like to taste something different , they can do that too ..
And regarding piracy , well in developing countries like India every damn thing is pirated.. And why not .. You are getting same without paying .. Even frankly speaking I use pirated windows 7 too in my pc .. Coz I don't have that buck in my pockets .. Simple ..
So I guess there are some ways they could use ..
They first must open carrier billing , I mean to pay apps by our sim balance , just as we use to do in java .. Coz most people here just doesn't have a credit card or debit or any dammn options available today ..
Next they must reduce the prices to some extent .. And innovate some ways just like I have heard in android , one can just have an app or something from google itself that lets you earn money in your e wallet , although very small , by doing sort of feedback reviews . This will definitely encourage people to buy apps and services and not to get it pirated often ..
Actually they must innovate ways to get it done .. Say curated for developing countries in here ..
And bhai thanx for replying .. I guess you understood my point .. Do tell if you have other opinion ..

Agree with you on customization but piracy? Nah.
I live in India, there was time when I couldn't pay for apps as well. I have used pirated versions of the OS. But even back then I knew that piracy is illegal. You should know it, too. Don't ask for it. We all want the OS to grow. Cheers!

Everyone does not have an unlimited data connection. And Android is better than windows in some ways, and they make me regret my decision on buying a windows phone..but, I also like some windows features, but it lags behind in many ways..

Arjun I support you 100% I am a disappointed windows user too .. I love windows and want to stay .. But just my nuts don't let me .. So lack of features do hurt me and make me regret my descision ..

I agree, it would save on data costs for big games. And when manually installing xap or appx files is not piracy, why would sharing and installing be? The way of using UC isn't known to all, and promoting against a simple way suggests that such a guy should be stuck with MS DOS instead of using windows 10

Ya buddy I support you .. Just blindly sticking with what you have is the best and other's are shit .. Doesn't really make sense .. At least from a tech lovers point of view..

Option of Installing local apps is not on my Lumia 730

You get that when you have one....i mean a WP app file in local storage. Then it appears in Store's three dot menu

Unable to install Asphalt 8 airborne xap through that. i always install that way through xap file for asphat, but i think after previous update asphalt has 2 diffrent sizes for 512 MB RAM devices & devices with 1 GB or more RAM(n possibly different apps for them) n only 1 GB ver is available on WP store on PC which doesn't even detect in install from local storage area i 512 MB device. Is there any way available

don't you know you can select your mobile from from top right corner of the windows phone store website.

App seems interesting but what to do , all my friends use shareit....

ShareIt by Lenovo has been doing it for ages.

Another alternative of Shareit.

Air Transfery does the same: http://www.windowsphone.com/en-in/store/app/air-transfery/1817419f-5f2a-...

How to connect devices? Hotspot?

I hope Windows 10 brings WiFi direct, these kind of apps remain useless outside WiFi network. At home I use Shareit. to transfer files between PC and phone, but it is of no use outside.

Outside you can create wifi using "internet sharing" option , use "easy transfer" app

I'll try this :) but my friends with android ask me, do u have xender or flash transfer :|

Same here , they all have xender. Though shareit does the job for me but xender doesn't even need a local wifi network. We need xender :/

Stop crying and mail the developer of xender

Facebook:
https://facebook.com/XenderApp
Twitter:
https://twitter.com/XenderApp
Google+:
https://plus.google.com/+AnMobi
Mail:
xender@anmobi.cc

I remember the old days, long before the iphones and androids, when you could just hit "share via bluetooth" , choose your destination and share.

There's a lot easier way.. no need of a 3rd party wifi network.. u can just create hotspot on one of the devices.. explained here.. better read the tips and tricks section of bloggernitish.blogspot.com

Is this much different from using pushbullet/pushile?

Autodestruct and cloud features only.

"If you wanted to share or transfer a photo from a phone to a local PC, you might have used a cloud-based service." LOL! NEVER EVER! and probably never will. In such cases, Bluetooth is the first go since WP is yet to implement WiFi Direct.


Exactly! I usually use Bluetooth, coz that's so much convenient..
All other sharing apps are a mess..

Tried it, uninstalled it.. Takes forever to discover other device (windows phone)
Need something like xender that can share everything (including apps) also..

Maybe you should try PhotoJet. It's fast and stable :D

Badly need Wi-Fi direct to transfer like shareIT on Android.

Then use ShareIT on Windows Phone. It's right there, in the store.

Using someone's Wi-Fi means it is as slow as Bluetooth

I use the USB cable included on my Lumia 520 to transfer files to and from my PC.

I never really got the self destruct.. If its that contentious and funny I would save a screen shot to keep it. if its visible its recordable

Just crashes on my Lumia icon with Win 8.1

Grabbing it. Thanks devs.

I will never understand why this isn't a basic part of all phone OS's, I can easily transfer files between computers at home with my WiFi, why the hell can't I do it from my phone as well? I either need to get an app, upload to a file sharing site, or actually physically plug my phone into a computer. It just seems so bizarre that we still have to go through all this rigmarole. I should be able to come home and just click a button on my phone to connect to my PC and then I can chuck some movies across, in either direction, or music, or files, or whatever the hell else I want.

Reading through this thread, I never realized there were so many apps that could do this. Lot a good info in this thread as it turns out.
Windows Central Newsletter
Thank you for signing up to Windows Central. You will receive a verification email shortly.
There was a problem. Please refresh the page and try again.