Flipboard drops support for its Windows phone app
Another big Windows phone app has called it quits.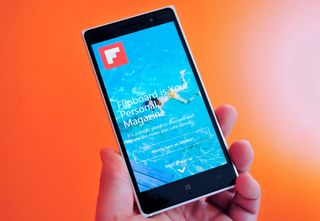 Flipboard has dropped support for its Windows phone app, leaving another big name to disappear from the platform. The app is no longer available to download from the mobile Windows Store, and a Flipboard community support manager has confirmed it is no longer supported (thanks for the tip, Humzah!).
Given the current state of Microsoft's mobile efforts, it's no surprise to see another big app leaving the platform. Other big names have been abandoning Windows phones in recent months, including, most recently, Wells Fargo, which announced its intentions just last week.
It's not all bad news, however. While Flipboard's mobile app may be on the outs, its desktop Windows 10 app still remains available in the Windows Store. And though it doesn't appear to have received a noteworthy feature update in more than a year, it's still good to see it's sticking around for desktop users.
See at Microsoft (opens in new tab)
Get the Windows Central Newsletter
All the latest news, reviews, and guides for Windows and Xbox diehards.
Dan Thorp-Lancaster is the former Editor-in-Chief of Windows Central. He began working with Windows Central, Android Central, and iMore as a news writer in 2014 and is obsessed with tech of all sorts. You can follow Dan on Twitter @DthorpL and Instagram @heyitsdtl.
Flipboard sucks. That being said, yes, Windows Phone is dead. Microsoft has clearly abandoned it.

Windows Phone has been dead since Windows Phone 8.1 Update 2 was last in development. Windows 10 Mobile is still in development though most signs point to it being replaced in 2018 and will be dead when development of Windows 10 Mobile ceases.

Development of weindows 10 mobile has ceased since featureless 2 has been implemented. My windows RT devices get the same support as windows 10 mobile at this point.

"And though it doesn't appear to have received a noteworthy feature update in more than a year, it's still good to see it's sticking around for desktop users." I know it wasn't meant that way, but I cannot help but read that statement as being highly ironic.

Clearly they have missed all the episodes of Fantasy Island produced here where Microsoft returns to mobile in triumph.....

Lol. I don't care for your comments, but that one made me laugh. Lol

When is the funeral?? 😣😣😣

Let me guess - "Who uses Flipboard anyways?", "I never used Flipboard" right?

See the first comment, mate!

The mentality of a Windows mobile user. Smh

So can I install the w10 version then?

They have held on for a while, whoa.

Yes. The only thing that surprises me about these articles is the fact that they weren't gone long ago.

Flipboard on W10 was so poorly supported that they never even bothered to make it "flip" as in other platforms. I stopped using it ages it ago, but just fired it up on my 1520 to see if anything improved since the last time that I've used it... and the answer is a resounding "NO". For those of you who used to love Pulse News Reader before it was acquired by Linkedin and ruined, you can use Feedmesh. I find it superior to both the old Pulse and Flipboard. While there is unfortunately no Windows app (or even iOS... it's Android only for now) to download, you can simply go to the feedmesh site and it works great in Edge. Just pin it to your Start Screen. Now if someone with the proper know how would take the feedmesh site and create an "app" even as a web wrapper with a proper Live Tile, and maybe some notification & share controls... that would be swell.

Lalalala lalalaaaaa lalallaaa lalaaaa lalallalaa im Satya Nadella in lalaland... Lalalala laaaallaaaallala...

Noooo! I actually just started using this stupid app!

😂😂😂😂😂😂😂
Just like the rest of us fans you decided to stay, so don't complain... You know what you got yourself into.

I dont understand why some services like flipboard pulls-off their apps from the windows mobile platform but still keep for the desktop. its came to me bad minded behaviour. why they pulled-off for mobile? Is that no longer worked with their backend? No it still works. I'm still using it. But I understand that why they dont want to continue to develop and update their app. They may dont want to waste any effort for app development. I understand. But It works even though it has not been updated. There is no reason to keep the app on the store until the app stopped working with the backend of the service. An example same as that is shazam. They were pulled-off their app long time ago. But I can be able use shazam app. That app still works with shazam's backend. But they pulled-off. Thats so meaningless. Lets back to flipboard app. Yeah they still keep their app for the desktop version. So why? Is because there is millions of windows desktop users on the desktop pc market? There is millions of windows os users and they may use flipboard app on the desktop? I dont like that kind of "double standard" If you want to quit from a platform, quit completely. And hey flipboard. If you decide to quit windows platform, quit desktop platform too. I dont want to on the desktop store too. But I dont blame you, if you say, "even microsoft does not care about own services and apps for the mobile like LinkedIn". Sometimes I ask myself that why I still use windows phone.. Microsoft did great os for the mobile but they waste it with own hands. I still think the windows mobile is the best shape for the mobile os. I dont want to use android crap, or iphone which is overpriced, feature limited and has some stupid restrictions.

Well, yeah. They obviously see some type of potential in the future for their desktop app because of market share.....
......
But, it is a wonder when MS pulls their own apps in obvious preparation for what's next in mobile... Who knows, maybe some of these developers believe in Jason's stories. Lol

Hahahaha 😂 well no surprise here

Admit boys n girls! All of you miss Balmer and Elop, and Nokia. I sure do! The good ol' days of mobile excitement are gone. If they ever return and revive wp, I might drop my iPhone.

The "good old days" were a total failure. Why would they do that again?

What are you talking about? Balmer didn't care about mobile. When the smartphone wars were starting, Balmer decided to throw money at the disasterous Xbox 360 red ring and not bother with mobile. However, I do think that Nokia and Microsoft should've remained close partners instead of being bought out. The platform was actually seeing growth, and Windows phones were advancing smartphone tech. OIS, Windows first. Infrared face unlock, Windows first. Nokia Windows phones pushed smartphone quality forward. Adjusting the focus point of a photo after it's taken, Windows first. Live photos, Windows first. All the advancements were on Nokia's end. Since the buyout all that innovation has halted. I refuse to go back to iPhone until Microsoft says they are no longer going to build a first party phone. Other than HP, third party phone support has been terrible on the platform. If that day happens, then I'll hate myself for going back to iPhone. I don't trust Android's security enough to use thier phones despite their hardware being better than the iPhone.

Maybe Microsoft should set this rule, if a developer no longer support mobile app, they should not have their app in windows PC store as well

No, lol... Because, as of now it stands that Floorboard is on Windows. Why would MS do that to themselves. After all, MS's intent most likely is to have One Windows. The Desktop app should work on any Windows mobile device in the future. Seems to me that answers the question why they leave the app in the store for desktop in the first place.

lol and you think devs would care? :)))) Again, Microshit is not in the position of forcing anything to anyone!

Any modded version of spotify for windows 10?

Another desktop app... These developers have the inside track on MS's next mobile device... They do.

What if MS bought Blackberry. Both are enterprise focused. Blackberry now has Google store apps, not just Amazon store apps. Sync BB and MS tighter and work toward a dual boot device.

If developers had some "inside track" on Microsofts future plans, then doesn't decisions like this show they have no faith in Microsoft's plan? I mean, this article isn't about how they are switching to UWP! Your comment doesn't really make sense.

Sayonara, Scrollboard! Anyway, yeah, just another sign of the twitching corpse that is Windows 10 Mobile.

:)))) lol who needs a desktop app. Stop defending Microshit! Another big app leaving this pathetic platform.

Ha.. Windows phone mobile SUCKS

Thats a shame, this is one app I really use. It's great at getting me interesting news. Humph

Another day, another app dropped. Good job, Nutella, great job indeed!