Flipboard for Windows Phone grabs 512 MB support, native controls and notifications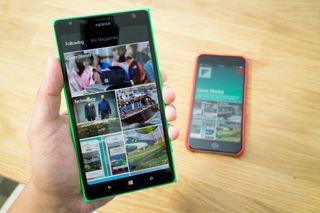 Flipboard just hit a version 2.5 milestone today and with it comes a bevy of new features and "polish" to the controversial Windows Phone app. Perhaps even more of a big deal is the 512 MB RAM support, which was promised shortly after the app's release back in October.
Indeed, this update seems to be a beautiful addition to the 2014 wrap-up in app updates that we are witnessing. Let's check the full changelog.
Flipboard for Windows Phone v2.5
Support for devices with 512MB of RAM.
Additional native Windows Phone controls for an overall smoother experience.
Polish for tapping to expand images, notifications and accounts on Flipboard.
Indeed, this update fixes a lot that was wrong with the original release and that 512 MB support significantly extends this app's availability to those sporting a Windows Phone. Although the app still does not quite flip, it does have some added pivot animation, and it certainly feels more premium.
Either way, grab the app and let us know what you think of the changes in comments! Thanks, Vishal A, for the tip!
Get the Windows Central Newsletter
All the latest news, reviews, and guides for Windows and Xbox diehards.
Daniel Rubino is the Editor-in-chief of Windows Central, head reviewer, podcast co-host, and analyst. He has been covering Microsoft since 2007 when this site was called WMExperts (and later Windows Phone Central). His interests include Windows, laptops, next-gen computing, and for some reason, watches. Before all this tech stuff, he worked on a Ph.D. in linguistics, watched people sleep (for medical purposes!), and ran the projectors at movie theaters because it was fun.
Yey!!!! Awesome man!!!!!! We want flip board to flip now:)

Nice :) a lot of apps and updates, seems like Christmas .. Oh wait ...

I was about to comment Scrollboard!! Ahahaha

this update made the app very laggy on my lumia 525

I actually like it scrolling.

Me too. Less effort in skimming and reading :)

It says it still doesn't flip. Did you even read the story????

Is there anything that you would like us to include in the next update?

Ya developer make the app flip and we will be ever so grateful to you

And yes make sure that the windows phone app is always on par with its android and ios counterpart, plus it should be updated at regular intervals

in app full content load for some articles, flip animation...well you know all things present on ios and android

Just keep supporting the OS. :)

Please add a dark theme because when using this app my phone tends to heat up and the battery level drops drastically

I wonder what they mean by "native" controls, what were they using before?

I came to ask this exact question.

High Five to both of you...

unless English is your NATIVE language you need someone to put it in a more simple language

it has nothing to do with spoken language. Sometimes "native" can mean they made thier own c++ controls or they were using a component vendor's controls and switched to the SDKs controls (i.e. ListView is a native control).

A lot of it's basically a WebView styled to look like it is native. Pretty poor in comparison to the W8 offering.

If they tried to pull off a WebView, they deserved the poor performance they got. Hire a couple XAML/C# devs and get it done right.

Some things are definitely WebViews. They basically did a half arsed job.

"yay/yey" is quickly becoming "seems faster" comment, very annoying..

yay! I've been waiting for the 512mb support :))

Yay now I can run flipboard with half the ram on my 1520.. Kinda like how I can still read flipboard with one eye closed.

Seems faster.. I notice some additional animations...

Why won't the make the damn thing flip?

So what this app actually do?

Wp flipboard very horibble and not much features like android version.

Gestures beta app is all over the internet but not yet on this site WHY?

I was reported on here, go search through the news pages.

They already did an article on it

Gestures beta was on here yesterday.

Here you go..
http://www.windowscentral.com/gestures-beta-allows-you-interact-your-pho...

Already posted yesterday, visit daily to know whats happening http://www.windowscentral.com/gestures-beta-allows-you-interact-your-pho...

I don't miss any windows central article, let me investigate on what transpired hehe

I just don't see how this app is useful.

aye flipboard hard on the winboard


Hey Flipboard plz bring the flip feature to wp.it is still only scrolling.plzzz Posted via the Windows Central App

Does it still require you to login/signup? I know the Android and IOS versions don't. That's the only thing keeping me from using it. I feel like I shouldn't have to use a login for a newsfeed app.

Wow, this update gives a nice improvement to the app. It boots up faster, there are some new animations (still no flipping), and seems to load magazines faster. Although, switching between magazines seems a bit jarring. At least for me.

Does it support InoReader? If not, in which way is it better than other Newsreaders?

Flipboard at least in next update plz bring in flip option otherwise it is scroll board rather than Flipboard. Posted via the Windows Central App

How many times are you going to keep saying the same thing? Over and over and over and over......

Brilliant.....im happy with the app, doesn't matter wether it flip's,flops,spins,turns,scrolls,drags,rotates.......or falls over. I'm.happy to have it.

Those multiple black screens at the start looks ridiculous

All the fellow readers,reviewers,developers and consumers,therefore noted you that stop badmouthing about our app ecosystem by the end of December 2015.After that anyone found scolding our lovely ecosystem only for the apps and games will be terminated.
It should have been stopped by now.Microsoft starts lately but what I think that they are running somewhat a year behind the competition.Best of Luck MS.Apps please keep coming and coming.

Would be good if they to do options on background run to battery saving on, cz im not sure how much data this app consuming

Flipkart is an e commerce site in India. It doesn't flip too.

App open the first time, after that it just kept on loading and loading. Uninstall. 930

no flip, and no slide for me - when i open the "Following" piece, the images should re-load with the latest news, not a static photo. Also, id much rather just scroll the articles im reading........and this is why i am still using Weave - it still works better at this point..........also, when i touch a photo, it should open up, and allow me to zoom in / out on it.

it crashes in Lumia 620 like there is no tomorrow...this app is still horrible...

Why use flipboard when you have bing news? Bing news provides better results about your favourite topics.

As soon as it flips, people will ask for the option to turn off the animation.

What an awesome app.. Love it on my WP and windows 8.1 pc

No flip no download simple as that

Today I talked with the developer of the app ;) I'm the cause of update :p

This app still sucks and runs painfully slow on my 920. I hope as time goes on this app gets better and better! I love using it on my iPad.

Worked fine the first time when I was setting it up. Not working now, keep loading contents and saying try again later. Using Lumia 630 btw.

If it flipped for users with more than 512mb, and didnt flip for 512mb users only it would make sense. but why have an app that its signature/trademark novelty is the flipping effect. Why take that away. Pointless and super annoying, just like the lack of CYAN being available for my Verizon Lumia ICON. I am going to sit in a corner and cry now !

msn news is way better than this...and works good even on slow internet connection.... this app is not for 2G connection.

Why is it "controversial"?

Still no possibility to share articles on twitter ? Is that so hard to add or i somehow missed that feature.

Blame twitter on this one

Now I've been able to download in my Lumia 630 but doesn't flip

It does feel premium. We now want the flip feature and everything will be alright.

Its still way behind the ios ones. Tje windows 8 os still better than the phone one

Flipping is a critical value proposal of the app. One handed reading that readily switched stories with each one beginning at the top of the screen. It is annoying to have to scroll and stop to change stories. For that I'll just stick with websites. The feature was so clearly their value proposal that they named the app after it. Otherwise they are just another aggregator. Uninstalling yet again

Are they kidding?!
The moment I get an 1 GB-device, they add 512 MB-compatability!

Wake me up when they add flipping.

How to delete my magazine on flipboard?

Happy Christmas man! So many updates coming up. Today age of empires and now this. Keep them rolling!

btw, shazam got big update today

How to stop the live tile for this app...i just want the flipboard logo on my start screen.. Is there any way to stop that?

map updates is free only for first 12 month.. also many voice language missing....