Flipkart app gets a refresh with significant performance improvements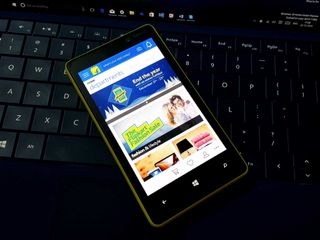 While yesterday we shared that Flipkart is working on their universal Windows 10 app, the good folks at India's leading online retailer haven't stopped working on the current Windows Phone app. Today, there is a significant refresh of the app.
The latest update bumps the version to 3.0.0.0, and the re-engineered app offers significant performance improvements and bug fixes with a refreshed design and navigation. It's clearly snappy, and should address complaints from a lot of people in the performance department from the past few iterations.
The universal Windows app for Flipkart is in its beta right now, and until that is ready for the mainstream the latest update to the Windows Phone app is a welcome refresh. It's zippy, the navigation is intuitive, and the user experience is seamless. Give it a whirl, and let us know how you like it.
Download Flipkart for Windows Phone
Thanks to everyone who tipped us!
Wow, great to see such good support for Windows Phone/Mobile, even though I don't live in India

Indian developers are always ready to develop for every platform... They didn't leave Windows phone for android and ios like in US

Companies like Flipkart will do anything they can to get customers.

They are offering support because they want your money. Simple

Me to. And UI is pretty much windows 10 ready

this update destroyed the performance for me. worked real nice before this. now there is so much lag and frame drops.

Re-install it, its also crashes on mine but after re-install it works

Uninstall n reinstall it.. Works like charm now

Well it's cool and a great windows 10 inspired UI.

It is not even opening in my L730 after this update.. Force closing automatically

Uninstall and reinstall the app..

Ur right not only this hike also not opening

Hike works for me.. Lumia 730 w10.

Uninstall n reinstall it.. Works like charm now after reinstall

Hike was not opening yesterday. But today morning it updated fine and working well.

Hike was painfully slow after I updated it yesterday. But, it's working fine today.

I have the same issue... please check paytm too. also which phone do you use.?

Hike and flipkart both are not updating in my lumia 520(w8.1)...

Working fine for me hike , flipkart is not updated

Happened with mine too. But, after trying a few times, it didn't crash again..

If crashing after new update just reboot your windows phone....it works..

Amazon haven't updated in ages..

Snapdeal also updates regularly

They have to ditch the large fonts in pivots which is no longer a design element in windows 10. The pivots like in mytube! app would be better

Microsoft should do something that apps can be used from the web. No need to download the app for even a small purpose and delete it again. On windows desktop one doesn't download apps for a small purpose bcoz a browser is efficient to perform all the web based application tasks except for few.

They have closed down their website for phones

Would totally buy a Sari for that woman

At least now its worth using

And amazon India app didn't even exist

Amazon app (India) is available for windows phone 8.1
Don't know about windows 10

No windows 10. 8.1 version is ages old.

Nice UI improvements..
But still it takes much time to open ' Order Page ' even on a Strong Wi-Fi network..

Amazon india app is available

Older than anything. One of the least updated shopping apps in India. I guess most other popular shopping apps are updated.

Reinstall fixes all issues..

Every Thing is Updating Except OPERAMINI,,UC BROWSER,,FB MESSENGER,,,WHATSAPP AND MOST IMPORTANT WINDOWS CENTRAL

Windows Central universal app coming soon!

Nope UC browser got updated a few weeks abck, FB messenger is integrated into into new FB app, whatsapp contniously uppdates, I think you have sleeping lately.

Works like a charm for me. Looks like developers are taking wp platform seriously :)

New live tile transition... Too smooth and fast

I can not download this app in my Nokia Lumia 1320. It shows download pending. Please fix this issue.

Same here - Lumia 730 on windows phone 8.1

This new version is not downloading on wp8.1
Windows Central Newsletter
Get the best of Windows Central in in your inbox, every day!
Thank you for signing up to Windows Central. You will receive a verification email shortly.
There was a problem. Please refresh the page and try again.