FN8, a Windows Phone fitness app when there's just not enough time in the day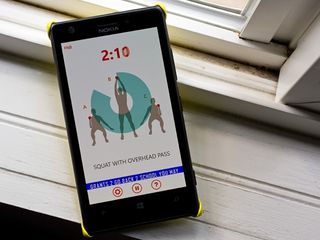 FN8, short for Fit in 8, is a relatively new Windows Phone fitness app designed to give your body a workout when you are short on time. Finding the time to workout is one of the many challenges we hear about during Fitness Month and for those who find it hard to stay on the fitness path due to the lack of time, FN8 might be the solution to your problem.
The workout includes seven exercises that span the eight minutes and includes an eighty second warm-up period. The only equipment you'll need is a set of hand weights.
FN8 has a simple interface and includes helpful illustrations and audio cues to guide you through the eight minute drill. Overall, FN8 is an option to consider if time isn't always on your side and you need a quick, effective way to burn a few calories.
Seven exercises and a simple interface
FN8 wastes no time with the collection of exercises it will run you through or it's interface. The opening screen has a large Play Button sitting in the center of the screen, along with three control buttons spread across the bottom of the screen.
The three control buttons will give you access to the app's settings, pause/reset the routine, and access FN8's help pages. Settings cover how the app handles the lockscreen and enabling/disabling the audio cues.
The only equipment needed for the workout is a set of hand weights and the developer recommends a set in the 8-15 pound range.
FN8's help screen includes the developer credits along with direction on the workout's flow. When you press the Play Button on the main page of FN8, you will begin with an eighty second warm up period. You can use this time to stretch, jump up and down or other means to get your body warmed up for the exercises.
Once the eighty second warm up period expires, you will begin the seven exercises. Audio cues and graphic illustrations will guide you through the routine which includes the following individual exercises.
Squat with Overhead Pass
Squat Jack
Push-ups
Row Jump
Back Row with Leg Tap
Chop Lunge
Double Leg Stretch
You will repeat the Squat Jack and Row Jump to bring the total number of exercises for the eight minute workout to ten. Each exercise is timed at either 60 or 20 second durations with no repetition requirements. You do as many reps of the exercise as possible within the time constraints.
If for any reason you need to stop the workout mid-stream, you can tap the pause button and to reset the workout, tap and hold the pause button.
Overall Impression
FN8 delivers a strong collection of exercises that will provide you with a thorough workout in a very little amount of time. The interface is simple and I really like the audio cues that guide you through the eight minutes.
I wouldn't mind seeing an activity log added to the mix to help you track your workout history. You really don't have time in between exercises to record how many reps you performed but a workout history could help you identify gaps in your workout routine. Weight tracking might be another good feature to add as well.
While we all could think of features to improve FN8, as is, it is a well designed Windows Phone app that will help you with your fitness goals when time isn't always on your side.
George is the Reviews Editor at Windows Central, concentrating on Windows 10 PC and Mobile apps. He's been a supporter of the platform since the days of Windows CE and uses his current Windows 10 Mobile phone daily to keep up with life and enjoy a game during down time.
Looks good, gonna download.

8 to 15 pounds? How much is that in bananas?

I dunno but I think it will cost a lot more than 5 potatoes

Not a bad idea, actually...!

Nice. From someone who does T25, this looks to be a good, quick program, that you pace and modify easily for your fitness level.
Would be nice to see some explanations, particularly on the Chop Lunge and Row Jump. Need to protect lower back and knees on those, with weights in motion.

The Info page features a full explanation of each exercise, including diagrams. And, yes, you are right. It's important to do these or any exercises correctly. Thanks!

Doh! Missed that! Good explanations!

Purchased ad free upgrade and reviewed in the store. Again, well done. Nice to see a fitness app that's not gym or run oriented.

Thanks! It's very much appreciated. Based on your earlier comment, I just submitted an update with a welcome message that mentions where the instructions are. In addition, a few more quality improvements were made. Fixed occasional crash when loading ads. Fixed spacing issues. Removed accidentally checked requirement for Identity. We don't need to know who you are!

Replace the smoke break with the FN8 break!! :)

I'm gonna have to download this and give it a try. I just downloaded Trainr the other day, but I haven't had a chance to try it out.

Another great exercise app for MobileFit month. My wife and son have been using this over the past 4 days. Both love it!

I've chosen to make fitness apps that can be used when time and space are limited. If you're interested in a short, high-intensity workout that doesn't require any equipment, please check out my version of the 7-Minute Workout: http://www.windowsphone.com/en-us/store/app/7-minute-workout/879efccc-5c9e-4b19-b8e6-346b76ff0133
Windows Central Newsletter
Get the best of Windows Central in in your inbox, every day!
Thank you for signing up to Windows Central. You will receive a verification email shortly.
There was a problem. Please refresh the page and try again.