App Folder for Nokia Lumia phones now available, here's how it works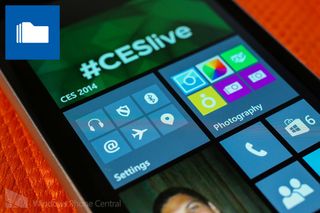 Earlier we detailed Nokia's new features that would become available with the Lumia Black firmware update. One of those surprise features was the ability to create app folders on your Start screen. At the time no details were on the blog post saying how to get app folders worked. Daniel suggested that it would come in the form of an app, which it just has. That's right, you can now download App Folder from Nokia to create your own.
Surprise! It doesn't actually need Lumia Black to work. We we're able to install and use the app on a device with the Amber firmware update installed.
There's not much to this. This app helps you tidy up your Start screen by allowing you to group apps together into a folder. Not only apps, but some popular settings can also be added for relatively quick access. The folder solution isn't as elegant as it is on competing mobile operating systems. For example, the folder you create is basically an Live tile with the icons of the various apps inside. Once you tap it you jump into the App Folder app where you'll then tap the app you want to go to. But it's a nice way to clean up your Start screen.
You can create folders, name them, and drop the various apps and settings into it. Pin it to your Start screen and you can cycle through the various tile sizes. But if you're a power user that actively uses a bazillion apps, App Folder may be a nice way to clean up your Start screen and find a bit more zen.
Grab it for your Lumia device in the Windows Phone Store for free.
Thanks for the tips everybody!
Windows Central Newsletter
Get the best of Windows Central in your inbox, every day!
I was wondering what the heck they were talking about

Installing..... Glad it doesn't need Black although i have that already. Today was a good day. Thanks Nokia. Now only gta can put icing on cake.

Indeed today was better than chirstmas. GTA would make it better than your own birthday :)

Of all the Settings they leave out, they leave out brightness? Seems I'll have to keep waiting for an App Folder app to include it.

This is the one setting I've been waiting for to have a shortcut! I had one on my WP7 pre mango. But after that it hasn't been available as a shortcut. No idea why.

WP 8.1 should have this in the quick settings.

dude its still in beta, relax and wait, it will probably come sooner than we think

I actually more concern about the system changings (in the new update) - Battery Life and CPU

It would be nice if you could include games in a folder, rather than having to launch the Games hub.

Isn't that basically the same thing.

<p>Right? I mean he could want quick access to his top four played games, in which case pin them to the start screen in a 2x2 grid... And we're back where we started... Sigh.

That's been my point all along. We already have the Music & Video Hub (folder), the Pictures Hub (folder) and the Me tile (folder-like). Oh, and Office. And this new folder app you create...does...NOTHING. It's just a tile. I can keep all my live tiles on the screen, organized how I want, and they FEED info to me. If I need something that's not available there I can either jump into the appropriate hub or immediately bring up the jumplist and get to the app I need. So what flipping good is this? None. 10 minutes of playing with it, and I'm now deleting it. Big flipping whoop.

Why don't you quit crying about it?
Obviously, many people will use this. Many people with Nokia's even used a proxy to get the Samsung app folder months ago.

I see the App Folder being like a filter for the App List. The Alphabetical listing doesn't work very well when you have a ton of apps installed. It will be better when we can organize the App list the way we want it. That is coming with WP8.1, hopefully. If I install an app to try, I may forget about it if I don't pin it to the Start Screen, or I may have to comb through the app list because I forgot the name. If it is a photo app and I add it to a Photo App folder, I just have to remember it was a photo app. I like it. I hope it gets better, it's not great, but it is useful to me.

You nailed it. That is a much better way to do things, and I hope WP8.1 takes a cue from how W8.1 does it.

Exactly. How many times have I downloaded an App and then forgotten what it's called. That Iron Man flashlight one and Tucan reader being two. These are none-hubbed, dumb tiles that can be pinned together with other stuff in a folder.

But the other platforms have so be default WP "MUST" have it or be left behind. What most fail to realize is that WP and Metro are different and act differently and do some things better. Some don't get it but then again some do. It would be nice if we didn't have to compare WP to iOS and Android feature by feature by feature by feature.

Agreed. This is a half-assed solution to a non-existent problem.

I agree, but I'll use it until the full-assed solution comes with WP8.1!!!

Just a sample of a "non-existent problem" improved on my phone: Utilities folder = Calculator, ConnectivityShortcuts, Compass, Counter+, Decibel Meter, Flashlight XT, Jack of Tool Pro, etc. Music folder = Nokia MixRadio, Slacker Radio, TuneIn Radio, Songza TV folder = Xbox One SmartGlass, BraviaControl Xfinity TV remote, Play To, Global TV Photo Editing folder = Blink, Photoroom, Fotor, Nokia Cinemagraph, Creative Studio, Glam Me, Panorama, Refocus, Smart Cam, PhotoGrid, PhotoSynth, etc. Angry Birds folder = well duh Entertainment = Cocktail Flow, Cracked, Flixster, Fresh Paint, IMDB, Redbox, Recipes by Ingredients, etc. Pay/Spend = Chase, 7-11, Amazon, ATT Thought = TED, Daily History, Discovery, Today's Word, Amazon Kindle

I don't want to have to pin every single app and game just to organise it. Some apps activate a live tile with no setting to turn it off - you can disable the background task but the tile can be stuck showing the same lame info instead of a nice simple icon. Some tiles flip with no option to turn it off. Jumping into hubs doesn't help when you've got dozens of apps in each one. Maybe I want to organise my games by category (puzzle, shoot'em'up etc) or my photo apps (editors, filters, panorama etc). Having said all that, I don't think this is an elegant solution. I'd much rather be able to add tags (like categories) to my app and game lists and be able to filter on those tags.

You are right! These are not hubs! They do not offer consolidated services like hubs. Is mainly for keeping the start screen neat and easier access to pinned tiles that are so way down the start screen. Android and iOS also have folder for their shortcuts. Why are you whinning?

and whats your point? but it looks like you can include games too.

His point is that to add a games folder causes you to actually do more tapping, by opening up the games hub instead of directly opening the game from within the folder. So in turn it actually makes it more difficult to use for games. Nothing major, just what he was pointing out.

True, unless you have lots of games and want to avoid scrolling for your favourites.

You can put games in a folder

You can create a folder for games and then add the games. The games appear in the list with the apps.

I see all the Games in the app list when creating a folder, you don't?

You can include games in a folder. I've made a favorite games folder a few minutes ago.

I don't understand why people keep on complaining on this. If you think this is not useful for you then don't install. If you have tons of apps (esp. Similar apps) you will appreciate the purpose of this.

Well said, dude. We should all be happy with all these improvements. But, if you don't need it, don't install it. And stop whining, jeez!

You can do that..just pin the game to the start screen, then add the game to the folder :D

A good start. I would like to see an update that would allow adding individual tiles to a folder (not different apps necessarily). For instance, I have a few FB pages and IG profiles pinned to my start screen that I'd like to group in folders.

Why would you want different tiles in a folder? It just seems to defeat the purpose. But I kinda get what you're saying, just seems pointless IMO

It would be nice if you could add contacts to a folder. I have a few contacts on my Start screen and it would be nice to put them all in a folder.

Could a group in the People Hub meet that need? You can pin groups to the start screen.

I had forgotten all about that. Thanks everyone.

Why don't you create a group for them? You get a live tile and have stream and photos in it.

They're already in a folder... All you have to do is group them and pin that group (folder). I'm not getting it cause you can already do that.

You can always create contact groups and pin it to the start screen for easy access

That's what "Groups" are for. So go to the People Hub, create a group, ads contacts to it, then pin the Group to the Start Screen. I use Work, Family, and Friends Groups. The nice thing is its a live tile that will indicate if you have calls, emails or messages from anyone in that Group. :-)

You can use groups for that.

But if the App folder tile behaved like a tile, that might be something. I'm hesitant to make a folder for "news" or apps that flip with info or have notifications because I'd lose out on live tiles. Related to what aaa6112 is saying, you could have the different tiles in a single tile (via App Folder) and it'd cycle through the various information, app by app (or tile by tile). Regardless, I still find it useful because I have a few games lacking notifications and tiny tiles I could lump together.

Put your primary News, e.g. NBC News" as a Live Tile with a folder "News" next to your secondary news apps, "CNN", "WPCentral", etc. for diffrent types of news, etc. Angry Birds folder for all the Angry Bird variants

Quicker access without cluttering the start screen. Imagine if you have a dozen map locations pinned that you want faster access to... pop them in a folder.

This! lots of map locations and IE pages. Why let them take a lot of room when they can all be hidden in one folder.

Because tiles can be deep links, whereas apps only go to the home page of the app.

I've got all of my favorite sports teams pinned from out of the ESPN Hub app. Would be nice to put those in a folder.

Can't say I really need it, but good to have for some. That was quick publishing on Nokia's part

JC, if I wanted to look at stained glass windows, I'd go to church.
>.<

Certainly something to try. I'll be making a "quick settings" folder.

Downloading in case they decide to lock this down later...

meh .. I will wait till MS comes up with a "proper" folder implementation.

Gotta love MS restricted OS.

If by restricted you mean virus, trojan and browser-hijacker free OS, then yes :)

And iOS is not restricted?

Not anywhere near as restricted as WP.

Maybe after a jail break.

Well this just prove my point of how restricted WP is...

WP isn't as restricted OOTB compared to iOS, where you need to jailbreak it to get some of the things WP has anyway. Anyway, why are you even commenting on here. Surely iMore is the best place for you!!

And what are some of things iOS needs to jailbreak that WP already has? I'll wait for your answer. And I'm on here cause I own a 920, 1520, and 2520. How bout you?

You're whinning about WP being restrictive and yet you went out and bought those anyway?!! And it's not as if those models came out all at the same time too! I really don't get it!!!

Cause you too stupid to understand that every OS has something that people don't like. Are you that ignorant and stupid to not understand that even though WP has flaws that people might actually still like the OS? Why am I even talking to you.

Problem is, this being MS you migh be waiting for years.It's not like installing this apps takes moe than couple of seconds, if you have Lumia like most of us.

Cool...i need a folder for all the camera apps.

You could install app called Lenses. Very useful

Thank God it doesn't need Black! Time to clean up my L920 and put all the bloody photo editing apps into just one tile. Also, it would be nice if they open the app funtionality to all the tiles pinned to the screen and not just Apps (for example custom tiles created by a third party app or webpages)

That was the first thing I did; created a folder for photo editing apps ☺

+1 Same here. If I do nothing else with it, it was worth it just for that.

Interesting. Is this faster than opening a picture and tapping"edit"?

Did you know all those apps should be in the Pictures hub, under Applications?

Dope! Thanks!
Excellent start but I'd like to be able to have a folder with anything I pin to the Start. I often Pin Websites that I want to remember or read later. Great start though.


Apple brings 250 Features in a year.... Microsoft gives 10 features in 4-5 months :/ still lacks basic features :( I think microsoft guys are on Pretty Long vacation, whereas, Nokia is working real hard on Hardware part! Microsoft, you're behind! it's time to get serious!!


Lets hope with Nokia device going to MS this is so. But its hard to believe true. Iono. I'm gonna ride with MS on this and hope its fuitful. I think 8.1 will open up great thinks for the OS but they got stop moving at snail pace.

How many of those "250 features" are useful or exposed to the user though!!?!

I agree with you. Apple gets far more done than Microsoft does. I love Windows Phone and I'm using it in an effort to get proper support. But lets be honest, Microsoft is SLOW to update their crap.

Kind of what Samsung already has for about half a year .... But nobody cares til Nokia comes up with that :D

Considering the market share, this is natural. And no one ever forgot Samsung already had it, WP Central repeatedly stated it.

The Nokia version seems to launch apps faster.

I had it (Samsung) and this one is much better. For one reasons at least.. If I open app From folder then go back (close app) folder would close as well, but Nokias doesn't. But the icon arrangement in Samsungs is easier I think

Thanks needed this and anyone complain and ungrateful please save it. It's a start and be happy.

I'm the consumer. If I'm not happy, I have every right to say what's not good about it. Its crappy. It half assed. Its a fix, a band aid, and something that falls far short of my expectations. I won't use it because it sucks. I don't need to use it or be grateful for it.

Just updated my 925. So exhilarating!

Awesome! Just "Foldered" all my HERE Apps. L928+GDR3 Preview.
No wonder ppl love Nokia.

I can only see this being useful if you have a load of apps, know what the one you want does, but can't remember what its called or what letter it starts with, otherwise the normal app draw is quicker

Why would I need an app that adds another icon to my start screen? Why make a games folder when I can tap on my games icon? Why make a folder with setting "shortcuts" when I can tap on my setting icon?

This app is clearly not for you.

To group apps conveniently and logically? This was an obvious and sorely needed addition to the OS, I can now dispense with 7 music app icons - pandora, spotify, xbox music, songza, nokia mix, rhapsody, tunein and place them in a single convenient folder, no longer need to scroll through miles of screen space to find my groups of apps. I have 20 photo icons that are now in a single folder. The usefulness is obvious and it was a glaring hole in the OS, something that every other OS has.

You every stop to think you have too many apps? What do you need 10+ of any app type? Anyway enjoy your clean start screen.

Other people have different likes and preferences than you, can you handle that?

one obvious example for me is the news apps. Some apps give good coverage for world news while someone else would be better at sports and a third app for the entertainent news. For the best coverage of local news, you'll need another app. Another set I can think of would be the tiles for mulitple email accounts. BTW, I'm an HTC user and badly missing this app, however crude it is!

Don't all of those music apps also appear in the Music+Video hub? 20 photo icons? Why not make an album instead? Or do you mean photo editing apps? Don't those just appear together in a list when you edit a photo?

If I have a group of apps that have static tiles (or tiles I don't care about and I just want quick access to the app) I can now group four of them into one space. I've done this for my maps/navigation apps, music apps (lyrics, nokia mixradio, xbox music, pandora), and social apps. They use to take up an entire 2x2 square, now they take 1 tile for four apps. If you can't see the utility then boo-hoo, now I have the flexibility.

They have this cool thing where you can swipe right to left and all of your apps appear. Maybe you don't have the version yet its ok.

There's also this cool thing called choice, preference and flexibility. Maybe you haven't experienced this before and it can be a bit scary the first time, but it's ok.

Yes, but it doesn't group them. Apparently it's coming in 8.1 though. For example, I have a few apps that I only use when travelling - translators, mapping, compass etc. but because I use the infrequently I rarely remember the names, so I have to scroll through dozens and dozens of apps to find them. The same again for music apps, photo apps, games, utilities etc. Pinning them all just to organise them is illogical and creates a huge mess on the home screen.

How do notifications/tile count work within folder?

I haven't seen them pop up at all on the "folder" icon.
I think this effectively kills the live tile.

Yep that's right. I tested it out and no more tile notifications. Still get the push ribbon up top. Hopefully it can be done to show notifications in an update.

Personally I'd only use this for apps that I don't need notifications for i.e. 99% of them

BTW, I noticed a number of the apps are NOT visible to be added to a folder. No matter, I deleted the app. Wasted.

This is just a workaround from Nokia. Nothing that is OS worthy. It works slow. A folder should not slowly open a full screen window with shortcuts at a different position than where your finger was at when you opened the folder. MS should make it so that the folder tile simply expands and pushes the other tiles away. Than you can even keep the folder expanded if you want.

Isnt that what we already saw in WP8.1 leaked video?

Excuse me? What video? I follow WP quite well but haven't heard of this..

I haven't seen a vid, but I did see a way to add tags/categories to the app list that allowed filtering

what proxy?please enlighten me.

chinese proxy, same as how you would install Samsung's app folder on nokia device. Just search for it.

A nice addition but kind of slow because it actually has to launch the App Folder app to display folder contents.

It doesn't show the notification of an app

Good thing to note is that you can't see notifications on apps inside the folder.

Didn't we already have this lol

Is it just me or can Office and One Note not be added to a folder? :(

Nope. It seems like that native apps can't be added to the folder.

Correct, I couldn't add them either.

Very cool, wish it had all the settings available to sort cut to though.

I hope this is just the beginning. It opens way to slow...

+1 "System tiles" is far faster. You can't add apps there, though.

Why cry about more options?

Because that's what consumers do to get the products they want. Otherwise you get half baked crap like this and Microsoft says "Oh they have that and are happy." I'm not happy with it. No live tile support, no badge support, load times aren't good enough. Its just a band aid. Don't let Microsoft think you're okay with crap or that's all you'll get.

Looks a bit too much but hey I ain't complaining

Not for me installed, and uninstalled.

Does it propagate notifications to the main tile when they occur in the apps inside, or are notifications even more hidden if you use this?

this is when i really really hate having HTC...that and i had 2 of them break.

continue copying things iOS (2011)

Oh really, I wonder where iOS copied it from. That's right, Windows Mobile so don't feel too smug!!

I don't think dragging an icon over another and it intelligently naming the folder was in Windows Mobile. Or being able to open the folder instantly without a load time. Its lacking and Nokia trying make up for Microsoft's lacking OS. I love Windows Phone, but it is lacking in many ways.

I am vondering in the screen shots of the app(in the store), that theme colour (red) is not avaible on my L920. Ive just got 2 red options one is light one and the other is less light. Why I dont have a red like in the screen shots? :)

Dammit I love this sh*t!!

How come Internet Explorer is not in the App list you can choose for folders, strange. Otherwise brilliant for a first release

Most of the system apps aren't accessible.

how come calculator and some of the default apps don't show up as addable to folders?

OS apps ... This app can't touch them, but that's cool, still very cool...eliminates search the app list by alphabetical.

Super cool, but i find loading time a little bit annoying, but it's like half a second so nothing bad

Wow!
I have waited for this since my first day with Lumia 720

App list isn't loading -_-

Yeah this is cool and helpful...making things tidy right now! It would be awesome if the tiles within the folder were live.

Isn't this a bit too IOS -like? :S

Could anyone explain me what is that #CESlive tile in the picture?

i didn't like it at all i hope windowsphone 8.1 will come with something well designed and faster than this

Nokia app is FASTER than Samsung app when launching program inside.

Not a huge fan but then again, I don't have a lot of apps on my phone. If I don't use it, I remove it.

Instead of folders, i would prefer customized lists.

Erm how do i do settings?

I was really jealous of this first but now I see it's implementation, I'm not bothered. It might be useful for quick settings, but for apps it efectively removes the ability for live tiles and notifications. I'm hoping MS will come out with a solution where the app folder just opens up a new 'start screen' with the live tiles in the folder. That would be a lot more useful.

Do notifications show up - for apps in a folder?

I'd like to see an indicator (blinking light) on the edge folder that apps inside the folder have notifications or a numerical counter of how many notifications total from all apps inside there are.

I have four issues with this app: 1. Slow to open. It is an app after all, not an actual folder, so it has some launch overhead. I'd rather sacrifice my space than my time! 2. You can't add content (like playlists, documents etc.) like you can do with pins. Imagine having a folder with music albums you're currently listening to. My homescreen is full of those! 3. You can't add some OS apps (like Office, OneNote, Data Sense etc.). 4. Say goodbye to your live tiles. Imagine if it could sum up the notification counts or flip between the content of all the apps inside (as someone else mentioned). I have one set up with some social apps I use, but now very frequently, where I don't care about receiving notification counts, and another for some quick settings.

What I see is Nokia addressing a way for a Windows Phone owner to be able make his/her phone more the way they want it if they choose. These folders on the start screen, with apps in them, are alot like other OS's having this very same capability. I will go out on a limb here and say that an overall majority of WP owners had the Android/IOS phones before having a Windows Phone and therefore wish that their new phone could do what their old phone could.

Need custom color option for the folders if possible.

This app is pretty awful, really. For all the press it is getting. I have seen some mockups that made a lot more sense. This just provides a link to another screen with a filtered view of your apps in a row...not really that helpful. I prefer to just sort my start screen HeaderTiles and Spacer Tile. Something closer to the folders in iOS would be more helpful. Edit: I tried to embed a few photos. They show up in editing mode but when I hit submit comment they disappear...oh well.

I tried the Samsung folder app when there was a work around to get it on all phones.
It got pretty useless to me cause it just didn't seem to fit in. Im just waiting for them to implement something into the OS. That gives us a live folder updating on the basis of apps in it and something that doesn't open as an app but as a part of the home screen.

Why doesn't a folder indicate a notification when there is one for an app contained in it? It is just a tile. It would be lovely if App Folder had a live tile or something that would indicate a notification for my Facebook app that I have put inside it. Like the iOS folders on the home screen.

Yeah Baby love it, love it, love it...

Lol, I don't have black but the folders is working with me on my 928...

Hmm, how do the notifications from the live tiles get affected? Will the folder tile change numbers when you get a notification?

Woohooo! About time! What's Windows without folders!

It's funny because you can add the App Folder inside and then you'll see it again, and again, and again.

It's fine to have an app to do such basic thing coz I get used to on WP already. Are we going to have another app to do call forward and another app to shut down phone?

Nokia's app folder vs Samsung's app folder. Which one do you guys think it's better?

I tried both of them and Samsung one is alot better then Nokia one. The Nokia App folder makes ugly tiles and it takes 5 second longer to open the app then Samsung one.

Finally. I only need a few folders, music, Nokia., and Camera.

I wanna see someone create one tile for all their homscreen apps and have a homescreen with one single tile. LOL.

Really? An app just to put other apps into folders?
What do these guys think?

I don't think I would ever use this. I would rather have the ability to categorize the app list on my phone like you can with Windows 8.1.

Was quite keen to use the app folder, but the list of apps is so restricted (I don't use too many) there is almost no point in me using it. Can't add in the Messaging app, or any of my e-mail accounts. Not a major problem but would have been a nice group for me to have. Think I was being a bit over ambitious! Initially thought it would essentially be a mini live tile for each app you have within the folder tile (for those that can have a live tile), but clearly not. Not disappointed with it, but think there is room for improvement. I shall live in hope of an update.