Follow Indian celebrities with the new Follo app for Windows Phone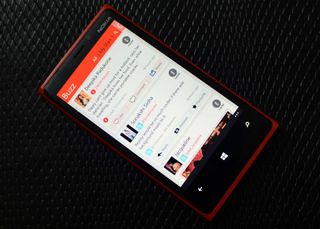 Follo (follo.co.in), a Times Internet service, is a celebrity connect service that enables fans to connect to their favorite actors, actresses, models, et al. You could read their updates, view extensive multimedia content, or listen to their voice feeds.
By follo-ing a celebrity, you could stay updated about their work and personal endeavors - breaking news, exclusive quotes, celeb gossip, trade news, event photos, candid shots, video interviews and more. Follo features celebrities from Bollywood and cine stars from regional cinema as well as Indian cricketers.
While carriers charge a fee for subscribing to Follo over SMS or IVR, I discovered that the app is free to use. While you can look at celebrity streams and photo galleries on firing the app, you'll need to sign in to follow a celebrity and get their updates or like, comment, and share those. If these are Twitter updates, you can reply to the tweet or retweet it as well.
While the app isn't very nicely designed, and the UI is pseudo-modern, it works all well and should appeal to a lot of fans and celeb-followers. Download the Follo app for free for Windows Phone 8 devices from the Windows Phone Store. Give it a whirl, and let us know how you like it.
Can I get this in India? /s Posted via Windows Phone Central App

No it's only available in China

Good they are coming up with new apps...i just hope they update there TOI app...its ages old..... :/

Looks like they forgot they've an app in WP store... Time to remind them

I'm totally a Bing News convert. Unless a new app or an update really provides some value, I'm sticking to Bing News on WP/W8.

Yup! That's what I use for now. BTW, I noticed one thing: (Note that sometimes I'm forced to use 2G as 3G 's signal isn't always strong in my locality) and News used to work faster earlier on 2G as compared to how it performs now... IDK if its due to WP8.1 or the News app updates, itself. While it still works fine when I'm on Wi-Fi...

Lol its good that they don't know Spanish haha

To veo eso en la tienda sin ver este post y me pienso que es pa follar o algo xd

¿? De verdad? Nah, eso es ya cuestión tuya.

Tu eres el guay aquí, no?

Nope. Guay? De España entonces. Saludos por allá.

India has been getting alot of love lately o.O

India is not getting any love..... In fact, India is showing a lot of love towards the platform.... Correct me if I am wrong.....

Indian celebrities app, Indian shopping app, theres a few more I can't think of atm.

I bought the game and started the download and when it got to 73% it stopped so I paused it and now it wont load it keeps giving me an error message saying it was unable to install PLEASE HELP!!!!!!!!

What are you talking about?

What game are you talking about?

Why don't they update their Times Of India news app. It sucks on WP.

It's good but ya they should update it just for the sake of it maybe

Try Bing news. It has got lot of news source which you can handpick yourself.

No, thank you. I'm not a bollywood enthusiast. To be honest I don't care to much about American performers, either. Today Hollywood is nothing more than a politically entrenched grouping of egomaniacal activists using films to promote their various agendas.
..........
I want to be entertained, not shouted down about who I need to vote for to be "hip". Hear that Hollywood, we want entertainment not public service announcements.

This was basically a PSA itself. I hope the irony isn't lost on you.

I need gocricket app from times internet they are not developing it seems

I'm Indian and I cant figure why anyone would want to follow these celebs or any celebs for that matter. Waste of time imho.

@abhishek Again I tip this news on 20 July & again you are late.
Moreover timesmobile are updating their apps (TOI, GAANA) very soon as I email the developers.

I hope they do this because TOI needs a good update. Its been years since it was last updated.

Was it even ever updated? The store says version 1.0.0.0 :P

Ora mutu blas .. Katul tenan ..

Why should I follow bollywood celebrity

Usually we say that app have bugs.. But in this case bugs have app. So many bugs that you'll not be able to use it like a proper app.

How it is different from twitteR?

Why do you review these useless apps. Most of the important Indian apps are reviewed by others, while you are to focus on Indian stuff..

Check the Guardians review by the same author, if you want something useful.

I wish The Hindu release there news app, TOI is all about bollywood and page 3.

Now that is very interesting,as we all have nothing to do all day,we really headed an app for following celebrities,now the question is,why the hell should someone want to follow a celebrity?dumb world!

I think India is getting more love from developers with only 5% market share.amazing

Dude it's 2nd most popular os in India

Used to be subscribed via SMS when I was using Nokia 1110i. Nice but sometimes irritating when you receive unwanted info.

If you wanna follow a true celebrity follow me on twitter Ali27677 :P

WP Central should dedicate a blog only for India,so we can stop reading about releases of Shit for India:)
Windows Central Newsletter
Thank you for signing up to Windows Central. You will receive a verification email shortly.
There was a problem. Please refresh the page and try again.