Fortnite cross-play now pools players differently on consoles and mobile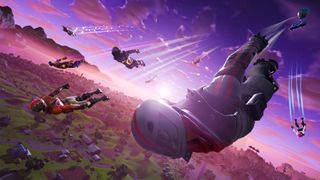 (Image credit: Epic)
Updated March 13, 2019: The article has been updated to reflect that Fortnite players will still be able to play with their friends on other platforms and that the changes just mean they'll be pooled differently.
Fortnite is a free-to-play third-person shooter with building mechanics. The title has become a cultural sensation due to its unique blend of expressive gameplay. In February 2018, Epic Games stated that the title was played by roughly 3.4 million gamers concurrently. Since then, that figure has ballooned to over 8.3 million. It's unclear what the most recent count is, but all reports indicate that the game is going strong.
Recently, the developer announced that the Nintendo Switch version of Fortnite would feature cross-play between all platforms, even Xbox One X and PlayStation 4 Pro, which feature 60 frames per second (FPS) modes. Unfortunately, the Switch only allows the game to run at 30 FPS. This gives players on the powerful hardware an advantage because not only are the controls much more responsive, but the added frames increase precision.
We've seen many users express concern about this, and Epic Games decided to modify cross-play a little. In the latest patch, Switch owners will be pooled with Android and iOS players. Additionally, Xbox One and PlayStation 4 owners will also be pooled together. This means that Switch owners should experience fairer matches because they're playing against people with a similar frame rate. Keep in mind that players opting out of cross-play are restricted to Creative Mode and Playgrounds. More details are covered in the patch notes provided by the developer.
There was some confusion earlier about whether this meant that Switch owners would be able to play with Xbox One and PlayStation 4 owners. Epic Games reached out to confirm that this was indeed the case, but the pooling changes would result "an on-average better per-game experience" for both mobile and Switch players.
Cultural sensation
(opens in new tab)
Fortnite Battle Royale Collection
This free-to-play shooter that has taken the world by storm

Fortnite is a third-person action game where you can either save the world with friends, or compete in a creative battle royale mode to be the last person standing.
Asher Madan handles gaming news for Windows Central. Before joining Windows Central in 2017, Asher worked for a number of different gaming outlets. He has a background in medical science and is passionate about all forms of entertainment, cooking, and antiquing.
That's unfortunate. So now I can't play with my friends on Xbox. Would have been nice to have the option rather than this being forced.

Exactly. Gamers should be able to opt out if they don't like it. Just removing it outright is a little silly. I understand that the frame rate is a major concern — especially the 60 FPS vs. 30 FPS debate — but still.

You can still play with friends on Xbox.

So... Switch owners can no longer play this game with PC users?

You can still play with PC users.

This is some serious misinformation, Switch can still squad with Xbox, PS4 and PC just like before, this change just means if you aren't in a mixed squad you will now come across mobile platforms as well instead of just Switch. Just like Xbox will now come across PS4, while before it was 100% opt-in to play with other platforms now its kinda semi opt-in. No one is suddenly unable to play with friends on other platforms. Just for the sake of it, a quick shot of Xbox/Switch in the same party, taken today, I should have likely got the date in there some where... or maybe even the Disco Domination event since I think its the first time its in Season 8.
https://i.imgur.com/LGuFTNV.jpg Seems for whatever reason they have got rid of the different platforms icons when in a squad now, before this would have shown a Xbox and Switch Icon now I guess its just showing some form of controller icon.

This makes more sense. Thank you for the clarification.

Thank you. I read the article earlier and I was WTF! But seing who is the author, I'm not surprise that there was so much confusion... Unfortunately, it looks like it happens too often nowadays...
Anyway thank you once again for clearing things.

The 'option to play' should always be available....
Windows Central Newsletter
Thank you for signing up to Windows Central. You will receive a verification email shortly.
There was a problem. Please refresh the page and try again.