Fortnite is now available on Google Play, Epic Games will continue to distribute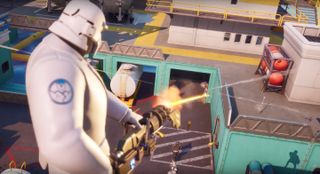 (Image credit: Epic Games)
What you need to know
Epic Games announced it was putting Fortnite on the Google Play Store.
The game had previously been available as a direct download through Epic.
In a statement, Epic said that "disadvantages" Google places on outside apps has forced the change.
When Fortnite originally released for mobile devices, the game was not made available for the Google Play Store. However, Epic announced today that Fortnite would be put on the Google Play Store going forward, with the game officially available in the store (opens in new tab) now for Android users.
After a couple of years of being available only through Epic Games, Fortnite is now available on the Google Play Store.
Previously, Fortnite was kept away from the Google Play Store in a seemingly purposeful attempt. In 2019, Epic told The Verge that it had asked Google for an exemption on its30% fee that the company requires for in-app purchases. Google didn't grand them any such exemption, so Fortnite never appeared on the Google Play Store.
In a statement sent to Polygon on Tuesday, however, Epic said that the reason for the change is due to what it calls "disadvantages" that Google puts on apps located outside of the Google Play Store.
Pick up Fortnite now
Download now!

If you've yet to play Fortnite, the worldwide phenomenon has become even easier to play thanks to its inclusion on the Google Play Store. The incredibly popular battle royale has 100 players duking it out to become the last man standing and earn a Victory Royale, and features some innovative building mechanics that makes games much more then simple shooting galleries.
Anthony Nash has been writing about games and the gaming industry for nearly a decade. When he's not writing about games, he's usually playing them. You can find him on Twitter talking about games or sports at @_anthonynash.
Every other company that distributes apps through the Google Play Store needs to follow the rules and pay Google the 30% cut. Why do the feel they should get special treatment?
Windows Central Newsletter
Thank you for signing up to Windows Central. You will receive a verification email shortly.
There was a problem. Please refresh the page and try again.