From the Forums - Poll: What color is your Nokia Lumia 900?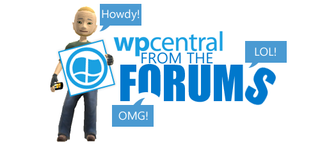 The Lumia 900 has been available for over a couple of weeks now. Reports are that it is selling well. What we want to know is what color Lumia 900 do you have? The numbers are going up and everyone has their favorite choice.
Forum member baseballbert has an opinion on the Cyan Lumia 900.
Forum member NicholasCL has an idea. This is what he had to say.
Now that's a fun idea, but you won't find that in our poll. We only added the colors we already had and Magenta just in case. Forum member nokia4life had this to say about the White Lumia 900.
The Black Lumia isn't getting much love in the thread comments even though it is holding it's own in our poll. Forum member Neibl likes his Black Lumia because of how the screen blends in and he thinks it looks more professional.
And what color Lumia 900 do you have? We want to know, so jump in the forums here and place your vote. Then tell us in the comments or in our forums thread why you got what you got.
Windows Central Newsletter
Get the best of Windows Central in in your inbox, every day!
I've had all three and am still torn....

I'm a printer. Cyan naturally.

I've got a black one as it was the only color available in Canada. Would have loved the cyan, though.

Cyan and I love it. Thought about switching to glossy white but that thing is a fingerprint magnet.

It would be useful to have an option for those planning to get one and what color they would choose. I would choose a cyan.

Cyan. Every phone I have ever owned has always been black or silver, so I love the chance to change.

Cyan. Rocking it out of a case and LOVING IT!!

I have a cyan...n9....lovin' it
now, where the f#$k can I buy the white one???

Matte Black, although I was tempted to wait for the white, but I knew it would be to long before I could get my hands on one. And I was right! Anyhow, I am glad I decided to go with black cause although my past devices were the same color, none of them hold up to the elegance of Nokia's design- definitely a one of a kind. Long live Matte Black!!

I've got both the cyan and black. I prefer the cyan though, it's just gorgeous and stands out.

I had the black love it. Got the love it even more

Black for me, me not a fan of cyan. I'd love a red one though, maybe a Nokia WP8 will have a high end red phone as a choice •fingers crossed•

I ditched Black & White photography years ago - cyan!

I have a white one though initially I had a cyan one then a black one personally I love the glossy white one the best I liked the cyan alot but the color combos were weird cyan and red didn't look right so I'm glad with the decision.

Love my cyan and love the compliments I get from random people who want to know what it is and where can they get one

Err...seriuosly, the poll is on our forums which we link to

Waiting for the magenta I'm going to rock it

Orange Lumia PureView or bust!

White is the best with black in a close second.

I had the cyan first, but now I have the beautiful glossy white version.

Cyan. Its just so flashy and everyone asks me what kind of phone it is! Eye candy!!

I got white and was able to get it last Saturday by just asking for it at my local AT&T store. Glad I did since I really like the glossy white. Still getting used to the added size and weight compared to my Focus S though.

Cyan is my color of choice! I would have had white but I have a white one x. I had to change it up!! It fits my style lol

White. Storm trooper style!

Would love to have the cyan, but I'm owning a black one from Rogers Canada.

I got a black one on launch day (day after actually) and switched it for a white one on the white launch day. I wasn't thrilled with the black, and didn't want the cyan. I LOVE the white. Sadly, it rattles like crazy when vibrating, and it's really getting aggrivating. My black one was fine, no rattle.

I scored the Stormtrooper-white Nokia Lumia 900 a couple days before its official release, and I am super happy with it. Check it out: http://twitpic.com/9czosd

black Titan....lol but I would get either the white or the cyan if I could get a Lumia 900... :/

Cyan for me but with a black case, so i can go between colors.

I went with black over cyan, basically I like to change up the theme on the phone.. and Black looks good with everything. Yeah I could have changed a cyan Lumia to a black one with a case.. but i opted to do the opposite.
If the Cyan was a little darker i would have probably gone with it, i Think the "Nokia blue" theme is a better shade, it's just a tad darker.
Speaking of themes.. when will we get a Grey color scheme, i love the way it looks in the screens i have seen.. It would look slick on my black lumia.. or any color lumia for that matter. Black lumia + grey theme = batman

Black. I'm a government. Employee, I'm not allowed to have any personality or flair. Just the facts ma'am

Torn between Storm Trooper White and Matte Black. I'd actually prefer matte white, but people don't like things to get dirty over time...
And I'm getting an 800, not a 900, because the stupid US carriers made Nokia ruin the comfortable glass bezel and make the 900 ridiculously huge.

Cyan, duh!! Got the last one my local AT&T had in stock. Its just so colorful and vibrant!!
Windows Central Newsletter
Thank you for signing up to Windows Central. You will receive a verification email shortly.
There was a problem. Please refresh the page and try again.