Cyan Lumia 900 gets backordered on Amazon Wireless but still holds top spots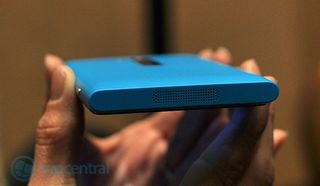 We reported yesterday that AT&T had listed both the black and cyan Lumia 900's as backordered on their site and it was increasingly harder to find them in the stores (though we have heard that certain stores still have stock). However, we were a bit cautious to suggest that it was because the Lumias were selling out due to popularity. After all there was a good chance stock was being pulled to be re-flashed with the new firmware to fix those data-connection issues.
While we're still not prepared to call the Lumia 900 a best-seller without firm numbers, there is seemingly more good news. On Amazon Wireless, the matte-black Lumia 900 has been holding the #1 spot under "AT&T phones with contracts" (opens in new tab) for one week now with the cyan variant close behind at number two. Just as impressive, the matte-black Lumia 900 has the #1 spot across all carriers (opens in new tab). Yowza.
What's more, the cyan version is now listed as back-ordered (opens in new tab) although the matte-black is listed as still available (opens in new tab).
That tells us a couple of things: the backorder business probably really is due to stock shortage and not just phones being pulled for re-flashing of firmware, otherwise we'd expect the matte black variant to also become back-ordered. The second is that the cyan version most likely has less stock available as compared to the matte-black. The cyan version has constantly trailed matte-black in the number two spot (and lower) over the last few days but it's the one listed as backordered.
That's probably not too surprising as the color choices of the Lumias have always caused delays (and last we heard the glossy-white Lumia 900 was an in-store purchase only, it will be curious to see if that holds next Sunday when it is released).
Either way, it at least looks good that the Lumia 900 has been number #1 and #2 on Amazon Wireless for one week. Those stats are updated hourly, not daily, which means it's a fairly good indicator of popularity. Backorder status, while frustrating, only adds to that perception (though for all we know, Nokia only had limited stock anyway).
With both phones holding 5 out of 5 stars from 250 reviews, user-satisfaction seems extraordinarily high as there's not a single device in the top ten that has those stats. Even the Samsung Galaxy S II Skyrocket (4G LTE version) is sitting at #7 (black) and #23 (white) which is fascinating for such a popular line of Android phones.
Sadly, the much-overlooked HTC Titan II, a phone which we love here at WPCentral, is sitting at a lowly #26. An obvious casualty of the Nokia-AT&T media saturation of the Lumia 900.
Source: Amazon Wireless (opens in new tab), Top selling (opens in new tab); Thanks, Brian 3, for the tip
Windows Central Newsletter
Get the best of Windows Central in in your inbox, every day!
Daniel Rubino is the Editor-in-chief of Windows Central, head reviewer, podcast co-host, and analyst. He has been covering Microsoft since 2007 when this site was called WMExperts (and later Windows Phone Central). His interests include Windows, laptops, next-gen computing, and for some reason, watches. Before all this tech stuff, he worked on a Ph.D. in linguistics, watched people sleep (for medical purposes!), and ran the projectors at movie theaters because it was fun.
I'd say the Titan II problem is more about price than anything else...$99, 49 or free > $199 in some cases, especially my pocketbook.

HTC's problem is that no one believes at 16MP camera is worth $100. And that's before the Lumia got a special $100 rebate if you get it before April 21st.

I'd agree that the real reason is marketing and price, but don't overlook HTC's complete inability/unwillingness to support their products. The original Titan had huge bugs regarding data and microphone.
I owned a Titan, really wanted the 16MP camera, and would have jumped on the Titan II if only HTC had fixed just the data problem. Got really tired of toggling Wifi on and off...


I owned a Titan as well. Was not amused with their delay in fixing the voice quality issue and some data connection instability problems. Based on their customer service, I'd decided to go with Nokia instead.

Agreed, HTC is needs to market their phones just like Noka is doing. Furthermore, I suspect the Titan II will be dropping in price to compete with the Lumia in less than two weeks if the 900 continues doing well. MS and Nokia need to make a cool commercial for the magenta 900 geared toward women.

You are talking about the ATT version of the original Titan, I have the international version and hasn't have a single problem with it, I use the tethering even to stream movies to my laptop and haven't lost connection once, same with WiFi...there's a problem with wp7 and some crap from ATT some of their crap is surely fucking up

My international Titan has all crap the ATT has as described. Came an update now and I hope it's taken care of...

Yep, my titan has the data-problem too, in Norway.

Had the Titan but upgrade to the Lumia 900. I think the future of OS resides with this device

Agreed but come on its Nokia would u really want a HTC over a Nokia? I got my 900 couple days ago for $50 so I'm not complaining

The HTC Titan II only matches up in specs. But it doesn't match-up to design. The article that all smartphones are the same and that the Lumia 900 is something "beautifully different" reflect by the rankings. I'm a fan of yours, Daniel, I mean no offense with the comment. Just saying that it is probably the most probable reason to why it ranks that high. People look for individuality.

Oh no argument there, I even said on the podcast how the Titan II's design is uninspired (though it's still very well done and refined). But hardware wise, the Titan II is just as good and in a few ways better than the Lumia 900. Just goes to show that Nokia, advertising and unique design goes along way. But then again, the iPhone demonstrated that years ago by releasing a top-selling phone that couldn't even do MMS ;-)

Brilliant point Daniel on the original iPhone and MMS.....a lot of times its not so much about functionality....i mean otherwise android wouldn't even be in the picture

I got my Nokia lumia 900 cause of the support from them

I have the original titan and have no issues with wi-fi or the microphone. I access at least 3 WiFi spots a day.

Me too... Can't be more satisfied

I don't want to think the Titan II is a casualty of media saturation of the Lumia so much as a casualty of HTC. I'll never buy another HTC phone...I've owned at least 4 over the years, all of them have been junk in the end. Especially the HTC Surround.

My HTC Trophy has been just fine. Nothing too special on terms of hardware but solid.

You owned at least four! You don't know?
A liar's slipup methinks.

I,Use the HD7 it's ok, but only ok. Up against my wife's 710 the 710 kills it. I'm not so sure that I would ever get another HTC device seeing how this one is the 3rd sent to me because of defects. The design of the Lumia 900 simply blows away anything that HTC has. Even though the Titianll has that curved glass it's not in the same design class.

As I've said before, out stock is nothing about pulled stock. Phone just simply sold out. Black is available in every store I called in Boston, they told me cyan was sold out on the 1st day! When asked about pulled stock, they said nothing was pulled. Phone was just simply popular and sold out.

Let me suggest that the market for a 4.7" screen may not be as large as that for a 4.3" in general.

Perhaps but that ignores the fact that for all intents and purposes, the Titan II is the exact same size of the Lumia 900. The 900 is quite large for a 4.3" device.

At this point, I'm not sure why you wouldn't call it a best-seller. Even without firm numbers, there's no denying its popularity and the recognition it has brought to Nokia and WP7.

Imagine if this thing rolled out on sprint and Verizon. Nokia would be stealing market share across the board

Actually, it might sell that well if Sprint and Verion Wireless decide to hide the Nokia Lumia 900 in the back of the store (again).

I don't recall reading reports that the Titan I was flying off of the shelves when it was released, even when they dropped the price to a penny. The Titan II, even if the Lumia wasn't advertised, would not sell as well in comparison to the Lumia 900 based on price alone; $100 more for the Titan II is not justified, at least not for my money.

Seeing the Titan II in the ATT store - well, at least when I was there people 'glanced' at the Titan, but picked up and demoed the Lumia 900. The more attractive device, the Lumia 900, not to mention the value add Nokia applications, simply makes the Lumia 900 a people magnet. I'd wager that even if the Lumia 900 was $199, that it would still be chosen by many over the Titan II.

Well...it was good run. Amazon has the Droid Maxx as the #1 selling smartphone now.

..by 1 spot....Best Sellers Rank: #118 for the Maxx and #119 for the Lumia

I just checked and the black lumia was #1 for cell phones with service.

You're right..it's back to #113...nice

#113? What part are you looking at? Isn't it #1?

He might be looking at all cell phones and accessories. It's been #1 in cell phones with service though.

If you look at cell phones and accessories category, it'll show how close the next phone is in total sales.

They are selling like hotcakes. I had to call 4 different att stores in the Colorado Springs/Denver area before I found a black one. It wasnt running updated software but the employees told me they are selling better than any other phone on the floor.


Anyone have a guess as to when we'll get some actual sales numbers from Nokia? I believe they have an earnings call this week. Perhaps then?

I doubt it. Since earning calls is for Q1, when L900 was not released.
They may just say that things are positive and so and so, but I doubt they will release the numbers, since their numbers even though high selling phone, may still be less compared to other popular phones. So if they say a small number, it may still be given a negative spin by the tech media and analysts. So, I think, they will announced the numbers only when it crosses a million mark, and that has surely not happened yet, but may happen in not too distant future, if the tempo is maintained everywhere-online,tv,blogs,word of mouth.



I like my HD7. Still works great, and support has been better than what people get on many other carriers. *IF* TMo Nokia and HTC would provide Lumina 900 and Titan II equivalents not sure which I would pick. Leaning toward the Titan II because of the bigger screen and better camera. But obviously Lumina 900 is the favorite love child, and Nokia did provide a bug fix remarkably quickly. For now I am forced to wait. The existing TMo Nokia phones do nothing for me. 8 GB... Puh-leeze.

Although it's good the Lumina 900 is making waves on AT&T, it is a crying shame AT&T is all but ignoring previous handsets. A friend of mine has a Mango handset. STILL waiting for the keyboard fix. He likes WP7, but I have a feeling he's going to be headed back to iPhone when the next iteration comes out. I hope it's not true, but the message I see is hero-status phone is the only phone that will get any support.

I thought they are already bringing the update

Verizon should of got the Titan 2. I know I would of got one. Can't help but thing it would of been win win for both HTC and Verizon.

yes VZN should have jumped on it but as usual they are all talk and no walk as far as jumping into WP wholeheartedly.

At this point...it seems to me that...if you want to be "unique" then you would get the Titan 2.
After all, everyone else will have that odd looking 900.
The design and oversaturated too high of a contrast (trying to hide lack of resolution) screen ruin the 900 for me.
The screen on the Titan 2 is more pleasingly realistic to me.
That said.....I am glad the Nokia is doing so well. That can only be a good thing for us folks that like the WP OS.

I think that the big problems with the Titan II are the price difference and lets face it HTC has not been aggressively advertising the Titan II line Nokia hgas done with the L 900. HTC needs to get in the game.. the advertising game or it will get left behind.

My Local ATT store got the Cyan 900 in stock today, got myself one. Maybe gone pretty soon.
Windows Central Newsletter
Thank you for signing up to Windows Central. You will receive a verification email shortly.
There was a problem. Please refresh the page and try again.