From the Forums: Lumia 920 rebooting, Portico update extending battery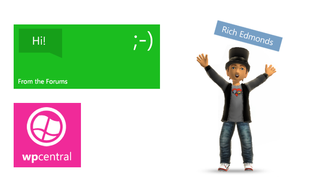 Welcome to another edition of From the Forums! We'll run one more just before Christmas to get everyone into the festive spirit (should you celebrate such holidays, of course)! It's always a busy time on our community forum, but momentum is still rolling strong with Windows Phone 8 pushing in multiple markets. So what's been happening on our forums?
First on our list of attack is the Lumia 920 and its teething issues. Nokia has continued to experience problems with its Lumia hardware, particularly the 800, 900 and 920. The latest flagship from the company is causing owners concern with random reboots and failing completely, rendering the Windows Phone useless.
DaytonaGTS has received the Portico update but has reported more issues surrounding the restarting, which the update was supposed to address.
Are you experiencing said issues with your Lumia 920, particularly if you've loaded the update? Be sure to engage with other members of our community forum in the "920 still rebooting after Portico update" thread.
Protico update extending battery
As well as threads and posts containing complaints from owners that detail issues with rebooting, even after the latest Windows Phone 8 update, we've also go positive experiences with battery life being extended and improves for users to annihilate through heavy usage. Our own George Ponder has also joined the gang to reveal battery improvements.
Flagz reported the following improvements:
The Portico update addresses a number of bugs and issues, as well as adding a handful of features and improvements. Head on over to the "Portico tripled my battery!" thread to add your thoughts. Have you noticed an improvement in battery life through use?
You can create a free Mobile Nations account and join in the fun on our forums. The community is open 24/7 and covers all handsets that run Windows Phone.
Rich Edmonds is Senior Editor of PC hardware at Windows Central, covering everything related to PC components and NAS. He's been involved in technology for more than a decade and knows a thing or two about the magic inside a PC chassis. You can follow him over on Twitter at @RichEdmonds.
Is the resetting isolated to Lumia as my Ativ S is fine, no issues, no resetting and incredible battery life, unbelievable actually

It's it possible your Ativ shipped with it? Mine did.

It has a pentile display. Put it next to a 920 and compare.

All retail Samsung ATIV S shipped with Portico.

What's the "Postico" update? First I've heard of it...

Lots of small fixes and new features.

You can just say that there's a typo you know -_-

Don't you mean Protico? ;)

I guess I have been lucky with my 920. I haven't had any issues with my phone other than the light sensor kept fluctuating but since the update I haven't had that problem.
As far as battery life it does great. I just configured it as I did my 900. So I work 13-14 hour shifts and use my phone regularly throughout the day and when I get home I have 30-50% left. So I'm very pleased with my 920.

Same here, no problems before or after the update. Even the update took no more then 15 min. Verry pleased. Thanks Nokia Lumia 920

No problems before or after. I'm a heavy user and would get *maybe* 8 hrs and now I get 12 which is HUGE for me.

Had the reset issue since the update been all good on my end

Battery drains in 6 or 7 hours with heavy use and Bluetooth on before and after Portico. I always use Bluetooth so I don't. Know the difference without it.

My wife's Lumia 920, which was freezing and or rebooting 2 to 3 times a day prior to Portico update, has frozen twice since I updated her phone Thursday morning. It apparently happens when she opens Nokia Drive + Beta in her car using Bluetooth. My own 920, which only froze a handful of times prior to, hasn't frozen at all since my Wednesday update.

Was recommended somewhere to uninstall Drive then reinstall. Same thing happened to me prior to Portico and this resolved.

Cant say my battery is any better. Not horrible, except if I actually use my phone I need to charge it through out the day.
Some nice little tweaks over all, but I was hoping for a bit more. I can only hope they keep up with doing little updates like this frequently. Better than waiting for big updates once a year or so.

I had quite a few crashes prior to Portico when using Nokia Drive +. The day before the update it was pretty much guaranteed that if I launched the app, it would crash my phone within a minute or two. Haven't tried post updated, but the random freezes seem to have gotten a little better. I've only had one in a few days now and that was overnight during charging (non-wireless). That seems to be aproblem people are having.

My 920 froze once since early November. No other problems. Battery life improved with Portico

Me to. No restarts but one awful issue due to which I did a hard reset, which went bad and I had to Flash the phone. But the very next day Portico became available and I obviously had to Flash it again. No issues with Portico at all. The screen dimming issue solved with the dark room trick.

And...I kept an eye on the battery today. 14 hours since charge, battery is 58% after moderate usage. WiFi is on; Bluetooth and NFC off.

I've had this issue. Had to switch back to my focus because my 920 got stuck in a reboot loop where it just shows the art logo then the Nokia logo soft reboots won't fix it and so far as I can tell I'm gonna have to send it in to Nokia and have them fix it...it sounds pathetic but I'm like distraught over the inconvenience.

Bricked once. Fixed on my own. Works fine except fluctuating light sensor. But no big deal. Still love my L920.

I had same problem. Somewhere in wpcentral is an article with a fix for fluctuating light sensor. Haven't had a problem since I tried it.

Wish Verizon would get the update out!!

With all the issues being reported in the forums w this update, I think we should be careful with what we wish for. My 822 works flawlessly and gets great battery life (almost 48 hours w moderate use). Of course I'll update when it gets released, but am hoping MS irons out the kinks before pushing the release to VZN devices.

I have the Lumia 820 I use it for hours and hours a day. It is flawless. I have NEVER had a freeze or a reboot or anything. Nokia Drive+ Beta works beautifully. I hope you Lumia 920 uses will get the fixes as my experience has been great. I still wait for Protico update but...I can't wait.

I never had the reboot problem, luckily, but the battery problem is still a major issue! I have hardly any Live Tiles running in the back ground and yet that was a big selling point for me when switching from the iPhone! I still love the phone, but hoping they figure out away to extend battery life before I switch to the Samsung ATIVS Phone

I just got 26 hours of battery with 38% remaining, and I USE my phone, it should be considered borderline abuse at times lol

I think I once experienced reboot in early days of having Lumia 920. But it was bit frequent on HTC 8X. I am happy with my Lumia 920! It rocks!!!

No issues so far with update. Battery does seem much improved, also not sure if it is update or my power adapter. Was using my power adapter that came with Samsung before to recharge. Was only getting about 10 to 12 hours before out of power. Now using adapter that came with 920 and that seems to have helped as well. No freezes since update. Had two freeze when first got phone. Never had reboot issues.

I just love my 800 with 7.8 :)

I'm still waiting on the update! Hope it comes before I receive my L920 which is due somewhere beginning January! How is 7.8 working out for those who have it? Rgds

I've still been freezing. Been talking to Nokia Support on Twitter. They went through the normal "disable background apps" and "close running apps" spiel. Then they told me to reset?! I'll be diving into the forums soon

My 920 has frozen before but only because of "words with friends" the only issue I have now is the screen dimming and brightening at night

same here. So far updates been good, havent noticed anything with my battery life.

Im atually quite glad that the UK isnt getting the 920 update yet, im quite happy for US users to test it first...

I haven't experienced any of these issues with my 920. It might just be the hardware in some of the phones that people got. But I love my 920 I wouldn't change it for any other WP.

I have definitely seen the reboot issue on my 920 post portico updat but it is not a cycle of reboots, it reboots twice then is fine. Not that annoying but not that cool either!!

The biggest problem with the 920 seems to be dust in the FFC and proximity sensor. When it gets under the proximity sensor the screen switches off during phonecalls or notifications.
I wonder why this major fault hasn't been reported on by WPCentral

I've had the same problems you can blow the dust out by removing the aim slot and spraying a can of air into it

I had At&t replace my 920 because of FFC dust. NOKIA advised this when I called them.

I havn't had any of the problems others seem to. No rebooting/freezing, no light sensor, no crazy draining battery. I don't feel your pain.

I haven't had the reboot issue before or after the update, so I guess I'm good to go. As for the extended battery life, I'll find out when I return to work this Sunday.
On a side note, anyone else notice the volume leveling feature added in the audio settings? It boosts the volume as well, and works great for me.
Finally, I'm truly happy with a phone. No Android or iPhone,...no buyers remorse. A nice upgrade from my Lumia 900.

The volume leveling feature comes as part of the Nokia audio settings app update. It isn't part of Portico. I'm still on pre-Portico and has the feature on my 920 too.

Never had a reboot on my 930. No problem other than the auto brightness setting badly light the screen in dark environment, but then I just keep auto brightness disabled. Kind of weird that so many 920 owners are experiencing perfect operation while so many others are having constant reboot or freezes. Have specific applications and system settings, as opposed to the hardware or OS, been ruled out as root cause? It may be worth while for all forum posters to provide a list of their installed apps and system settings along with a yes/no on reboots in order to identify any commonality. I have Bluetooth disabled since day 1 for example, whereas it appears from comments that several owners trying to use Bluetooth are having reboots. Just my two cents.

I'm thinking you might be right. I use the Bluetooth alot, pretty much since day one and been having the bricking/freeze/restart issue. I turned off the Bluetooth last night and haven't had any issues yet.

I'm having a terrible time with my battery. My last phone was the Razr Maxx and I could abuse the heck out of that phone and the battery would last me 20+ hours. Obviously the 920's battery isn't as robust, but I'm finding that I get about 8 hours of light to moderate use out of the phone. If I want to get through a full work day, I have to keep a charger nearby.
I'm not playing games, mostly web broswer or web apps. I use wifi when available and turn it off when not needed. Screen is set to the lowest brightness. Bluetooth turned off and I don't have any background apps running. I'm not sure what else I can do but I'm getting frustrated and will probably have to return the phone. It does me no good keeping it fi I can't use it.


Mines use to freeze every now and again but I haven't had any issues since updating. Battery life improved too not that it was to bad before.

Thanks for not giving unlocked Lumia's this update Nokia.

My 920 is off every morning and requires a soft reset... Has made me late for work quite a few times because of no alarm lol.. Anybody know of a temp fix?

Happened once to me so far as well.

I even called Nokia.. Bad choice, the lady knew nothing about this problem

yeah I have the same problem. I am thinking of letting the phone run without the lockscreen so that it would stay awake at night. Tonight, I am going to test that. I hope Nokia or Microsoft will fix this.

If that works let me know

Bluetooth with my car is still not working correctly. I would say battery life is considerably less than before. Auto brightness is greatly improved and works great for me.

Sometimes my 920 only shows the bars, not saying 4G, LTE, etc. And this is after Portico.

I haven't had the reset problem. My only problem was rapid battery drain a few times. I think the phone needs to be turned off from time to time in case one of the programs is hung up wasting battery life because once the phone battery ran out and turned the phone off, it has worked like normal which is 48 hous per charge. Not a heavy user.
Battery seems about the same for me since the update. I had the weird light sensor dimming hiccup right after the update but I turned Auto off. When I turned auto back on, the problem had gone away.

Go in the settings and block the back round tasks for Nokia drive beta and other apps. It will help your battery ALOT.

Settings -> apllications -> background tasks! (based on my 7.5 Lumia 800)

Go in settings then swipe over to applications. Its the first option called background tasks

No one has mentioned the WiFi going off under locked screen issue... I'm not sure the update really fixed it

You have to turn that on under wifi setting and tap on advanced.

No issues with freezing or spontaneous reboots since I bought it. Battery life is impressive. I drop mine on the pad at night, take it off in the morning, and I'm good for the day. Portico added a few nice tweaks.

I'm on my 3rd 920 in 6 weeks

It really is to bad Nokia has quality control issues. I had 4 900's and now I'm on my 3rd 920

First 920 had the soft spot so to speak on the top just right of the 3.5mm jack. Plastic would make a clicking/popping noise when pressed. Second would freeze up constantly and needed to be reset. Funny thing is every phone whether it was a 900 or 920 I had was blue. Now I have a red one and no issues.

My live tiles have stopped updating. Anyone else having this issue after the update?

Folks, I am sorry for the thread hijack but as a regular poster here I hope you will forgive this thread hijack.

I never ever do this but hope you don't mind and I hope you can help with your votes and social network shares to promote further gun control via DemandaPlan

https://www.facebook.com/#!/DemandAPlan?fref=ts
and http://www.demandaplan.org/

Can there finally be change? http://youtu.be/64G5FfG2Xpg
See also http://www.mayorsagainstillegalguns.org/html/home/demandaplan.html

Sorry, but this isnt acceptable to be here, let alone a reply to a thread concerning a software update.

I agree. And fyi we need stupid people control not gun control

Have had no problems with my Lumia 920. Worked fine prior to update & no issues post update. Love this phone; still waiting to get the yellow one for my wife.

I'm having problems with the light sensor bot letting me into my phone while on a phone call and the random rebooting on both my 920 and my wife's 820

Is the 900 update release still in jan?

Even after the update I'm still plagued with horrible battery life. I have yet to get more than 6 hours usage on a 100% charge since purchasing my 920 on 2nd day of availability at ATT. I went in to ATT today and they gave me the number to contact their warranty dept. so I can replace mine. Really looking forward to a new proper functioning 920!!!

I have noticed since the update my battery life has been cut by around 50% I would go an entire work day and maybe touch 80%. Now I am getting around 40%

My Yellow Lumia 920 has ahd freezing issues before the update. I almost exchanged it in the store for another one. But the only thing that stopped me was that I could exchange it for red, back or white in store & not yelllow as they do not carry them.
After the update the freezing was till there & i regretted not having returned it as I was pat the 14 day period. Frustrated, I did a factory reset last night & it's been 24 hrs so far without freeze. Also Iwas urprised to see that the battery meter was still showing 98% @ 7.30am after it was removed from the pad around 1.00am. I still think this battery reading is not very accurate.
Anyway, a couple of hours ago I logged into my Skype and set it up since I was not expeiencing any freezes. What happened is the phone has been a little warm & battery did drain rapidly without any use. Drops from 75% to 37% or so in 2 hours of no use ast all. So, I just rebooted it about an hour or so ago to see if it solves the heat issue & stops the drain, so far it has worked. In the last 40 minutes or so, the phone is cool to the touch & no battery drain seen so far. Wondering if Skype was doing something in the background. Now I am going to install Wahtsapp & see what happens. Hope it doesnt screw up the batteryagain as well.

No reboots on my 8X , don't know about battery life since one of the first things I did was install this update.

My Lumia 920 hasn't rebooted once, other than the times I told it to ;)

A random reboot can be seen as a good feature as it frees RAM and makes the phone work smoother! Anyway, Windows Phone 8 is the best, way better than Android!

After reading all of the issues users are having..I don't think I will be installing the portico update...my 920 is great right now (no issues except the battery life.pretty sad)..will wait until the next update

I had no issues either. After the update the battery life is notably better, by I also turn off a lot of background tasks. The other new features are mostly welcome.

I dont have the update yet. Got The rebooting issue couple of times a day

How long should the L920 battery last. Fully charged 7am by 7pm its 5%left. Several short phone.calls few txt and checking emails general phone use. Same as i did on iphone 4 and that battery never died.

Oh well as much as I tired dude there is no way I am moving from iPhone to windows phone 8. My wife had a windows phone 7 and bought a windows phone 8 and its is the worst phone ever!!!!!! The syncing is the worst, I mean the is good, but don't try to move music over its hell and u will find yourself just saying I give up. If Microsoft does not change how there phone syncs with a computer like Zune they will lose a battle they started. I was going to upgrade from an iPhone to a new windows phone, but heck no!!!!!!! If I can't sync or play the music I want and in which order I like, then I am sticking with an is that will allow me todo so. Microsoft screwed it up not using Zune because that was the easiest way to sync the windows phone with my music. We just though it would be just as easy with this new version. Microsoft just lost me as a consumer, they can blame it on there lack of usability software with there computer for the lost of this sale. If my cant seem to sync her song as she wishes she is moving to iOS too

What are you talking about you can sync your music with windows media player and its very easy you just create play list and click sync its very very easy . Try google first before you say this reply. Further, I have an iPhone as well as my wife and syncing music its nightmare. Just tell me how you can sync music from iPhone to your computer . No way you can do that unless you have third party software iPhone is sucks due to the stupid restriction that they made . Copying contact is nightmare as well.

I think turning off unnecessary tasks in the background elongated my battery life dramatically. I've found that iheartradio and tuneinradio are the worst offenders. Turning maps off is also a good idea.

Who's gonna buy me a 920? :-)

My freezes and reboots every few days :/

I want it to come to Europe now!!!

This guy with the reboot loop has a defective phone. Should have taken it back. No update gonna fix that.

I initially had the black screen freeze on my 920, but after a factory reset and limiting myself to just installing certified wp8 apps its not happened since, that was well over a month ago.

I get the occational reboot but not a problem yet

strongly considering this phone as im just a bit tired of the issues that come with android most days...my one concern is battery life...i send/recieve around 200 texts (ish) a day...check the facebook 5-6 times...tweet pretty regularly...occasional google/bing search..youtube sometimes (rarely)..once in a great while ill sit down for 30 minutes and read an internet article or tweet but thats rare..and now that ill have a proper phone ill most likely start using apps like foursquare on occasion...so with that in mind, what should my battery life be like...if i get 15 hours to a charge is about what i need...any more is awesome but 12-15 is ideal

I have the same issue rebooting randomly on my phone after update.
Is there a away to get around this issue.

After the Portico update my youtube stop working. Error "You need to install an app for this task. Would you like to search for one in the Store?" Select Yes or No. Selected Yes, and answer: Sorry, no apps found. Youtube worded fine before the upgrade. What I do know is that if you selected the Desktop Version under Internel Explorer Website preference then Youtube will fail. If you selected Mobile Version under Internet Explorer Website preference than Youtube will play. Did anyone test this or you have their Youtube playable in both Preference? Thanks.

POSSIBLE SOLUTION - I had freezing once/day first week & was about to return mine for exchange (I LOVE THIS PHONE!), but a fellow WP user told me all I needed to do was eject the SIM card & re-install firmly (as if the SIM card was not in well enough). I did it, skeptically, and proceeded to TRY to get the phone to freeze - I had about 12 apps running at once + IE, everything. It wouldn't freeze and hasn't in 2 days! I have about 5 more days in my 14 day exchange window with AT&T, so I'm hoping the SIM issue fixed it. (Sounds too simple to be true, but so far,so good)...

So far all portico has done for me is improve picture quality a little, its now causing apps that worked before to freeze, phone randomly restarts by itself, battery seem to drain alot faster. Regret ever installing it on my phone.
Windows Central Newsletter
Get the best of Windows Central in in your inbox, every day!
Thank you for signing up to Windows Central. You will receive a verification email shortly.
There was a problem. Please refresh the page and try again.