From the Forums: The Microsoft event aftermath, first Lumia 920 user review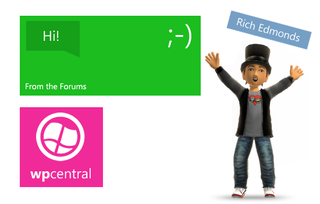 It has certainly been an incredibly busy start to the week here at Windows Phone Central. We published a special From the Forums yesterday that went into changes that are currently happening here on-site with the new design and backend improvements being applied, not to mention our Windows Phone 8 contest!
Today we're back with a true From the Forums, so what's been happening in our community?
The forum is a bustling place of activity now Microsoft's events have concluded, but threads are still being crafted for discussion within them to take place. A popular thread "Are you F'ING KIDDING ME?!?!?!?!" created by TenTwelve speaks out about the lack of announcements made regarding carrier pricing and availability.
Aubreyq's response sums up a feeling that's felt by many readers:
While Microsoft's Windows Phone 8 launch event wasn't as announcement packed as we hoped, it did formally unveil the next version of the company's mobile operating system - which is a good thing. Carrier information is trickling out as we speak, most UK availability details are now published, and the US will soon follow with other countries following suit. The likes of AT&T will have to pick up if it's to grab consumer attention.
First pictures and user review of the Lumia 920
Rogers revealed they were to launch the Lumia 920 yesterday, and sure enough it launched yesterday (being the first carrier in the world to do so). Forum user xserver managed to pop down to a Rogers retail store to pick up one (of only two) handsets stocked there. Being so excited about the new Windows Phone 8 hardware, he couldn't help but carry out a short review in his car.
See the four-part consumer review below:
You've all been asking, "Where's the Windows Phone Central Lumia 920 review?!" We hear your cries, and we'll get our review up as soon as it's ready. For now we'll have to wait until such a time is upon us, but it wont be long. You can head on over to the "First Pictures of 920 Rogers Canada" thread to join in the conversation until our review is published.
You can be sure to find more discussions just like those listed in this article over on our Windows Phone forum. You can register an account with us for free!
Windows Central Newsletter
Get the best of Windows Central in in your inbox, every day!
Rich Edmonds was formerly a Senior Editor of PC hardware at Windows Central, covering everything related to PC components and NAS. He's been involved in technology for more than a decade and knows a thing or two about the magic inside a PC chassis. You can follow him on Twitter at @RichEdmonds.
I'm excited about this!!!

So lucky man, there is no words to say about my feeling waiting to get my hands on lumia 920.....too exited about it.... please bring it soon to Singapore....:-)

Nice, but this is not a review because you haven't even used it yet.

Has anyone heard any word about locking screen rotation on a device-wide basis? It would be nice for reading while laying sideways in bed. I tend to prefer using my device in portrait mode almost exclusively.

so far only dell venue pro has the feature, portrait lock in browser, which I absolutely love and use it everyday. Hope there is such a feature in wp8 if not in near future update.

I believe there was a homebrew app that did this. It was very crude and required a restart to unlock but it worked.

You guys are so lucky in Canada!

I dont see Datasense ????

Datasense is coming to Verizon first, 2013 for the rest so i guess we wont see it by then

Probably stupid to order a phone before reviews, but my lumia's coming next week :)

i'm really excited!, i hope i can save enough money to buy this device.



Thank you for putting up the videos. Nokia Lumia 920 sure does look exciting. Can't wait to get my hands on the phone!

Does the l920 have the emoji smilies as well? I'm guessing it's build into WP8?

What a joke the 920 launch on Rogers is. They had Two devices per store. Didn't matter anyways as the phone is still locked to Rogers if you buy it outright. Apparently you might be able to get it unlocked for $50 by calling Rogers.

The Rep did make reference to problems with the unlocking process saying they still haven't got unlock codes for the 900 and that online codes sometime don't work and are sketchy for Nokia phones. I'm not sure about the truth in that statement.

nice man loved the phone man really nice

the new look is really beauty guys

nokia lumia 920 black definately

I just don't understand what they are doing with this launch. Seems very disorganized

Completely agree. Disorganized is the right word. This "launch" is all over the place.


This is not official launch, it is only limited introductory gig. Official launch for Rogers is on November 12th when device will be available to retail and business users (this is according to my inside source at Rogers - they quoted official document given to support people).

Still no pricing or availability in the US. So frustrating!

There were only TWO Lumia 920s in the store when xserver picked one up??!

So, since the Rogers version does comes unbranded (no carrier logo), it will be possible to buy it unlocked and use it on AT&T?


I wouldn't see why not, because Rogers is essentially the AT&T of Canada.
Windows Central Newsletter
Thank you for signing up to Windows Central. You will receive a verification email shortly.
There was a problem. Please refresh the page and try again.