From the Forums: WPCentral upgrades, Microsoft event and the awesome contest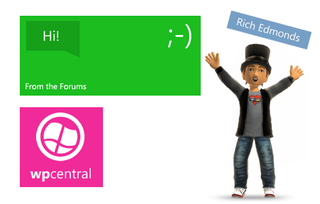 As we covered in our round-up of today's Windows Phone event, Microsoft has been an extremely busy bee indeed. Our Windows Phone forums have also been fairly active lately, particularly when our main website went down for some surprise maintenance. So what's new in the community? Jump into this special edition of From the Forums to find out more.
If you've been absent from Windows Phone Central the past few days, not only have you managed to miss possibly the largest event in 2012 for Windows Phone, but you would have been greeted by a completely different website. We've had a face-lift!
As noted in the announcement:
Should you have any comments, bug reports or require assistance with our new look and feel, then be sure to head over to the "Window Phone Central Upgrades" thread and voice your concerns. There's a number of improvements well on the way for not only the website, but the community forum too. We'll be announcing when these will take place so stay tuned.
Microsoft's Windows Phone 8 Launch
Microsoft held an event today, as mentioned a million times already in the last few hours, which provided us with an insight into what's next for Windows Phone. To cover the BUILD 2012 event tomorrow too, we set up a forum dedicated to the Microsoft events that span across these days, which can be located here.
A number of discussions have been created, including a live update thread (by squire777) for the presentation. A number of goodies can be found within, and one can also hop on in to add their opinion on how the day went.
WPCentral's Contest!
Our website relaunch with the new design wouldn't really mean anything if we didn't have an exciting event to go with it - and no we're not on about Microsoft's day with Windows Phone 8. So, we decided to kick off a Windows Phone Central contest!
Do you fancy winning a Windows Phone 8 handset of your choice? Of course you do, but how does one enter? Simply register for an account (or log in should you already be a member - you're awesome!) and comment on the contest article with feedback on what you think of our new look and which device you'd like to win. Simple. We'll then choose a winner!
Be sure to check out our community forums for the latest Windows Phone discussions. You can register an account for free to take part in the vast number of threads available!
Windows Central Newsletter
Get the best of Windows Central in in your inbox, every day!
Rich Edmonds was formerly a Senior Editor of PC hardware at Windows Central, covering everything related to PC components and NAS. He's been involved in technology for more than a decade and knows a thing or two about the magic inside a PC chassis. You can follow him on Twitter at @RichEdmonds.
New design looks brill! :D

Awesome new look. Can't wait for the rest of the world to realize how cool WP is :)

Love the new desiogn I was looking at it I guess right fater yiou back on line and thought wow this is really neat but at first it was opening real slow and I had issues getting comments to post. Thats all worked out later in the afternoon Now itys smooth sailing! Great job!

Rich, having problems logging into the forums from my phone, Xbox or Windows 8 PC, so I obviously can't post in the forum setup for problems! :). I can post comments to stories on the main site though. Seems I can only post in the forums from the app. What should I do?

Coming from a web designer, LOVE the new design. Huge improvment guys. Great job!

I like the fresh look and I'd love a black Lumia 920 =)

Didn't we already do that? Anyway...mobile version was an issue. The look is refreshing though. And... a Yellow or Red Nokia Lumia 920 on at&t please.

Note: WPC refer to November 1, 2012, 2:20am under the WP8 event contest comments! I submitted in the wrong place hahah! THANKS. Site update looks Awesome btw

Looks good, wish I had a Verizon Nokia Lumia 822. Also can't wait for the new app update.

Loving the re-design, good improvements and makes the whole thing look beautifully fresh for all the new traffic looking for Windows Phone 8 news! Great job!

Oh and a Lumia 920 in black would be my choice.

A lumia 920 in yellow, preferably delivered by Jessica Alba please =D.

IMHO, the redesign:
- still use too much elements & colors. still too many distraction in menus, buttons, unnecssary informations. I prefer bgr.com new design.
- metro mean focus and celebrate content, not just green blue colors and avoid skeumorphism. I use netbook, mean less pixels, not many news feed can be view without lot scrolling
- once again = colors, big portion of headers still domininating, rather the content / information itself


OCTOBER 30, 2012 7:24 A.M. caleb23 wrote: Morningstar today about Nokia:
Share price assumption at this moment: 2.40 euro (Nokia share is in Helsinki right now 2.06 euro, in New York 2.56 dollar)
Best scenario (if WP8 phones go well): the stock price will go to about 7.70 euro per share)
Worst scenario: no bankruptcy, because Nokia would be sold in parts before that.
Estimated price for this: intellectual properties over 1 euro per share;
other business parts (smartphones, featurephones, NSN) at least over 1.50 euro per share.
And NAVTEQ´s price not included (Nokia bought NAVTEQ with about 7 billion euro). All in all even in this case, Nokia share price would be at least over 2.5 euro. Pretty much like my thoughts and analysis.

Would love to have that Nokia 920

Love the new design guys!! Good job :)

No more gloomy wpcentral! :)
i'd love a lumia 920 black.
Windows Central Newsletter
Thank you for signing up to Windows Central. You will receive a verification email shortly.
There was a problem. Please refresh the page and try again.