From the Forums: Share apps between users, charging pads gimmicky?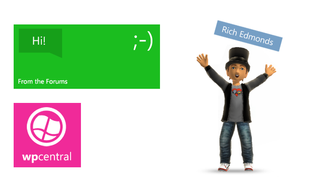 Welcome to another Windows Phone Central edition of From the Forums, where we bring you the latest threads from our community forums. If you haven't already checked our popular boards, we strongly urge you to do so - whether you're a potential Windows Phone enthusiast or an established power user.
First up is a user poll by pjeung that asks the question: "How is your Lumia 920 protected?" The Lumia 920 is a powerhouse that's built by the company best known for mobile phones that can withstand an explosion. That said, no smartphone is indestructible - as was proven in tests that pushed the Lumia 920 to its breaking point.
Fellow forum user tissotti responded to the poll with the following:
So how's your Lumia 920 (or other Windows Phone) protected? Be sure to head on over to the thread to vote and add your thoughts / experiences.
Sharing apps between users
A debate has kicked off surrounding app sharing between users. Windows Phone Central user rdubmu asks if it's possible for apps to be shared between family members in a household on different Microsoft Accounts (or a new family account). Would developers believe this to be a good idea?
SnailUK responded with the following idea:
Should owners be able to use apps they don't pay for because a single purchase has been made? What limitations and restrictions could be enforced if such tersm were allowing the practice to take place? Add your thoughts in the "Sharing Apps between two accounts" thread.
Miscellaneous: Charging pads gimmicky?
Nokia first introduced wireless charging in Windows Phone with its latest Lumia Windows Phone 8 line of smartphones. Such functionality enables consumers to use Qi standard wireless charging docks and stations to charge up the battery instead of using the traditional cable. It solves the need to continue plugging the device into the wall or PC.
But is it a gimmick, or is wireless charging a thing of the future? Windows Phone Central user navbouy explains experience with the Lumia 920:
Many who have purchased a Lumia 920 or Lumia 820 have received free wireless chargers. If you've got one with your Windows Phone, do you use it? If so, what do you make of the functionality? Head on over to the "Charging pad,not just a gimmick" thread to add your thoughts.
Windows Central Newsletter
Get the best of Windows Central in your inbox, every day!
Rich Edmonds was formerly a Senior Editor of PC hardware at Windows Central, covering everything related to PC components and NAS. He's been involved in technology for more than a decade and knows a thing or two about the magic inside a PC chassis. You can follow him on Twitter at @RichEdmonds.
Mine finally came yesterday, and I'm loving it.

How much has mcd's paid you?

Off topic. I have Windows 8 pro both on my desktop & laptop. Single ac on both of them. Is there no way of syncing apps where if I download on one,it gets downloaded on the other automatically?

Nevermind - didn't read properly.

I am talking about free apps. Coz Microsoft doesn't allow payment by debit card & millions here do not have credit card. Why is Microsoft being so strict about it. Debit cards are more secure & instant payment.

I pay with a debit card. So long as you have a visa/mastercard logo you should be just fine.

I do have a visa but Microsoft does not accept that? Maybe it has something to do with my bank?

Debit card isn't a choice, but it's considered the same as credit card. On the credit card option, just put in your info for debit. Same thing

Some of the UK debit cards can be a bit weird. I can't remember which ones, but sometimes they had issues paying online unless the gateway was specifically setup to handle it (even though other ones worked)

maestro or cirrus cards most likely. you also have mastercard debit card, which are basically credit cards with very short term credit. If you use maestro or cirrus payment system and check your bank account 2 seconds later the money will have been deducted. if you use mastercard debit card it will probably only be deducted that evening or the following day.

You can buy Visa gift cards... They don't need a credit check as you pay up front

They do allow debit cards, stop making shít up.

They do not. I called them up & they specifically said Only credit cards. One more thing. Please use civil language.

Well then why does my debit card work if they don't accept them? Please enlighten me díck fuçk

I can see that you only have kind words for me. Don't worry. You wont provoke me. I will not stoop to your level. Its best ignoring you. But I do pity you & wish you the best in life. Bye

That's because you can't prove it and answer my question. Shows that you totally made that shít up.

A debit card is allowed only if payments made with it can be processed as a credit card (without using the PIN) and if the bank allows the transaction with the merchant's card processing service. I have run across some online merchants where my non-bank credit card won't work, but my debit card (used as a credit card) does.

Don't think automatically, but go to the store, right click and choose "my apps". It will give you a list of all the apps you have installed and you can install a bunch at the same time.

Love wireless charging but it doesn't keep me cord free because we lost wireless synchronization

Who need wireless sync? I use SkyDrive.

I have Xbox music cloud+music pass for my music and sync photos and documents by SkyDrive, so I usually don't sync my 920. I don't like that much as Windows Phone app for mac is constantly crashing.

Me either bought a 920 on launch day smh

I got mine from the MS store. no pad for me. :(

Get a palm touchstone for $7 on Amazon.com, it works.

My understanding is that it does not really charge. The phone will appear as if it were charging, but the battery continues to drain.

It doesn't work. It may recognize it, but it doesn't actually charge it.

Not sure what's wrong with yours but my works perfectly it may not charge as fast but it does work so idk what your talking about maybe go exchange for a new one

There was already discussion of this on the front page headlines this week... it's NOT a good idea and doesn't actually work. You're either full of crap or risking the phone's stability. Either way, I discourage EVERYONE from taking the advice of using the Palm touchstone.

Fully agree with GoodThings, don't risk it.

I can't find any wireless charging pads where I am in Canada. Beyond that, the Nokia wireless charging devices aren't available to buy locally or even to get shipped up here. I guess I'll be waiting for a long time...

Well Att has some I got 2 of them the other day if you don't want to wait long maybe you can get someone that has Att to send you one hmu natedog103@hotmail.com

Yeah, good idea. My parents are going to Hawaii soon, so maybe they can score me one. If that doesn't work, I'll have to look into your idea.

Love my charging pad...waiting for my wife to get hers so she will stop using mine.

I have the free charging pad and I bought the stand up charging pad with NFC. They are the best ever, it really is nice just laying the phone down or standing it up without having to plug it in every time.

That Pikachu picture is hilarious. Took me a few seconds to recover from that so I could continue reading the article.

I love my pad.... I use it and it charges in less than 3 hours maybe even 2, it was from 5% to 100%

Recently received my charging pad. So far, I'm loving it.

I use the charging pad all the time. Much quicker and I don't wear out the plug socket.

Regarding protecting my phone -- no case, it's au naturale all the time. I can see using a thin gel-case to protect outer body scratches, but only if you're super reckless with your phone.

Regarding charging pads as a gimmick -- no way. I keep my phone on my desk at work and grab it on the go. Plugging a cable slows me down, and as an IT guy for a hospital, that's just not an option. Charging pad is fantastic, because I set it down on the pad at my desk and can grab and go when I need to. If I have one criticism, it's why didn't they use a micro-USB cable for the power instead of the custom power cable.

Sharing apps is a good idea... just like sharing music across devices/accounts for Zune Pass has always been. Makes sense to me for families and would be yet another selling-point for Microsoft.

Both my wife and I love our charging pads, got them Friday, wish I had one for work.

The wireless charging pad is brilliant. It is the small things that can make a difference. Even my 3 year old can put the phone on the "special spot" after he's done playing games in the Kid Zone. I do look forward to an automotive version.

Yess!!! An cradle that plugs into the cigarette port!!

Absolutely a +1 on an automobile version.

As soon as I can find a wireless charger I will get one .

WPCentral sells them (not Nokia, but it will work with it). Check the store.

The pad is very handy and convenient, plus it charges fast.

I'd say what Microsoft needs is something like a Family Pass. You pay double per month or download, but it's good on say 3 - 5 accounts you link. I know consumers want the big savings, so do I, but as a developer, you gotta feed yourself too.

Love the wireless charging!!!

i just got my pad yesterday, an i love it!!
i put my charging cable back in the box!!! ;-)

Who thinks Nokia should talk to ford and put wireless charging right in there cars. Stupid apple got together with Gm. I think Nokia should get together with ford sounds like a great idea to me. And I did not get my wireless chargers yet still waiting on my wife's yellow 920 been waiting since Nov 14th she's anxious. Don't blame her. Love my red 920.

Apple got together with more than just GM, so far BMW, GM, Mercedes, Land Rover, Jaguar, Audi, Toyota, Chrysler and Honda are inboard. GM is just first.

Wireless charger is amazing. Everyone I talk to who has one doesn't miss the loose power cable that falls off the desk and onto the floor!
The Lumia wireless charging charges 85% as efficiently as the supplied wall USB charger.
The average/typical power transfer for other Qi phones is only 70% as fast/efficient!
Thank you Nokia for quadrupling(?) the surface area of the phones charging surface! :)

I got the LG WCP-700 since I bought my Lumia off contract. It works great.

Charging pad is baller and saves me time every day. It may be minute regarding the vastness of the time saved, but the idea of simply setting my phone down on my desk and getting to work without even thinking about battery life is great, and if I receive a call and need to pickup, no hassle there either. Wireless charging is definitely the future.

Love the pad.

After using the Pad, plugging in my phone with a cord seems like a massive chore. #smallthings

Addicted to wireless charging since Day-1 of the Palm Touchstone. Not sure why anyone would suggest it's gimmicky. Not sure why anyone would not want it. BTW none of the Palm Touchstones work with any of these Windows Phones (different frequency) so just put that idea to bed and move on.

I have 5 WP registered on same live id for apps. Post that all other accounts are family members owns. Helps in keeping things central like purchases, camera rolls, contacts. Rest Facebook etc are separate. Easy n useful.

I find the best thing about the charging pad is the ability to take up your phone without needing to think about the attached cable. I've also modded it into the table. http://www.youtube.com/watch?v=V8RzO7Xzglk

It couldn't be simpler or more natural...

WOH. Didn't expect that, cool.

Unfortunately I've lost three of my windows phone converts to the Droid menace due to lack of apps they went with lg and the n4 sad day :-(

I have a Duracell charge pad... No fuss, no messing with flaky charge cables. Its as natural as placing your phone on a table or desk.

Sucks how us Canadians had no promotions for a free wireless charging pad...

My wifes yellow 920 has finally shipped as well as 1 of the charge pads not sure who's pad has shipped Red or yellow.
She'll be happy been waiting since the 14 of Nov. Woo hoo. Love my red 920

Wish the rep who sold me my phone would have known to give me an option on the color... I got a free black one, which is perfectly fine, but I can't help thinking my white phone 920 would look great on a white charge pad. :/

The first time someone who thinks the pad is gimmicky will change their tune when they see one in a restaurant, coffee shop , air port, etc and it saves them from a dead battery :D

Charging pads are the future, for anyone here that drives just imagine having that in the car, bloody superb! no more wires just sit down your phone in the normal area as per usual and you could stream your music and charge at the same time! perfection!

Famaily account would be nice, but I would love it if I paid for an app/ game on Windows Phone and be able to use it on Windows 8 as well. Double buying apps blows.

so on that wireless charging pad thread, someone posted that apple was going to try and claim a patent on wireless charging as a joke. When I pulled up dsl reports this morning I found this: http://www.theregister.co.uk/2012/12/03/apple_charging_patent/?

On the charge pad discussion someone jokingly said apple would claim that they patented wireless charging first. This am I read on DSL reports that apple is applying for a wireless charging patent. Check it out under Monday morning links at dslreports.com

I've used a hp Veer before I got a Lumia 800 and hell how I miss the good ol' Touchstone... I'm a little disappointed that the new charging pads don't seem to have magnets that automatically align the phone and hold it in place though.