Foundbite updated with push notifications, commenting, and much more in latest update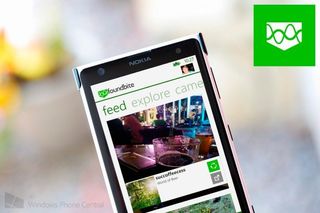 What are big fans of? Apps that are exclusive to Windows Phone. The kind of apps that are born and raised just on Windows Phone before making the jump to other platforms. Apps like SongArc, Youmigo, and Sleeve are some examples of those apps that are (for now) exclusive on Windows Phone. Foundbite is also one of those apps and it just picked up a great update. Let's check it out.
We last covered Foundbite in late November when it picked up version 1.3 in the Windows Phone Store. It was notable for introducing a few new features like finding Twitter/Facebook friends, new capture process, upload improvements and smoother scrolling. Today we're looking at version 1.4 that brings:
List of people following you or who you're following.
Commenting
Facebook Login
Push notifications for commenting/followers
Notification hub
Improved capture process, one photo with 45 seconds sound (Reasons for the changes I wrote about here - http://blog.foundbite.co/all/capture-process-reviewed)
Uri scheme added for developers to interact with Foundbite
Redesigned camera roll
Feed design changed with improved scrolling performance
Available in all markets now
Version 1.4 of Foundbite is a pretty big update. It not only refines the solid foundation of the app, but introduces new features to make the experience even better. You can now see who you're following and who follows you (head to your profile to check that out). There's also a notification hub that will show you who follows you or who commented on your bites. Speaking of noticiations, Foundbite now introduces push notifications so you can see when people follow or comment. Nice!
You'll also get the option to login with Facebook, if you're not into creating a separate account for Foundbite. There's also a URI scheme for developers to tap their apps into Foundbite. And finally, Foundbite can be found (see what I did there?) in all markets.
Foundbite is a really unique and fun app for Windows Phone. If you haven't already downloaded it you need to do so now! It's free in the Windows Phone Store and available to those with Windows Phone 8 (512MB supported).
Source: Foundbite
Thanks for the heads up James!
Windows Central Newsletter
Get the best of Windows Central in your inbox, every day!
Would make sense for Microsoft to promote these kind of apps in ads and show how WP can have the best apps first.

Keeps getting better! love Foundbite :)

Isn't Disqus still Windows exclusive?

OK, I'm finally gonna have to bite and try this.

Don't forget about Disqus. One of my fav apps!

Foundbite is my absolutely favourite wp app.

Thanks Kirstein - glad you like it

Just uninstalled it 2 days ago simply cause I never got to use it. I like the idea but I can't find the time get into another "social experience". Between Facebook, 6tag, LinkedIn, nextgen reader, windows phone central, etc, etc, etc, it's more than I can handle right now. I wish all the best to this app. Its a cool innovative idea.

Thanks Marco, much appreciated. Finding space for Foundbite in everyone's already pretty full social media life is going to be one of the greatest challenges.

Do we are down to only taking one picture.

Decided to give it a try. Pretty awesome. Least I now know there are other WP owners near me, lol.

Thanks - great to have you onboard!

"What are big fans of?" Great way to introduce an article. :P

I kicked myself while in Portland for missing a Foundbite moment. I wad taking pictures of some pretty waterfalls in a moss covered forest. The crashing sounds of the water would have been great.

An excuse to go back again maybe?

one of my favorite apps on windows phone

Thanks - so glad you like it!

Hard and slow like most experimental apps on Windows.

Love this App but wish I could edit the photos before uploading the full Bite!

Thanks for the feedback - that's something that's going to be worked on. Do you mean cropping or filter-like effects?

I just knew that this is a WP exclusive. That's a good reason to start adding up to that single foundbite I made.