Join the Youmigo beta, an exclusive app for Windows Phone to make friends around the world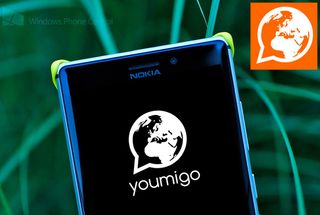 We're big fans of apps that chose to launch exclusive on Windows Phone first before going cross-platform. We're also big fans when those apps revolve around a unique idea. Youmigo is an app that's currently in beta for Windows Phone 8 users that is not only exclusive to Windows Phone, but pretty unique. Let's check it out and give you details on joining this beta.
Like most Windows Phone exclusives, Youmigo is funded by the AppCampus app accelerator. AppCampus is the program jointly funded by Microsoft, Nokia, and Aalto University in Finland. Youmigo was awarded 50,000 Euros through AppCampus and is now in beta for you.
Youmigo - an intercultural exchange for Windows Phone
So what is Youmigo? It's basically an intercultural exchange. You can use it to find your next penpal, ask questions about a specific region or culture and much more. It's a pretty cool service that has a ton of potential. Technology has always been tearing down walls between cultures, Youmigo is an app that gives you the power to directly ask a local in a given location with your smartphone.
Youmigo allows users to send chat request to a specific geographical region. You can also receive chat requests from other users wanting to ask you (and those around you) questions. Within the app, navigate to the discover section to discover an interactive world map. With the map you can search for places, start a chat request, and view your current outstanding requests. Just tap a region and you can start a chat request for that location. That message you leave can be a question or a simple hello. It's really up to you.
Youmigo just opened the beta for their Windows Phone app. We've been playing around on it the past few hours. So far, we really like what we see. Notifications work well, you can receive translations of messages within the conversation view, there's a double wide Live tile, and overall performance is very solid. It's a strong showing for a beta. But it definitely needs Windows Phone users on board, which is where you come in.
Join the beta
So you want to join the beta? Of course you do! It's a fun app that has a ton of potential. Beyond finding interesting people around the globe, Youmigo can become a great way for quick questions from locals in a specific region. For example, news reporters can easily find and engage locals for a news article. And there's no better way for a startup to stress their servers with a little huge from the Windows Phone Central community. Head on over to Youmigo.de and enter you're the email address associated with your Microsoft Account. You'll then see yourself joining the beta for Youmigo shortly after that. Be sure to leave the team feedback about the app using the email address specified in the email. Let's help make another start up a success on Windows Phone.
Beta sign up: Youmigo, Via: Windows Phone Central Forums
Thanks for the tip JD!
Hmm. I like supporting up and coming apps and I love when companies support windows phones and exclusively at that. Plus I like being in betas. So sure I will give it a shot :P

I thought so too but apparently they are from Munich, Germany. My home town :)

NO. Findland: FIND & LAND => Joke :)

Signed up. I love the concept. I hope it takes off.

I want the same thing but for cars, I.e manufacturer / model etc

Same here and signed up :)

I like how the icon is North Africa and Europe focused. I'm so sick of seeing the USA...

Haha, I always think this when I see icons of globes/Earth. Plus, Eurasia/Africa is bit more an interesting shape than North and South America :)

Yeah, well no one shows Antarctica the love it deserves.

Yes Antarctica should be getting love too.lol

As it should be, developed in Europe. Finally an app that can educate Americans ;-) "Do you really have kangaroos in Austria?"

That cause the map is hovered over the Prime Meridian like most maps...

Amazing is that the first email I receive from them gets in the spam box LOL....so if yours is taking too long it's worth checking....

I like this idea a lot! Looking forward to using it. Signed up.

I signed up too. Seems like it's going to be fun!

I like this concept and the idea.

Great human interaction potential, but I hope it doesn't become infected with porn stuff. Good luck!

Cough *snapchat?* if pictures are not included, it should restrict that form of shenanigans.

This has us worried us well. But you'll see some measures (images not visible right away) are already in place with other coming in the next weeks (reporting of trolls, smarter matching). Thanks for the feedback!

Well, now i Just have to wait until they send me the app link :D looks like fun

When do I get the app link? I've been looking at my inbox breathing heavily, waiting for the past 30 min and still nothing.

We're adding you to the beta as we speak! However the process of republishing the beta to the store, with the new list of testers, takes about 2 hours. So it should be done in about 3 hours from now.:-)

It'll be 3am in California by the time you finish. I guess I'll have a present by the time I wake up :)

Did you end up finishing the list? I never got an email :(

Did you check your spamfolder? For some reason, some mailproviders think these youmigo guys are not trustworthy enough ;-)

Hi blackhawk556, first of all sorry for answering so late. Things are going kind of crazy at the moment. If you still haven't received the invite and it isn't in your spam folder either please get in touch with us via support(at)youmigo.de. Please include your microsoft ID. Good luck, Ferdinand

Looks pretty cool, I'm glad someone thought of that! ( hope there is a good translator though, not like google translate, :) )

It's Microsoft Translate. You'll be the judge. ;-)

Is it not possible to release a beta version of an app to the Windows Phone store directly? Like Facebook Beta, Nokia App Social Beta, etc...

Lets hope this doesn't mess up my phone and get loads of junk mail. But, I am looking forward to using the app!

Wow, thanks for this amazing article. We all here at glassbox just woke up, but what a morning it has been! We are currently adding everyone to the beta, but the process will take 2-3 hours, since its mostly done by hand. :-/ Anywho, big thanks Sam and WPCentral. The article captures the spirit of youmigo perfectly! See you all on youmigo! Ferdinand

Thanks for your interest in youmigo! Your feedback and the number of registrations are amazing. We try to invite each of you as fast as possible. Unfortunately we have to register each Microsoft account manually to the WPStore beta tester list. It takes us some time but we are working hard. Thanks for your patience!

Presumably that is just a sexy trick of the light with the 925 in the top shot - it looks amazing with that blue glow.

Cool. Now i need to think of some questions

We invited a lot of you and we are preparing to send out more invitations in the next hours. Thanks for your feedback! We will provide updates in the following weeks to address your suggested improvements.

Nice way to see where Windows Phone has presence.

Love this app! And I'm sure it is going to shine~~!

Will the app automatically update my location if I move? I don't see a way to check my location after the initial setup.

Hi thinkdan, this feature isn't implemented yet. We will add it with a future update. Thanks for the feedback.

Yes, i like the idea behind the app, so i will sign up for the beta tester program. Probably i will be the only one in Madeira island, Portugal :-)

We added more users to our beta tester list. You should have received a mail. We will add more people in the following days. It needs some time to increase the number of users and we are sorry if you have to wait a little time. Our small team tries to invite everyone and respond to every mail We really appreciate your interest in youmigo and we hope that you love our app. So thanks for your patience!

This app is really made well, with some minor issues. But I really like it. Already started several conversations talking about democracy around the world.
Windows Central Newsletter
Thank you for signing up to Windows Central. You will receive a verification email shortly.
There was a problem. Please refresh the page and try again.