Fox News App now at the Marketplace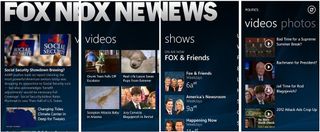 "The Most Powerful Name in News" is now available at the Windows Phone Marketplace. Fox News Networks has released the Fox News app that brings the latest news stories, video clips and news images to your Windows Phone.
Key features include:
Live Tile support that provides a snapshot of the top news story
Fox News shows airtime schedules and video clips from recent episodes
Videos and Photos from the top news stories of the day as well as from the world of entertainment, politics, health and more
Breaking news banner
The best part about the Fox News app is that it's a free app. You can download your copy here (opens in new tab) (opens Zune) at the Marketplace.
Thanks goes out to sasa for the tip!
Windows Central Newsletter
Get the best of Windows Central in in your inbox, every day!
George is the Reviews Editor at Windows Central, concentrating on Windows 10 PC and Mobile apps. He's been a supporter of the platform since the days of Windows CE and uses his current Windows 10 Mobile phone daily to keep up with life and enjoy a game during down time.
WOW, the number of first party apps being released is amazing!

Between the Onion, Daily Show, and Colbert Report, now I can have 4 fake news apps!

Ok, wow. WP7 does get a lot of love from developers and big brands.

Nice app. loads fast and is very responsive.I like that you can adjust the size of the text.The only thing they need to fix is adding next and previous arrows to the toolbar, swiping is not as intuitive. 9/10

Well..... Aside from what you mentioned, the only thing they need to fix is the "Fair and Balanced" motto. This is one app I would be happy without. Sorry lol

The most trusted new source in America.

yea..... also the one with one of the most misinformed followers.

Actually, they're more informed than people that watch MSNBC or the stuff on CC.Proof: http://www.politifact.com/truth-o-meter/statements/2011/jun/20/jon-stewa...

Since my comment was erased for some reason, I'll say it again.The news with one of the most misinformed followers.

Outstanding. 2 days after picking up 3 Sammy Focii Fox News releases their official app. Outstanding. Irvinge & Figure 8 Dash, if you are used to hearing only the lefts perspective I can see how hearing both sides of the news seems ... biased. Fox does an amazing job and that's why they are #1 in News and it's not even close. And better yet, they don't use tax money from your wallet to do it unlike NPR and PBS. I'm just sayin' ...Bravo!

If your knowledge of politics comes from TV news then it is truly a waste of my time to talk politics with you. No matter what I say, whether it's pro-left or pro-right, the problem is that you've already decided that it can only be pro-left or pro-right. Take a second and think about it (though I'm quite sure you won't).

I don't believe I said anything about my knowledge of Politics coming from TV News. That was an assumption made on your part, I will forgo the quote about assumptions. More apps for WP7 is great news and Fox News is the latest in a nice trend.

Actually, when you are used to watching news that has a right wing agenda, I can see how any other news seems "left".

the politics dont matter to me. official news apps are welcomed as far as Im concerned. would also like to see a cnn app and how is it that MSnbc hasnt released an official app.

Exactly. Aren't they part-owned by Microsoft? Sometimes I wish Microsoft exercised more control over MSNBC technology-wise.

Ugh. I wouldn't touch anything Fox NEWS with a ten foot poll. The absolute worst news channel/anything in America. I know it's hard not to be biased while reporting, but for the entire network to have a blatant political agenda is just disgusting and wrong.

They have Red Eye. Therefore they beat everyone out there, end of story.

Riiight. That's why Juan Williams works for them after NPR canned him for having an opinion. It's called freedom of speech and clearly you don't watch FNC because you are seriously misinformed.Having said that, more apps for WP7 is great news, and I am very happy the catalogue is growing.

An overall nicely done app. The live tile updates work well. And, it's good to have access to a news source that provides balance against CNN, MSNBC and other MSM news sources. Having access to an ever wider variety of news sources apps is important to gain perspective of issues from different view points. The realclearpolitics is a great site to get different opinions. Hopefully they'll create a WP7 app.
Windows Central Newsletter
Thank you for signing up to Windows Central. You will receive a verification email shortly.
There was a problem. Please refresh the page and try again.