Xbox 360 version of Crytek's free-to-play shooter Warface will be shutting down Feb. 1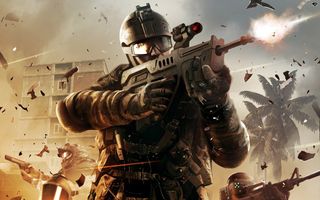 The Xbox 360 version of Warface, the free-to-play first person shooter from developer Crytek, will shut down for Microsoft's game console on February 1. The game will still be available to play on the PC platform.
Warface launched as an open beta for the Xbox 360 in March before losing the beta tag in April. Crytek has not revealed why it is shutting down the Xbox 360 version so soon after its launch, but in a message on its Facebook page, it did say that current players will be able to access Warface from now until February 1. No new players will be able to join the game and no in-game Kredits can be bought.
This is the second free-to-play Xbox 360 game that has announced its shut down this year. The fantasy action RPG Ascend: Hand of Kul closed its console doors just a few weeks ago in November.
Source: Warface (Facebook)
Windows Central Newsletter
Get the best of Windows Central in your inbox, every day!
I'm guessing not enough players play it to keep the servers up and running?

No I meant play. Thanks though.

We dont need your corrective comments in here.

But why I loved that game and now it is gone :(

Yes this game was so shitty

Agreed. Tried playing again recently and its way to clunky to be worth the time.

Hope they dont shut down Airmech

They said they will continue support for 360 despite the Xbox One coming out. They have a slightly larger player base methinks and their game is well... Alot better. :P

Airmech is an awesome game.

Game was great. I was #3 in the world for free for all when it first came out. Then I stopped due to a massive overhaul of campers.

Not a fan of the F2P business model but this probably has more to do with Crytek's finances. This year the company didn't pay employees for a long time. Servers are expensive.

Did they stop working till they got paid? I would've.

What happens with all the people that payed for stuff? Do they get some sort of credit?

They didn't do Jack when their servers were down for almost 2 weeks and they kept the times ticking on paid bonuses. So I doubt they care now.

It doesn't make sense to me to develop a f2p game on a platform you have to pay a subscription to play online..

It does make sense all The Xbox live Gold members can play it and it's a better network than steam and there are nearly no hackers;) but if the game would have been good it have had more players

Or, it could be the fact that the Xbox 360's time is almost come. Games are a rare occurrence nowadays and Microsoft is now only focusing on the Xbox One.

Not sure about that. The playstation 2 still had games coming out way before it should be dead. Think fifa 13 was the last big playstation 2 game

That is why I hate games which are massively online and need internet to run: Once the servers are down, you can't play it anymore. No solo/offline campaign for me is a no go.

While I am upset to be losing a free game (I thought they would keep the servers up until the 360 support stopped), I have to admit that the game kinda sucks. I really expected a lot more from Crytek, the makers of Crysis and Ryse. Hopefully, if they decide to re-release it on the One, they can revamp the graphics and the controls.

Speaking of Free to Play, when is Happy Wars coming to Xbox One like they said it would???