Get your war face on as Crytek's Warface for Xbox 360 goes open beta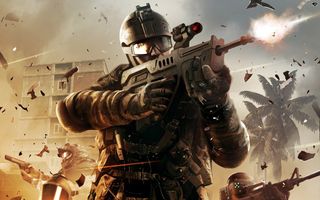 If you are a fan of Crytek and their creations, then you should be excited for the launch of their Warface Open Beta. Crytek is the brilliance behind games such as Crysis and RYSE: Son of Rome; they take advantage of their high-tech CryEngine to bring life-like and realistic graphics to the screen. Warface is another take on the common shooter, but powered by the company's insane graphics engine, and of course we cannot forget to mention that it is free to play.
According to the Crytek website, Warface is a game surrounded by "Conspiracy, Corruption, and Chaos". We have to admit that the story is one we have seen before, a "world close to the breaking point" and a ruthless army attempting to threaten freedom as we know it.
The game was previously available as a closed beta for the Xbox 360, but has recently changed to an open beta for Xbox Live Gold subscribers. Unfortunately, there is no word of the game coming to Xbox One, so for those of you who are still hoarding your last generation consoles – you are in luck!
According to a post from Microsoft, the open beta will bring three versus-modes that were included in the original closed beta. In addition, two beginner co-op modes will be available with "multiple mission types and difficulties". Crytek states that they will continually be pushing out new content for those in the beta, so gamers will stay "entertained and wanting more". New daily missions will also be available to make sure you check out and play the beta as much as possible.
We recommend checking out the above video to see the adventure and fun you are stepping into, and you can head to the Xbox Marketplace by clicking here, to download Warface (opens in new tab) for Xbox 360.
Will you be trying out Crytek's Warface? It may be a good possible holdover until Titanfall lands on Xbox 360.
Source: Microsoft
Windows Central Newsletter
Get the best of Windows Central in in your inbox, every day!
I had fun with the closed beta... Let the fun start again!

What is your opinion of the game? I never got a chance to play and now that I have an Xbox One, I probably never will. =/

Its shit mate. Pointless. Its almost like the made it 10years ago

Don't listen to what they are saying. 10 years ago...seriously? anyway, it's a decent game. Early beta had some issues but things have improved. I play Halo on regular bases and still think this is a good game.

Are achievements activated in this?

Yes and everything is transferable to the real realease

Hubba what?? You kidding me right?? Was told it's just a beta, nothing special.

Sweeeet. I will check it out when I get home.

Sweet. Waited forever for my closed beta key, but never got it. Will download and check it now :)

Love the fact they have a bullpup gun on the cover! #gunnerd

How can I download the beta?

This...game...sucks! But don't take my word for it. So after you finish watching Reading Rainbow, then download the game.

It's surprisingly fun actually. Props to Crytek.

Its good on my laptop, cant wait to get on my xbox and use it :)

Graphics are so dated and it wasn't very fluid at all...

Going to try it because I like testing beta anything to make anything better :D

I tried it on PC, its pretty cool!

Its pretty good; I had it when it was in closed beta and had a lot of fun. Hopefully its more polished now.

I keep having internet issues with the game. And it looked like so was my whole lobby. Hopefully its better tomorrow ;D

Yeah.. It has had it's share of issues with server lag, and bandwith.. However the game itself is awesomely adictive. Plus you cant beat FREE! I actually have been playing it much more than Ghosts. Hoping they straighten out their server issues. Once they do that, CRYTEK has a winner on it's hands.

"Crytek"s "Warface" gameplay is like any other online shooters. They copied "Nexon"s "Combat Arms" on PC FOR SURE and "EA"s Battlefield classes with, for example, the defib unit for the medic, which they totaly butchered because shotguns are the only possible primary weapon for that class in warface.. ( EPIC FAIL to crytek ).. And the maps are Too Small for a 8 vs 8 face off, making the knife THE BEST weapon and the sniper class totaly useless. BUT it is free if you have XBOX Live gold and you do have a "hideout", yet again, another useless feature. In conclusion, if you have nothing to do this year, if you have no skills at all OR if its your first experience playing a First Person Shooter online... Then CRYTEK's WARFACE is what you need
Windows Central Newsletter
Thank you for signing up to Windows Central. You will receive a verification email shortly.
There was a problem. Please refresh the page and try again.