Free version of Plex now available for Nokia Lumias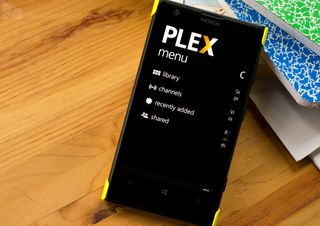 Plex is a popular app for Home Theater PC users that was became available last year for Windows Phone 8 and 7.x devices. The paid app connected your Windows Phone to the Plex Media Server where you can manage and stream your personal media to your phone.
A new version of the Plex app has landed in the Windows Phone Store that is a free app but only available for Windows Phone 8 Nokia Lumia devices. In just reading the Store descriptions, the paid and free version appear to be similar. However, comments in the WPCentral Forums (opens in new tab) indicate the free version resolves a few issues the paid version has and you have more options with regards to video quality.
You must have a Plex Media Server (free) installed and running on a PC, Mac or Linux system. However with the free version of Plex you will need to be running version 0.9.8 or higher of the server (paid version only requires version 0.9.6).
With the Plex Windows Phone app, you can manage your media as well as stream videos, music, photos and home movies to your Windows Phone from your home computer. Media can also be synchronized to you the cloud for easy access when your computer is offline.
You can find the free version of Plex here in the (opens in new tab) Windows Phone Store. Keep in mind it is for Nokia Lumia Windows Phone 8 devices only. The paid version of Plex (available for both Windows Phone 8 and 7.x) can be found here in the Store (opens in new tab).
You can read more about the Plex Media Server here at the Plex website (opens in new tab).
Update: Article fixed to reflect that this app is ONLY for Nokia Lumia phones
Thanks, Jason, for the tip!
George is the Reviews Editor at Windows Central, concentrating on Windows 10 PC and Mobile apps. He's been a supporter of the platform since the days of Windows CE and uses his current Windows 10 Mobile phone daily to keep up with life and enjoy a game during down time.
So I'm a little confused, can I stream from my PC from anywhere for free?

Plex premium allows me to do just that. I have a server setup with Plex, and the clients are installed in all of my devices. I can stream from anywhere.

This. Perfect solution and the new update (to the PC app) works excellent!

Yes. Also watch your media via myplex, with is a web based viewer, similar to Netflix.

Yes, and you can also share your media collection with your friends (...and them back to you) so you can stream their files for free, anywhere as well. Plex is the best!

When we will get an app that can stream from a stansard DLNA server (like Mezzmo), and plays mkv files with their included subtitle tracks, and support for playlists? Why is this so hard?

MoliPlayer Pro does that, and even lets you play MKVs stored on your phone (Camera Roll folder thou)
It's $2.99, but it's well worth it :D Just remember to put the videos in the camera roll folder, no problems with putting them in a sub folder in there :) http://www.windowsphone.com/en-us/store/app/moliplayer-pro/19ea6d3e-e3d9-401d-b30a-f6471811fe08

W O W ! I swear I had tried that one before and couldn't get it to work with my server, but it looks completely different. It works and is REALLY fast browsing what's on the server. I'm buying it! I don't see a way to turn subtitles on, but this is nearly perfect! Thanks!

The free version at first glance seems to work a lot better than the paid version for me. I was unable to seek in videos unless the quality was set very low. With the free version it just works without issue. Way to go Plex! Thanks!!

Paid version has been broken for awhile. Not only does this work but I like the changes they made to the UI. Good stuff.

What phone do you have? I can't download free one on my ativ s

I regret buying the paid version, I can never get it to connect to my server, even connected locally.

I noticed the free version has the Nokia logo in the store. Is it a Lumia exclusive?

That's how it looks to me.

It seems. I have 8X and I cannot download this...

Confirmed. Nokia exclusive. Story should be updated.

Did you read the article?

Oh yes I read the article, quite long before you did. Before they posted the update to clarify it was only for Lumia devices. Did you read the part they updated it to reflect that?

Looks promising. I want to give it a shot, but why is it requiring "contacts?"

Still no premium features like sync for plexpass subscribers but it is a massive improvement over the paid app. So, to everyone responsible for making this app happen...thanks a million.

Great. Now it's free literally 3 days after I purchase it in the store

Same for me, bloody annoying that a free version is better than one I just paid for only a couple of days ago

Feeling seriously upset about it

No remote or remote play facility on this version so cant play to my rasplex. Lets hope they update the paid version.

The free is better than the paid. What a joke.

The pay is the old one that works on WP7. I am assuming the free one is the WP8 version promised at Nokia World.

Not seeing it on my Samsung ATIV S NEO. Don't think its available for all WP8 phones.

Same, I have the paid version, but can't download the free one.

There is a Nokia logo in there. Exclusive for Lumia that means.

So, I have the paid version, and the free one is better?

Yes. The free one is the new version for WP8.

Ok, I know you don't know the answer, but I would expect them to update the Paid version? The only issue I have with the paid version is resuming videos takes FOR ever!

I don't think the paid one is going to be updated (pure speculation on my part). When they announced this one at Nokia World they acted like the previous one didn't exist.

Thanks. Free is good. Especially since it has more video features. Just wish I didn't but the paid version because it doesn't work very well.

Which would really piss me off if I used Plex, which I don't!!

Is anybody able to download this on a HTC 8x device?

This Lumia only is killing WP for me. Why in gods name would MS pay Samsung to make WP devices and then screw their customers with all this Lumia only nonsense!? Hate it! WP already struggles with apps, this isn't helping! This doesn't make me want a Lumia phone it makes me want a different OS! If only there was a good alternative...

Tell me about it, the same thing happened with Viber when they added VOIP calls. The version with VOIP calls was Lumia only and all that everyone else had was the inferior Viber Messenger. Not everyone likes or wants a Nokia device so restricting apps has the potential to drive people away from the platform. You get used to it though. This is one of the reasons why I have to carry a Galaxy Nexus around with me as well!!

That's why you only buy Lumia WP phones and not something else. This has been known for a while now. All other manufactures are crap when it comes to supporting WP. You seriously didn't know this?

I've gotten used to it. The only thing that annoys me is I never know what the ETA is for apps and games on other Windows Phones when they lose Nokia exclusivity, if they ever do. If I knew that information it would help. Like I said some of us don't want a Lumia as other manufacturers are important to the growth of any mobile platform, Android didn't get where it is today without the backing of hundreds of OEMs.

Anyone know if plex works with xbox360 or Xbox one?

Nope. You can see it as a DLNA server and play your movies but no pretty Plex UI.

Ok.... So I have ths sweet "free" version that actually works and is responsive etc... And I still have the old app in trial mode so I can control my players (Raspberry Pis). Anyone know what the deal is, if we will see remote functionality added to the new WP8 app? Would pay for it...

Serviio is the best media server, free and easy to use!

Just so everyone knows eventually the paid app will be updated to the new win8 version...elan (the owner of plex)hasn't blogged about the new version yet but when he does we will know more (at elan.plexapp.com)

This might sound like a stupid question but if that's the case then why wasn't the old version updated at the same time the free one was released?

Good UI and now it loads and works much faster without the missing plex server issues on the paid! Thanks guys!
However i keep wondering why we cant view/filter by folders. This is lacking in windows 8 app version as well..but is available virtually every where else! Please add this option
Great app though but viewing by folder for personal video collections is essential for some. Not every video has metadata to download.
Moliplayer does a good job though in being a solution to that!
Windows Central Newsletter
Get the best of Windows Central in in your inbox, every day!
Thank you for signing up to Windows Central. You will receive a verification email shortly.
There was a problem. Please refresh the page and try again.