Free year of Zune Pass at Microsoft Stores with new phone purchase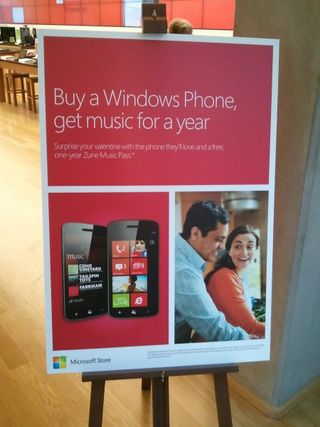 We're really starting to hate the fact that there are barely any Microsoft Stores around as they keeping having some great deals. The latest promotion runs from now till February 14th (that'd be Valentine's Day for you Forever Aloners out there) and involves getting one year of Zune Pass for free with the purchase of a new Windows Phone.
At $10 a month that's about a $120 value and if you're in the States, Zune Pass is actually worth it. So keep that in mind when shopping around for the special gift in the coming weeks.
Thanks, Derek, for the photo
Windows Central Newsletter
Get the best of Windows Central in your inbox, every day!
Daniel Rubino is the Editor-in-chief of Windows Central, head reviewer, podcast co-host, and analyst. He has been covering Microsoft since 2007 when this site was called WMExperts (and later Windows Phone Central). His interests include Windows, laptops, next-gen computing, and for some reason, watches. Before all this tech stuff, he worked on a Ph.D. in linguistics, watched people sleep (for medical purposes!), and ran the projectors at movie theaters because it was fun.
Denmark wants Zune pass as well!

Yes, but the simple reality is that Zune does not work everywhere. The advertisement suggests it does. It is thus mean, not truthful and misleading to the customer. Still waiting to able to use Zune and Zune pass on my desktop.... I almost feel its time to collect signatures and protest to microsoft that it has to get its priorities straight. Microsoft don't worry about windows 8 and windows phone 8. They will have their succes. Concentrate on the now and starting fixing things!

The Zune APP works everywhere...

Free year of Zune Pass at Microsoft STORES. you cant find a microsoft store in other country but United States... yeah sure soooooooooo misleading /s. and seriously, do you think microsft dont want to offer zune pass for every country? but do you think its easy since every country is different and not every country wants it? they dont want something like for $10 people getting 14million songs monthly... its not easy for microsoft to expand to every country becuase in every country music licensing is different. its not "hey we will open zune pass for everyone around the world". and again, its not misleading since and none said it would work everywhere, i dont know where you got that but you are making stuff up. they are offering this in microsoft stores if you go to a microsoft store its in US not in other country.

I assure u MSFT wants your country to have Zune pass the but licensing laws are different in every country. Zune pass will find its way into you market soon enough

Yet Nokia could open Comes With Music in 31 countries, similar to Zune pass. Nokia also opened Nokia Music Store on it's Windows Phones right away with 21 countries.

It's a bit piffetic really how slow MS is with this. Zune Pass is available in 2 countries, music store in 8. MS music store is needed also for the artis backgrounds on Zune player as it syncs them from there.
If MS actually wants to sell WP's. it really needs to make it global. They truly haven't managed to do that in 2 years.

Wow I'm so getting tired of Microsoft not starting some stores over here in the the Philly area. Geez, not even NYC has one. I would love to pre-order the Lumia 900 but can't :(

They will be rolling out plenty of stores over the next few years. NYC is supposed to be getting one. There were reports from late last year of MS's plans to do so.

I would love this promotion here in Canada...

Well, like the article states "if your in the US".
I think that is a great deal. My Zune pass costs me $150.00 per year but I still get the 10 song credits per month.
I can use Zune on my:
Desktop, WP --> Car Stereo, XBox --> TV --> Home Stereo
The deal-sealer for me when I got the Zune Pass was the ability to stream from my phone to my car stereo. This includes internet based Zune music.
I wonder if this would carryover to pre-orders?
I want an unlocked Lumia 800. I would gladly buy one from the MS store if it included an additional year of Zune.

Daniel,
Does this apply to "reserving the Lumia 900 with $25" as well? Or does it have to be a purchase?
Eitherway, I'm stuck on work in St.Louis, and there are no stores. I'm from Atlanta, and I'm asking my wife to go reserve a 900 for me this weekend.

Nope, see my comment below.
\/ \/ \/ \/ \/


I just called the MS Store and I'm NOT eligible for this promotion after pre-ordering the Lumia 900 yesterday since it ends before the 900 is released. The guy did say knowing his store that there will be some kind of promotion going on to really push the Nokia phones when they drop, so let's hope it's as good if not better than this deal...


I think the reason why is probably like the $25 app promotion they had near the end of last year. You have to submit it through windowsphoneappcard.com and enter the IMEI/MEID Number that we won't have until we actually have it in our hands.

hmm.. ok. Thanks for the info. Hopefully they wont say something like 'not eligible for preorders' or something like that when they have new promos for lumia and Titan2.


They won't, they want to sell phones and promotions help do that. They are banking on Nokia to help steamroll the competition... G:

Wow that's an awesome deal. Zune is one of the reasons I love WP7. If we get a Microsoft Store nearby and Verizon gets another Windows Phone I'm going to do this.

Well, that's a lot of "if"....hope for the best.

This is actually one of the marketing suggestions listed on the new suggestions page. If they've taken it straight from there and implemented that's damnnn good!

Argh!! Why don't we have one at NYC? Come on Microsoft..

Love Zune and My Zune Pass (and my 10 free songs a month from the old deal). Its the Most underrated and under advertised feature of WP.

Hmmm is there even a Microsoft store in Ontario Canada??

Makes me feel bad because I live in Dallas, TX by a MS store, and others always get left out. I feel guilty hearing about how people in other countries get dissed, and I hope you guys get what you need to fully enjoy your WP experience in the future. Good luck!

Upvote for rage reference, Daniel :)

I think that lady in the poster isn't just excited about getting free Zune pass...

This is something they should have done from the beginning.


That's so fucking awesome

Those stores are REALLY nice too... =(

I think they should make it 2 years (whole life of the phone generally)

I lost interest when MSFT killed the 10 free songs a month plan. That made Zune Pass a great deal. Now Zune Pass is just another subscription service.

xxYetterxx, thanks for the comforting words. I put my issue on a microsoft feedback site. apparantly I am not the only one with the issue that Zune simply does not work due to a country zone bug. It has been plaguig my computer for over a year now, as with others. Because I can not log in on my Zune, I cannot apply for Zune Pass and the other delights the application has to offer. I am stuck with only a meager syncing and updating. I cannot pay over Zune. There is also the issue that I, just like many others don't have a credit card. In Europe we all use bank and pincards, little Visa or other competitors. It is a major block. I am literally stuck with only free apps. In-Carrier payments is nog widely used yet in Europe and the providers that do ask steep monthly packet options. I am simply missing something as easy as PayPal to be able to pay for subscriptions and apps. I'm geting a sense that there are many people out there with the same issue, and I think microsoft is not aware of this. So what can I do?
Thanks from a desperate WP7 user.