Fruit Rocks, fighting back the alien invasion one apple at a time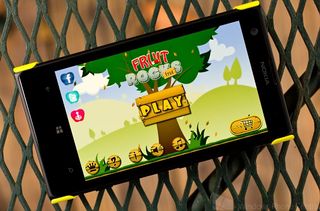 Fruit Rocks is a Windows Phone game that calls upon you to use fruit trees and rocks to defend Earth against an alien invasion. The game is a side scrolling action title where you hurl apples and oranges from trees to destroy a variety of aliens that have decided to invade Earth.
The game also includes bonus items that can be shot with your fruit to give you an edge in taking out the alien monsters. Game play is challenging, cartoon graphics aren't too shabby, and overall, Fruit Rocks is a fun game to pass the time with.
When you launch Fruit Rocks, you are presented with the option to register with Scoreoid, which allows you to participate in the online leaderboard. If you would rather not register, just tap cancel and you will be taken to the game's main menu. You have to deal with this dialog box each time you launch the game and it would be nice to cancel this option permanently if you prefer not to register.
Fruit Rocks main menu has options to view the leaderboard (again, registration to Scoreoid is required), view the help screens, mute the sound/music and view the about screen. If you are playing the trial version, you will also see an option to purchase the full version for $.99 on the main menu. I did have an issue with the sound/music settings not remaining in place when I exited the game. This can be a little frustrating to have repeatedly mute the sounds every time you launch the game.
Fruit Rocks has thirty-four levels of play spread across three scenarios. Game play involves shooting fruit from trees to bash aliens into smithereens. You also have swinging rocks suspended by balloons and carried across the screen by helicopters to use against the aliens.
With each level of play, the field of play will scroll by ending at a Safe Zone. Your job is to take out the aliens as they scroll by. The more aliens you take out, the higher your score. Just be careful, you will lose points for every alien that survives and if six aliens survive your fruit onslaught, you fail the level.
To shoot the fruit, just tap, hold and pull back on the fruit. An aiming guide will appear and when things are lined up just right, release your hold on the screen to launch your fruit. Most fruit (oranges, apples, etc.) simply smash your aliens but the bananas act as a boomerang, traveling out a bit and then returning to the tree.
To launch your rocks just swipe at the string tying the rock to the balloons or helicopters, cutting the rocks loose. You will have to time the cut to use the rock's momentum to guide the rock on to the alien.
To keep things interesting some aliens are positioned in structures that have to be destroyed, some aliens require multiple hits before they will go down and some will duck-n-dodge the fruit. You do have a few bonuses that you shoot with your fruit that will help even the playing field such as strategically placed dynamite bundles and bombs suspended in the sky.
Taking everything into consideration, Fruit Rocks is a fun game for your Windows Phone. Fruit Rocks is a challenging game that is more likely better suited for shorter gaming spurts. The one downside to the game is the number of gaming levels. Thirty-four levels do go by quickly and hopefully the developer can update the game with more levels soon.
Fruit Rocks is available for both Windows Phone 8 and 7.x devices. There is a trial version available that has six levels of play. The full version currently running $.99 and you can find Fruit Rocks here in the (opens in new tab) Windows Phone Store.
George is the Reviews Editor at Windows Central, concentrating on Windows 10 PC and Mobile apps. He's been a supporter of the platform since the days of Windows CE and uses his current Windows 10 Mobile phone daily to keep up with life and enjoy a game during down time.
Seriously,the review now????I played the game like 2 months ago approximately -.-

Then you will be able to compare the review to your hands on experience

Man, don't you think that the developer paid the website to get his app reviewed/ advertised? And get more downloads? And btw, most of WP apps are fake rubbish.

Windows Phone apps rubbish ?? Then get back on your ifake then and go troll in your own bedroom.

I really had fun being accused of blasphemy. Just FYI, I never owned a mobile other than a Nokia, and that would about 20 devices starting from 3310.

I'm sorry, but you have no conception whatsoever of how things work. Developers don't pay to get apps reviewed, much less some small indie who wouldn't even have the budget for it. What the big publishers do is sent various gifts to generate buzz and good will and keep everyone aware of a coming release. But beyond that, publications and websites choose to run stories and reviews for themselves. And it's in their best interest that they do so if they want to be relevant. The fact that this particular game was chosen probably comes down to someone on staff having played the game recently. And these indie developers need all the help they can get, because they're the ones who can make a platform thrive, just like they did for iOS. These were the same guys who did Smashing Planets, although why they're showing up as different publishers in the store is beyond me. I actually wish WPCentral reviewed more games, because there's a bunch of good stuff on Windows Phone that doesn't get the attention it deserves.

Lol uselessrobot. I'm not saying this is how it works around here (although I wouldn't be surprised if it was) but people get payed all the time to review games and apps.

I have no conception of how "things" work. Wow that's so general. If you can read, there is two question marks in my sentence, obviously I wasn't making a statement as bold as yours. And its not like I'm saying its a bad thing!? Its marketing, gets the app more exposure don't you think?

good job..but this game is available since last year

Looks like the aliens in Simpsons :-)

Not available here in Brazil.

I don't care if the game was out last year... first I've heard of it. Might give it a try.

Can't wait for Wednesday (c'mon gameloft!)

What's happening on Wednesday?

Anyone played Clumsy Ninja? Now thats a great game. Most of the WP games are just rubbish.

Not to sound like a douche or anything, I really do appreciate the reviews and gaming news here on wpcentral, but George, you guys really need someone to pay attention to sound leveling on those video reviews. My eardrums almost exploded with the wpcentral logo on that video.
Windows Central Newsletter
Thank you for signing up to Windows Central. You will receive a verification email shortly.
There was a problem. Please refresh the page and try again.