FTC claims T-Mobile charged customers millions for bogus SMS subscription fees [Updated]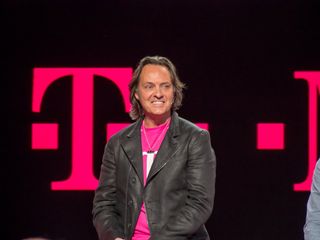 Update: T-Mobile CEO John Legere has posted a public response to these claims, saying they are "unfounded and without merit." He goes on to talk about T-Mobile's proactive response to these issues as compared to the competition. You can find the full statement at the T-Mobile Newsroom (opens in new tab)
Original story: The Federal Trade Commission says that T-Mobile has placed "hundreds of millions" of dollars in bogus charges into customer bills. In a press release issued today, the government office alleges that T-Mobile included premium SMS fees that it knew were fraudulent because of the high cancel-rates from subscribers. This is a practice the FTC calls "cramming."
The FTC further alleges that because of the complexity of T-Mobile customer bills (which may be over 50 pages long), these charges were hidden and customers weren't able to easily sort out the various "Premium Service" charges. According to the complaint, the information would be listed there in an abbreviated form that did not explain that the charge was for a recurring third-party subscription supposedly authorized by the consumer.
This comes just weeks after T-Mobile announced that they were stepping up their fight against unauthorized billing and would be proactively notifying customers about charges of this nature. Certainly, these two are related.
The full press release follows.
FTC Alleges T-Mobile Crammed Bogus Charges onto Customers' Phone Bills
T-Mobile Was Aware For Years that Charges Were Not Authorized by its Customers
WASHINGTON, July 1, 2014 /PRNewswire-USNewswire/ -- In a complaint filed today, the Federal Trade Commission is charging mobile phone service provider T-Mobile USA, Inc., with making hundreds of millions of dollars by placing charges on mobile phone bills for purported "premium" SMS subscriptions that, in many cases, were bogus charges that were never authorized by its customers.
The FTC alleges that T-Mobile received anywhere from 35 to 40 percent of the total amount charged to consumers for subscriptions for content such as flirting tips, horoscope information or celebrity gossip that typically cost $9.99 per month. According to the FTC's complaint, T-Mobile in some cases continued to bill its customers for these services offered by scammers years after becoming aware of signs that the charges were fraudulent.
"It's wrong for a company like T-Mobile to profit from scams against its customers when there were clear warning signs the charges it was imposing were fraudulent," said FTC Chairwoman Edith Ramirez. "The FTC's goal is to ensure that T-Mobile repays all its customers for these crammed charges."
In a process known as "third-party billing," a phone company places charges on a consumer's bill for services offered by another company, often receiving a substantial percentage of the amount charged. When the charges are placed on the bill without the consumer's authorization, it is known as "cramming."
The FTC's complaint alleges that in some cases, T-Mobile was charging consumers for services that had refund rates of up to 40 percent in a single month. The FTC has alleged that because such a large number of people were seeking refunds, it was an obvious sign to T-Mobile that the charges were never authorized by its customers. As the complaint notes, the refund rate likely significantly understates the percentage of consumers who were crammed. The complaint also states that internal company documents show that T-Mobile had received a high number of consumer complaints at least as early as 2012.
The FTC has made significant efforts to end mobile cramming. In the last year, in addition to holding a public workshop on mobile cramming, the Commission has filed several lawsuits against alleged mobile cramming operations Jesta Digital, Wise Media, and Tatto Inc.According to today's complaint, T-Mobile billed its customers for the services of these FTC defendants as well as an operation sued by the Texas Attorney General.
The complaint against T-Mobile alleges that the company's billing practices made it difficult for consumers to detect that they were being charged, much less by whom. When consumers viewed a summary of their T-Mobile bill online, according to the complaint, it did not show consumers that they were being charged by a third party, or that the charge was part of a recurring subscription. The heading under which the charges would be listed, "Premium Services," could only be seen after clicking on a separate heading called "Use Charges." Even after clicking, though, consumers still could not see the individual charges.
The complaint also alleges that T-Mobile's full phone bills, which can be longer than 50 pages, made it nearly impossible for consumers to find and understand third-party subscription charges. After looking past a "Summary" section as well as an "Account Service Detail" section, both of which described "Usage Charges" but did not itemize those charges, a consumer might then reach the section labeled "Premium Services," where the crammed items would be listed.
According to the complaint, the information would be listed there in an abbreviated form, such as "8888906150BrnStorm23918," that did not explain that the charge was for a recurring third-party subscription supposedly authorized by the consumer. In addition, the complaint notes that consumers who use pre-paid calling plans do not receive monthly bills, and as a result the subscription fee was debited from their pre-paid account without their knowledge.
When consumers were able to determine they were being charged for services they hadn't ordered, the complaint alleges that T-Mobile in many cases failed to provide consumers with full refunds. Indeed, the FTC charged that T-Mobile refused refunds to some customers, offering only partial refunds of two months' worth of the charges to others, and in other cases instructed consumers to seek refunds directly from the scammers – without providing accurate contact information to do so.
The complaint also notes that in some cases, T-Mobile claimed that consumers had authorized the charges despite having no proof of consumers doing so.
The FTC's complaint seeks a court order to permanently prevent T-Mobile from engaging in mobile cramming and to obtain refunds for consumers and disgorgement of T-Mobile's ill-gotten gains.
The FTC thanks the Federal Communications Commission and its Enforcement Bureau for their invaluable assistance with and close cooperation and coordination in this matter.
The Commission vote authorizing the staff to file the complaint was 5-0. The complaint was filed in the U.S. District Court for the Western District of Washington.
NOTE: The Commission files a complaint when it has "reason to believe" that the law has been or is being violated and it appears to the Commission that a proceeding is in the public interest. The case will be decided by the court.
Windows Central Newsletter
Get the best of Windows Central in your inbox, every day!
I'm an RHCE and Electrical Engineer who loves gadgets of all kinds. You'll find my writings across Mobile Nations and you can hit me on Twitter if you want to say hey.
The white knight isn't so white.

I never had such problems. Might be for something corporate? 50 pages seems excesive

Same here my bill for 3lines was never more then 5 pages. Nor was I ever charged for anything out of the ordinary. Not to say they never did but I trust the government even less than big business.

Agreed. I've been with Tmo for nearly eleven years and not only have I always checked my bill, it's never varied from the norm, I don't know who might have gotten shafted, but it makes me wonder what they were doing for it to happen.

Thats how Mr Legere can afford such nice suits....:)

Can only imagine many more of these types of headlines if a Sprint merger goes through. smh

Well they never got me though.lol At least I hope not.... Either way I'm cool with T-Mobile like first cousins.

Wasn't this a problem on ALL the carriers? I've had to call in for refunds when I was on Sprint every couple months. Or is this more because the charges were harder to find, and not that they were there in the first place? My understanding was that the cell company gets a report to charge xxx-xxx-xxxx $9.99 for this, the cell company charges that number, pays the 3rd party, next month if it hasn't been canceled, the 3rd party will keep that number on their billing report to the carrier, cycle repeats. The "chargeback" would effectively cancel the subscription...

Most people don't realize what they sign up for on the Internet. MySpace users especially had this issue, where they'd respond to something for a ringtone, then get slapped with a Premium SMS charge after agreeing to it. ;) a lot of people don't read the fine print, and it needs to change.....sooner rather than later.

That will always be the case, companies will never ever disclose the fine print in laymen terms or in a form that is understood i.e the radio commercials at the end where they speak a gazillion miles per hour. Until it is made mandatory by law to explain and disclose the fine print, people will keep getting scammed as most are lazy to look for / read through the TOS and that is what these companies rely on.

Still betting on T-Mobile, they are becoming the least of the evils.

"According to the FTC, T-Mobile had been taking a cut from these deceptive subscriptions too -- as much as 35 to 40% -- earning it hundreds of millions of dollars. " Yup.. least of the evils...

Personally I never had any issues of this kind. I wonder if the FTC has got in bed with AT&T to get rid of a competitor.

If the FTC was in bed with AT&T, TMob and AT&T would be one merged company.

Lol this happens on all carriers. Also, even with all that, Tmobile still seems cheaper than ATT and Verizon, so think about how much extra is charged by the other two.

That's why I do the pay as you go. $50 a month, no extras added.

You guys have insane prices...

Can't wait till my contract runs out in September. I am gone t-mobile! You are crap!

Leave now. Doesn't Att or Verizon pay early termination fee's? Posted via Windows Phone Central App

You are going want to hear this thing out before you make a rash move. Tmo is currently under attack because they are forcing the other companies to change their ways. Based on what this complaint is saying, every phone company should be challenged and may be when it is all said and done.

I agree. The corruption runs deep.

T-Mobile has been decent for me. I did have to call them up when my wife was charged for some subscription she supposedly signed up for. Luckily they refunded the amount and canceled the subscription. I haven't had any other charges since that I know of. I was definitely disappointed at how easily a company can start charging monthly subscriptions to people just by knowing their phone number.

No wonder Sprint wants T-Mo. One fleecing with a slow as hell network in Sprint and the other fleecing kids parents with text messaging. They are a matched set of bookends. And whats up with grown men and hair perms? Kinda over doing it with the trying to be "hip".

Do you know how stupid you sound? T-Mobile fleecing people hahaha
Dude Tmo is way cheaper than Att or Verizon. Posted via Windows Phone Central App

SUCK should cost less. They suck in Las Vegas. I mean really suck. As bad as Sprint does in this town.

The two times my wife was scammed for $10 each time they quickly credited our account no questions asked. Been with them since 2007 and nothing but good things to say about their customer service!

The sad part is even with this cramming, their still the best value in wireless. LOL but honestly I've been with them for 5yrs and have never been charged any of these premium services.

So true but the Haters gonna Hate. Posted via Windows Phone Central App

That was true before AT&T bought Cricket. It isn't so true now....

Cricket isn't much of a value.

Cricket is: AT&Ts better phone selection (especially for WP users) with AT&Ts much better network at prices that are lower than T-Mobile's. Plenty of value there. :)

If you want the best service go Verizon, if you want a better selection of phones go AT&T, if you want a company that cares more about their customers go T-Mobile, and if you like the color yellow go Sprint. That's my understanding.

Interesting observation there.

This does sound like a pretty shitty practice. That being said, everyone should be paying attention to their monthly bills. T-Mobile texts me my charge every month and you can be sure id call them up right away if the total changed at all. I know so many people that don't even know how much they are paying every month.

That is just madness to not know what your outgoings are every month lol. Then again I guess some get stressed out far to easily, as household finances is usually the root cause of stress for some.

Been a longtime very happy TMo customer from the Voicestream days (over 15yrs)...this is the first time they have been cited for this type of practice...not condoning what they did but I know TMo will make it right...they are one of the most ethical companies out there...

Never really happened to me. How do I sign up?

In all of the 12 1/2 years I've been with T-Mobile, this issue never affected me until sometime in the fall or winter of last year, when I noticed a $10 charge for "Premium Services." I promptly called T-Mobile's customer service line and was told it was from a specific company I'd never heard of that provides ringtones and wallpapers. The rep told me the only way this even happened to be on my bill was that I must have pressed on an ad accidentally in a free app on my phone. I actually believe that because the vast majority of apps on my last three phones have been free, and yes, I HAVE accidentally clicked on ads. She removed the charge from my then current bill and the previous one and blocked all "Premiums Services" from my bill permanently. No complaints.

How companies can get away with this I don't know! EU consumer law cracks down on this. Between ppi scams and the banks and what not profit over morality is now the norm. We're just payment machines. How nice

Even with those surprise charges they're still cheaper than others

Surprised this is in the news. T-Mo acknowledged these issues and brought forth a resolution weeks ago. Smear campaign from AT&T?

The only issue I have with TMO is lack of selection. Why can't we get Phablets or 41MP phones. AT&T an Verizon get the good stuff and we get "baby" starter devices like the 630 which smaller, lower resolution camera and lower quality build.
Before I end my rant let me just say the only reason I can't dump their Excellent Voice and Data plans.
Well all we can hope for is something better around the holidays. Until then ne and my 925 will stick it out.

Budget devices for budget coverage on a budget network. They know their audience.

What's "budget coverage" and a "budget network?" Would that be one that delivers consistently the fastest LTE speeds with consistently the lowest latencies, in high-dollar areas like Manhattan and the Chicago Loop where actual people live? ;) Or would that be one of those other networks that gives you much slower speeds with much higher latency at much higher prices with extremely unfriendly, inflexible terms?

T-Mobile is clearly option B. so that. :) Also the one that can't deliver what they advertise, and doesn't play nice in buildings.

T-Mo is a lot more customer-friendly than Cricket/AT&T... and a lot more flexible. For example, I got my Lumia 925 unlocked a month after I bought it. Cricket won't unlock a phone -- ever. I get unlimited data and texting when I travel overseas -- Cricket won't work at all. And since AT&T/Cricket won't unlock your device, you can't even use an overseas SIM. For those of us who travel outside the USA regularly, Cricket is even worse than Sprint. And speeds on T-Mo are great. Coverage is pretty good too, though I don't travel to areas where there's little economic activity (and thus little coverage). If I do, I roam on AT&T's network at full speed (no Cricket throttling). They deliver what they advertise to me, and then some. Though I'm glad *someone* out there likes being shafted by AT&T. They need a friend. ;)

I have t mobile! I demand free things now!

People like conspiracy theories here, so I'll make my own. I smell a red herring.. I bet Verizon and ATT are behind this.. Paying for T-Mobile to be attacked

How nice of the FTC, to go after TMO when they can't get their own house in order... Sheesh.

I always had bill issues with them and was my reason for leaving them! Hope they make justice!!!

Just bilking their customers and raking in all the ill-gotten profits.