First look: Full featured Instagram client, InstaPic, headed to Windows 8 devices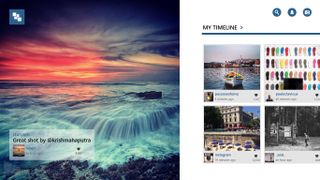 For those of you who can't help to wave around your tablet and take photos, we have an exciting announcement. InstaPic, a full featured Instagram client will be headed to Windows 8 device shortly.
The application will allow users to view timeline and popular posts, search for users and tags, pin favorites to the Start Screen, locate friends from Facebook and their address book, and even upload photos to the popular social photo sharing service.
A built in editor will allow users to shoot pictures with the tablet's built in camera, then edit them to add enhancements, filters, stickers, text, drawings and more.
We are extremely excited (or at least I am) for this app to hit the marketplace and by the looks of the final screenshots we have received – it is beautiful. Design is simple and takes advantage of beautiful imagery from your own timeline.
Currently, Instagram officially has no plans for Windows 8 or Windows Phone 8 apps, pushing the burden onto third-party developers like Instance for Windows Phone. Of course as both platforms continue to grow, Instagram may change their mind and create official apps as well.
The app is currently pending approval in the Windows 8 Store, meaning its release should not be too far off. As more information becomes available we will keep you informed here on Windows Phone Central.
Anyone been waiting for an Instagram Windows 8 client?
I have mixed feelings about this. On one hand, Instagram is a place about and for mobile photography. On the other hand, I'm guilty of putting a picture or two on there from my DSLR. It'll be fun to check it out though.

I think Instagram is not a mobile photography network anymore. There are many accounts uploading shots taken with pro cameras or other equipment. I don't have any complain about this, though.

As you said, I'm guilty of publishing some shots from my NEX-5N.

If I upload from the 1020, I guess that's considered uploading with pro equipment?

Think by "pro equipment", DSLR was what was intended. 1020 has a superb camera, but it's no SLR.

Harm I sorta agree with you...except I have not uploaded any of my DSLR photos. I kinda want to as I take a lot more and a lot better photos with it...but it just feels...wrong for me. There are plenty of places for posting pro photos. The whole premise of Instagram started to improve on mobile photography did it not? Hence the early filters. Anyways, don't really mind seeing others post "pro" photos. I've just not taken that leap yet. Closest Ive come is photographing my photoshop screen with my phone and posting that. Haha.

I normally check instagram (via instance) on the go when bored or if I wanna see this one girl in a bikini who is a model and gets 40+ likes every picture. I don't think I'd ever want to sit down on my surface pro to browse the instagram network though. But hey, the option is now here to do so.

For science... inform us of this particular Instagram account.

For science...
/playboy
/annasophia_b
/MissNikkiLeigh
/pmoy2012 (Jaclyn Swedberg...who uses Instagram to tease people and promote LifeClip for +18 photos lol) I love science.

what about that? Instance for Windows Phone 7 never happend..... mmmmmm


Eh...don't sweat it Instance for wp8 is buggy and crashes anyway, so you're not missing anything.

Yep i'm wating for 6gram...

While I find pathetic taking photographs with a tablet, it IS useful to have an Instagram client in it.
I'm liking the prospect of this one specially because of the editing tools in it. Right now on Windows Phone the Instagram clients lack built in editors. Instagraph relies of a third party and Instance doesn't even know what that is (I wonder if Rudy Huyn will put one in...). So this is definitely something worth having.

@DJCBS - Rudy is working on one! It'll be called 6Gram!

Yes I know he is. However it's not yeat clear if 6tagram will have a photo editor built in ;)

according to his tweets he was working on filters a few days ago. and btw for those who arent developers to do what rudy is doing is amazing, to make an instagram app like he doing in about a week is mind blowing

I just he doesn't call it 6gram...make it 6dgrees

There is a flood of TPA Instagram app now lol

Yes please.
I have not been completely satisfied with Instance.

I don't think anyone has...

Think about those days with Instagraph. We're a little farther along aren't we? Instance isn't so bad. It's pioneer.

If it actually worked, I would agree with you. I'm grateful we have a few good developers, but we need better follow through or their excellent hard work means nothing.

Should have used "for instance Instance for Windows Phone 8". Just saying :)

"for instance Instance for Windows Phone 8 phone"

Beautiful. Can't believe a certain tech media site had the nerve to call these amazing 3rd party alternatives "cheap forgeries." Can't wait.

I'm looking forward to this. Instance is a bit mellow for my taste and its developer seems to be very busy lately, since no update has been posted. Idk, but I think 13 filters just don't cut it that's all Instance has, even after downloading updates.

WP7 being left in in the dust again.. I'm gonna have to upgrade from my 900

You did read that this is for Windows 8, not WP8, right? If you're referring in general, then yes WP7 is a dying platform.

what?
whatdoyoumeannotforPHONES?

Instance has more bugs than a New York sewer, so I hope this or 6gram will come along and help us out...

LMAO! Love that analogy! Too true.

Both Instance and 6tagram are for Windows PHONE. This is for WINDOWS 8 (PC and tablets) ;)

Yeap,my Facebook page was marked as spam after uploading pics from instance last night.Had to go thru and add all my passwords back in,baked in version,Facebook app and my Microsoft account.

Also had the same problem two days ago.

It'll be useful to have an Instagram client on Win 8. Just like any other pic posting to Facebook or Twitter really...

but what about video though...we have a lot that already do still images but none of them allow us to upload videos. Im impressed but not that impressed.

I don't really care if we get an official instagram client anymore, I'm happy with instance.

After getting nuked for using the unapproved Instance (evidently) which of the Insta apps will sufficiently please Instagram so that they do not cancel my account - again?

Hahhh...Instagram... Oggl by Hipstamatic, that is the future! :)

Windows 8 devices.. that includes Windows phone 8 devices?

Please do not make me throw my dog poop stained slippers at you for waving your tablet around like a monkey.

Everyone's been waiting for an official instagram client lol

Facebook released "home" for android along with their "first" phone. They failed terribly on both. How about they try to get a taste of success by releasing official instagram for windows phone.

Looks daring to me and that's whats up. Can't wait.

In an age when we get a stonking 41MP cameraphone that takes phenomenal pictures, everyone raves about an app that makes them look like they were taken on a box Brownie in 1923 and printed on toilet roll.
This is what's given the iPhone its market share - popular hipster airware. You can keep it!

I've been using piktr for W8, but I'll give this one a shot too.

Is there going to be a free version of the app? It looks great!

Will it be for windows rt as well?

i dont know why when i'm sharing photo using this apps when i add may facebook account and i check my fb it will appear but i does not?? how can i add may fb or even twitter when i'm sharing a photo on the instagram using this??
Windows Central Newsletter
Thank you for signing up to Windows Central. You will receive a verification email shortly.
There was a problem. Please refresh the page and try again.