Full Yummly Windows Phone app is now available for your recipe search needs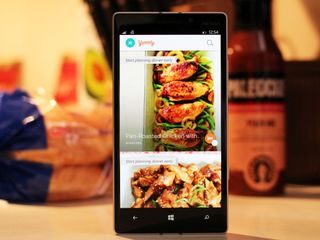 In December, the well known recipe search app Yummly released a 'lite' version for Windows Phone, with the promise that a full native app would be released in the coming months. Now that promise has been fulfilled with the launch of the full Yummly Windows Phone app.
If you love to cook at home, this app may help you find new and cool recipes to try out. Here's a breakdown of the app's features for Windows Phone:
The most powerful way to search the recipe sites you love: Why waste time sifting through the wrong recipes? Our unique search filters allow you to find the perfect recipes by holiday, cuisine, taste, diet, nutrition, allergy, cook time, technique, and more – so the recipes you find first are the right ones. No need to worry, we have all of your favorite recipes from your top recipe sites (AllRecipes, Epicurious, Food52, etc.) and from the best food blogs (Chow, Serious Eats, Steamy Kitchen, etc.). You can now also track the nutrition and servings of what you ate with Yummly's seamless integration with Health App.
Discover recipe recommendations, just for you: Set up your taste preferences and we'll only serve up recipes that match. As you use Yummly, like magic, it learns about you like (and don't like). Yummly will provide you with recipe recommendations every day that you are sure to love. In a bit of a food rut? Let Yummly help you out with a cornucopia of tasty suggestions. The more you Yum, the better it gets!
Let us know what you think about the full Yummly Windows Phone app in the comments.
Download Yummly from the Windows Phone Store
Windows Central Newsletter
Get the best of Windows Central in in your inbox, every day!
Sounds like "chumlee" from pawn shop

That's the first thing I thought of!

Hardly any Desi foods on it

Yes! I've been waiting for this one!

Looks like a lot with the iOS app (but I don't think it was ported). Its very fast and almost complete, missing some filters for searching and I coulnd't find any "share" feature.

Wow. Why does that even matter?

It doesn't, I was just comparing.

FINALLY!! was sick of using it on browser. :D

This app is one Hidden Gem!

Should have called it nyumly. Nyum nyum nyum :P

Good, now need a girl who can follow the recipes and make something for me every day.

Get off the internet and go find one!

There is no share button and recipes are opening as web pages :(

What do you mean? The recipes page are the same as the iOS app.

Confused ! Yummly or Food & Drink from MS Corp. Which will be better?

Yummly is a recipe search engine. I've been using the website to cook almost anything, from sauce, to a complicated dessert.
Food and Drink doesn't cover a wide range of recipe compared to yummly.

Link goes to app in store and I can install it but it it fails with 80073cfb. Interestingly, if I go to the store and search for Yummly there is no match.

Downloaded. Yum yum yum!!! #ChefBoyLsgro

For some reason this app won't download for me.

Wont download for me too.. 80073cfb error code..

Boo. 80073cfb error for me. Glad to see I'm not the only one...

anyone facing error 80073cfb

Same problem here. I triggered the install from the website. I'm not able to search and find it from the phone directly. Scott
Windows Central Newsletter
Thank you for signing up to Windows Central. You will receive a verification email shortly.
There was a problem. Please refresh the page and try again.