Looking at the future of Ubisoft's Rainbow Six Siege Battle Pass
Rainbow Six Siege's inaugural Battle Pass was "well-received" among players, as Ubisoft adapts its strategy for future seasons, doubling down on Operator lore.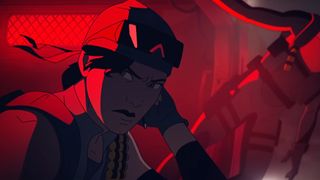 (Image credit: Ubisoft)
Tom Clancy's Rainbow Six Siege prepares for substantial changes ahead, with Ubisoft recently unveiling its two-year plan, laying the foundations for the shooter's future. It follows continued growth throughout the generation, now clocking over 55 million players, with increased spending to support its free updates. Among its latest additions comes the Battle Pass, bringing a tier-based progression system laced with rewards.
Rainbow Six Siege has secured a steady cash flow in recent years, but the Battle Pass could be the monetization system that truly works. Fostering an ever-engaged player base, while more affordable to the average player, it opens new doors for Ubisoft over years to come. With the Battle Pass now a 2020 mainstay, we sat down with Rainbow Six Siege product director, Roy Del Valle, touching on what Ubisoft plans next.
Rainbow Six Siege's Battle Pass appears to be a success
The Battle Pass concept is far from unique in the shooter space, first securing traction in Fortnite's free-to-play battle royale, and since diffusing throughout the genre. The increasingly-adopted rewards system grants exclusive in-game items upon reaching milestones, keeping players hooked beyond the initial purchase. And while available to all via a free track, its lucrative paid tier provides the majority of rewards at a $10 entry fee.
Rainbow Six Siege is reported among Ubisoft's top-earners in its service library, supported by an ecosystem of cosmetics, and no stranger to monetization. But the philosophy of the Battle Pass pitches heightened investment, expanding its gameplay loop with an additional route for progression. The developer introduced the first full-fledged Battle Pass in January, supporting its Road to S.I. 2020 event with over 40 rewards mapped to two tracks.
"A Battle Pass is a five-week exercise and in order to get a full picture of the full reception of Battle Pass we have to look at the data, we have to analyze community sentiment," Del Valle tells Windows Central. While Ubisoft remains tight on firm details surrounding its inaugural pass, Del Valle suggests positive reception over past systems.
"From what we have seen so far, it's positive. We see that people enjoy the reward system. They see how much value is in there. They see that if I were to buy this separately in the bundle, I would definitely be spending more money. So, the generous offer is out there, and it has been well-received, as far as I know."
The Battle Pass will continue to evolve throughout Year 5 and 6, as the first of annual roadmaps committing to a return every Operation. Ubisoft will steadily shift availability toward the start of each season, adapting content, length, and other supporting traits with user feedback. The system seemingly ties increasingly closer to the game's seasonal schedule moving forward, to be established as a core component of updates.
But with support on track for well beyond a decade, Del Valle isn't decided on whether the Battle Pass will coexist with the Year Pass going forward. With the Battle Pass accompanying a traditional "season pass" model, loot box-style packs, and regular item purchases, it appears Ubisoft is attempting to settle on the best course for the future.
Rainbow Six Siege's growing storyline finally finds a home
While the Battle Pass is an established monetization system, smoothly translating across other online shooters, its arrival in Rainbow Six Siege supports new opportunities moving forward. "It's a system that is opening the doors to different things," says Del Valle. "Yes, it is a monetization system, but it also has a free track. And on top of that, it's allowing us to have an opportunity to tell more stories about the operators."
With Rainbow Six Siege highly competitive to its core, the Battle Pass provides a new avenue to explore its persona. Behind its military tones, the game's narrative has grown surprisingly deep under the "Universe" team, embedded with intertwined conflicts from within counterterrorism unit, and Operator origins. Upcoming seasonal Battle Pass drops will further explore that lore as it expands with time.
Ubisoft isn't quite ready to share its next Battle Pass iteration. However, Del Valle references the "Nighthaven Collection," an 18-piece cosmetic set from earlier this season, for a tease of that vision. While Rainbow Six monetization is gradually shifting from randomized packs in favor of the Battle Pass, the accompanying anime short demonstrates ideas explored at the studio.
"That was supposed to be a test," says Del Valle. "We were not supposed to release that." It focused on Operation Shifting Tides' new Operators Kali and Wamai, despite being initially conceived as an internal trial for future seasons. "We looked at it, and we showed it to a couple of people, and people really liked it – we thought, you know what, let's just release it? We released it [and] we attached the collection to it because the fantasy of the Nighthaven was so strong."
With Year 5 reforming Ubisoft's content focus and delivery, the Battle Pass becomes a staple of all upcoming seasons. Ubisoft aims to release the Battle Pass alongside every season, coupled with deeper ties with the newest additions to the roster. "The goal with the Battle Pass is to somehow echo the new Operator and to have some relevance in there. To what extent this is going to be, we don't know. But yes, especially in Season Three and Season Four, the Operator and the Battle Pass will launch at the same time."
And while grounded with supporting narrative content, Operator themes may also reflect on the rewards available throughout. "We want to take advantage of it and play around with it a little bit more. Make it fun. What you see in the anime, for example, maybe resonate some of the uniforms or whatever you see in there somewhere in the Battle Passes."
In the meantime, Ubisoft prepares for its Year 5 kick-off with Operation Void Edge. That includes the addition of Iana and Oryx, two new playable Operators set to shake up gameplay in March, coupled with an Oregon map rework.
Eyes On Target
Tom Clancy's Rainbow Six Siege
Addictive, challenging shooter action

Ubisoft's hit shooter is hotter than ever, touting tense tactical gameplay, and regular free updates. Entering 2020 with millions of players, Rainbow Six isn't slowing down.
Get the Windows Central Newsletter
All the latest news, reviews, and guides for Windows and Xbox diehards.
Matt Brown was formerly a Windows Central's Senior Editor, Xbox & PC, at Future. Following over seven years of professional consumer technology and gaming coverage, he's focused on the world of Microsoft's gaming efforts. You can follow him on Twitter @mattjbrown.