Gadget Show does iPhone 5 takedown while liking the Lumia 920?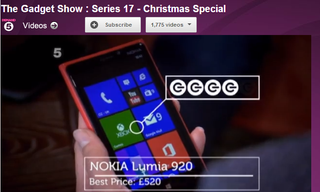 Here there and everywhere, Microsoft is busy promoting Windows Phone 8 here in London, at the same time Nokia is heavily promoting their Lumia 920. Billboard displays, dedicated TV adverts and even sponsoring dramas and product placements, it's everywhere. On UK TV, the Lumia 920 was on two separate gadget shows, one of which being Stephen Fry's 'Gadget Man'.
Last night saw the popular Gadget Show TV show put a bright red Lumia 920 with its wireless charging pad up against the HTC One X+ and the iPhone 5. In what can only be described as a hilarious iPhone 5 take down, the presenters gave all the props to the Lumia 920 and the HTC.
The Lumia 920 is a great device and many of the staff here own one as their daily driver, but it's always interesting to see how well it goes down in the mainstream media. We'll forgive them for thinking that it runs Windows 8. Hit the clip around the 13min mark to watch the segment for yourself but here are the salient points:
Then onto the cameras, sure they really liked the Lumia 920's low light performance but the HTC also fared well. Once again it's back to the iPhone 5.
While the performance of the iPhone left us both pretty cold, I loved the Nokia, I think it and it does it, this feels like its part of me, it's the tile system, so easy. You cannot go wrong - Pollyanna Woodward
Fast talking, breathless love for the Lumia 920 - no christmas cheer for the iPhone 5.
The guys on the show really didn't seem to get on with this year's iPhone but when it came to battery performance they had more bad news..
The Qi wireless charging was loved and even touted as a "genius idea" as they whooped but then it was onto the call quality and with a *huge* sigh..
IPhone 5 gets summed up with: No real innovation, bad battery life and build quality is poor. The Lumia 920 scores well on its ease of use and the wireless charging but they do mention its weight and lack of apps. It's great to see the Lumia 920 getting such a rosy review on a popular TV show where they make some valid points but why so much anger towards the iPhone 5?
Source: Demand 5
Get the Windows Central Newsletter
All the latest news, reviews, and guides for Windows and Xbox diehards.