Game Chest: Solitaire Edition - Review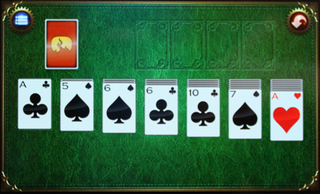 With Xbox Live on Windows Phone 7, Microsoft is hoping to capture a couple of different gaming markets; the heavy gamer, and the casual gamer. The heavy gamer would be someone who potentially already uses Xbox Live at home with their Xbox 360 console, and games like The Harvest, Need For Speed Undercover, and Assassin's Creed are games that are targeted to them. The casual gamer is less likely to spend the big bucks on the higher end games, and more likely to buy puzzle or card games such as Game Chest: Solitaire Edition from Microsoft Game Studios.
Features
One thing that makes Game Chest: Solitaire Edition perfect for casual gamers is the fact that the games are familiar, at least if you've used the Windows OS recently. Microsoft includes three games in Solitaire Edition; Klondike, Spider Solitaire, and Tri-Peaks. All three games are easy to pick up on and fun to play. Casual gamers will also like the fact that you can play for a few minutes, quit, and then pick up the game where you left off. Xbox Live achievements can be unlocked for everything from winning a single game to gaining level 19 in all three game types.
Quality
The graphics are simply outstanding. The cards are colorful, the table surface textures are perfect, and the animations are smooth. The controls are simple as cards can be either dragged or tapped in order to move them where you want them to go. There are also subtle hints throughout all of the games that show you what your possible moves are. Even the game selection screen goes above and beyond; instead of a simple menu, you are presented with a rotating carousel of menu items (there is even an achievement that can be unlocked using only this screen).
Conclusion
Game Chest: Solitaire Edition doesn't compare with The Harvest or Need For Speed Undercover and it's not intended to. Xbox Live offers a wide selection of games for all types of gamers. If you're wanting a game that is easy to pick up on, will entertain you for minutes or hours, and won't hurt your budget; Game Chest: Solitaire Edition is an easy choice.
Windows Central Newsletter
Get the best of Windows Central in in your inbox, every day!
Sure it's an XBL game with the all-important achievements, but it is solitaire.
Solitaire has been built-in to every single version of Windows Mobile/Pocket PC prior to 7. And now MS is selling it?!?! Please, what is the price? Sure $1 is affordable for some things, but for a solitaire game??
Also, what games are built-in to WP7 if Solitaire is not?

The price is $2.99. No games are built-in, but a quick trip to Marketplace/Xbox LIVE will let you know what games are free. I agree, though that for tradition's sake Solitaire (Klondike) should have been free.

Some of reviewers on Marketplace (including myself) are reporting an issue with the game where it appears to start, then exits unceremoniously before ever allowing you to actually start a game. This is now happening to me after weeks of the game working perfectly. While it worked, it was quite enjoyable. But now I can't get it to start at all. Hoping for a bug-fix update. (I'm using a Samsung Focus.)

I got the same issue; the game worked fine until yesterday and now it keeps crashing.. The game itself is nice though..
Windows Central Newsletter
Thank you for signing up to Windows Central. You will receive a verification email shortly.
There was a problem. Please refresh the page and try again.