New developers bring Nintendo emulators back to Windows Phone 8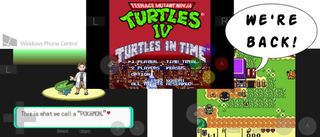 As November and American Thanksgiving drew to a close, Windows Phone classic gaming fans experienced a bit of a shock. Indie developer M.k's three Nintendo console emulators SNES8x, VBA8, and VGBC8 all disappeared from the Store. Naturally Windows Phone Central stepped in to reveal why the emulators had been delisted. It turns out that M.k had passed development duties on to a new programmer, who would soon be relisting the emulators.
Less than two weeks later, all three emulators are now back on the Store (yes, we're a tad late on this). The new developer has big plans for these Nintendo emulators. Learn about them (and a competing GameBoy Advance emulator called GBA8) after the break!
A new developer enters the fray
SNES8x
SNES8x, VBA8, and VGBC8 all return to Windows Phone 8 under the care of an individual named Duc Le. Duc (who goes by illidanx in our forums) appears to be relatively new to Windows Phone development. He first published a financial management app called Loan Book+ last month.
The three emulators, which previously existed as paid apps with free trials, now come only as free versions. In order to support development, the apps display advertisements during menu screens. Luckily the ads don't appear during gameplay. Paid versions of the emulators will also come in the future.
Emulators evolved
Turtles in Time on SNES8x
Duc hasn't just brought the popular emulators back from the grave; he also plans to continue advancing their development. Besides the introduction of banner ads, here are the changes he's made to all three apps so far:
No more oversized header.
No more rotation anywhere except inside the game.
Add tilt effect when taping and holding a ROM
The reduction in header size is a welcome change. The emulator UIs can now display more games on-screen than they did during M.k's run. And they especially show way more game titles than Andre Botelho's emulators. Hopefully Andre follows Duc's example and makes some UI improvements to EmiPSX and EmiGens Plus in the near future.
What advancements can we expect from Duc in the future? Why, MOGA Pro Controller support of course! He actually bought a MOGA controller for testing, which is more than any other emulator developer for Windows Phone has done. Someday soon we'll be able to enjoy Super Nintendo, GameBoy Advance, and GameBoy Color games on our phones with the comfort of physical buttons!
Other planned improvements include proper support for importing ROMs from email attachments and support for importing ROMs from SD cards. I'm crossing my fingers for prettier and more authentic on-screen controls, too.
SNES8x – Windows Phone 8 – 1 MB – Free – Store Link
VBA8 – Windows Phone 8 – 1 MB – Free – Store Link
VGBC8 – Windows Phone 8 – 1 MB – Free – Store Link
Competing emulators
Curiously, when M.k stepped away from Windows Phone development for good he also released the source code for his emulators. That means other enterprising Windows Phone developers can step in and release competing versions of SNES8x, VBA8, and VGBC8 as well.
Another developer named MobWi (who has published a couple of little aquarium apps) has done just that, releasing a new version of VBA8 called GBA8. MobWi's version comes in paid and ad-supported varieties. Other than that (and the too-high $2.99 price), it's identical to M.k's final VBA8 release and lacks Duc Le's improvements.
On the other hand, MobWi has some improvement plans of his own (text and errors quoted from Store page):
Re-layout the UI
Fix the bug that games in non-English language crash when catching pets.
Disable the lock screen when downloading games
Add in-app searching for games to download game from web(granted that you already purchased the game before)
Disabling the lock screen is something Andre Botelho needs to work into his emulators. But what's this crashing when catching pets nonsense?
GBA8 – Windows Phone 8 – 1 MB – $2.99 – Store Link
Free GBA8 – Windows Phone 8 – 1 MB – Free – Store Link
Get the Windows Central Newsletter
All the latest news, reviews, and guides for Windows and Xbox diehards.
Paul Acevedo is the Games Editor at Windows Central. A lifelong gamer, he has written about videogames for over 15 years and reviewed over 350 games for our site. Follow him on Twitter @PaulRAcevedo. Don't hate. Appreciate!