Popular emulators SNES8x, VBA8, and VGBC8 vanish from the Windows Phone Store again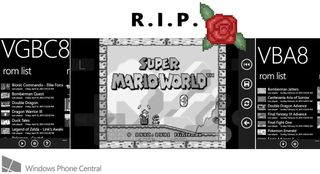 Windows Phone emulation fans might have noticed that three classic game system emulators have disappeared from the Store: SNES8x (a Super Nintendo emulator), VBA8 (a GameBoy Advance emulator), and VGBC8 (a Gameboy Color emulator). As of press time, the Windows 8 versions of the same apps are still available.
All three emulators came from a developer named M.k who publicly retired from mobile Windows development in August. M.k's emulators previously vanished from the Store only to reappear shortly thereafter. Why have they gone away once more, and will they return once again? Windows Phone Central has the full scoop on the future of SNES8x, VBA8, and VGBC8. Head past the break for all the details!
History lesson
VBA8
The bumpy road for M.k's three emulators started a few months ago when he pulled all three of his emulators from the Windows Phone and Windows 8 Stores. He had decided to step away from mobile Windows development for good. Emulation fans let out a collective sigh of displeasure, many taking to our comments section or emailing the developer to let him know their disappointment.
M.k heard the fan response and decided to return his emulators to the Windows Phone and Windows 8 Stores. He would not resume development on them, but he did make the apps free by way of compensation. That was a big deal because even now, no one else has created Super Nintendo or GameBoy Advance emulators for Windows Phone or Windows 8/RT.
Still, we always knew that M.k's emulators would disappear for good once his developer account expired. Or would they?
Changing hands
Original GameBoy games running on VGBC8
Even though M.k has retired from the emulator development scene, he holds no ill will towards Windows platforms. He knows people love his emulators and want to see them improve. To keep SNES8x, VBA8, and VGBC8 alive though, a new developer would need to take them over.
Luckily, another programmer has stepped forward to take over development duties on M.k's former emulators. The downside is that the apps must be delisted from the mobile Windows Stores in order for the transfer of ownership to take place. The Windows Phone 8 apps have already dropped off their Store, and the Windows 8/RT versions will soon follow.
The changing of the guard should take a few weeks at most. Once that happens, the three emulators will return to both the Windows Phone and Windows 8 Stores. The new developer will release updates for each emulator over time, likely improving their performance and UI. We can also hope for the once-promised MOGA Pro Controller support to finally materialize.
The one real downside to SNES8x, VBA8, and VGBC8 changing hands is that they will be considered new apps when they return to the Stores. We don't know whether the new versions will be free or paid yet. If the new developer chooses to charge for the emulators, previous owners will need to repurchase the apps in order to enjoy future updates.
As for the mystery developer's identity, M.k didn't want to reveal it before the apps come back. Once they return, we'll be sure to make contact and continue bringing you behind the scenes detail on the emulators' development.
Update
M.k has also posted the Windows Phone and Windows 8 source code to all three emulators in a public SkyDrive folder. If any aspiring developers out there want to put their own spin on an established emulator, now's your chance!
Windows Central Newsletter
Get the best of Windows Central in in your inbox, every day!
Paul Acevedo is the Games Editor at Windows Central. A lifelong gamer, he has written about videogames for over 15 years and reviewed over 350 games for our site. Follow him on Twitter @PaulRAcevedo. Don't hate. Appreciate!
I'm glad they are supposed to be coming back. I was planning on buying these as soon as I got my 1520.

I want them back so badly :(
Ermahgawd this is great news, I don't even care that I have to pay again :D

Ok this is awesome news and a very timely article considering we were discussing these emulators in the forums. Would still like to contact M.k so I could thank him for his past support and hopes that he comes back to WP development. He seems like a talented developer, so it would be a shame if he never came back.

I bet it's your man, Rudy.

Came here to say that.
Rudy will do justice!

Install them from SDcard :)

It can't be install from SD card but it will show up though .

Pretty sure Mr. K is... Rudy! Hurry up and develop 6PS4 and 6XBOXONE!

he's referring to the developer M.k

Ah right. Guakala, he's not. Two different people.

That doesn't happen anymore. At least not as regularly.

M.k is the actual source for this story. We appreciate you guys tipping but sometimes we already have a story coming before we get the tip.

I downloaded the source code. Now all people with a developer account (including me) can publish it to the store.

Shit happened when I tried to publish it. I'm not that familiar with windows phone but from the look of it, the app is using some native API that Microsoft no longer allows. Validation errors 1028: The native API api-ms-win-core-interlocked-l1-2-0.dll:InterlockedDecrement() isn't allowed in assembly WP8Snes9xComponent.dll. Update it and then try again. 1028: The native API api-ms-win-core-interlocked-l1-2-0.dll:InterlockedIncrement() isn't allowed in assembly WP8Snes9xComponent.dll. Update it and then try again.

Nevermind my previous post, I'm just a noob. Had to change target platform to ARM before submitting to store. I'm submitting all 3 emulators to WP store now (for free).

It will take 5 business days for the apps to pass certification. After that I can send you a link.

My apps got published. As promised, here are the links: Snes8x: http://www.windowsphone.com/s?appid=ed3cc816-1ab0-418a-9bb8-11505804f6b4 VBA8: http://www.windowsphone.com/s?appid=dce4763e-a7a7-4347-afa1-362c9d7297dd VGBC8: http://www.windowsphone.com/s?appid=0a409e81-ab14-47f3-bd4e-2f57bb5bae9a

Glad I still have them on my phone. I actually had paid for them back when they were still paid apps so I hope I don't have to pay for them again when they are relisted. Be interesting to see who takes over and if they can continue the excellent work.

This sounds like good news if you ask me

I wonder why M.K decided to retire.. Well I hope he enjoys his well earned retirement -). He gave us wp users hope by releasing those emulators. Wouldn't mind paying for them again as at the end of the day without these talented devs we will not have decent apps.

Gotta love walled gardens.

I never uninstall these. Always scared they'll get removed from the Store.

I had to since I swapped phones

i am surprised people actually use these things.

I am so happy to hear it
Coming back.

Just because he's not gonna be a developer anymore doesn't mean he should take his apps off the market

Maybe his dev account was up for renewal, and he didn't want to renew. I haven't opened an account yet, but aren't the apps submitted with an account pulled if the account is not renewed?

This is what is wrong with app stores and a major reason why WP (and iPhone) cannot truly be called smartphones. Side-loading is really a must.

How does this in any way prevent WP and iPhone from being smart phones?

This is a good news for us (veteran) gamers, I would like to try those memorable games on Lumia 1520 and Lumia 2520.
.
Hope to get NES emulator too on WP for puzzle game from Konami (main character is the headstone from Konami World, anybody have any clue what is the title of that puzzle game from Konami?).
.
On that puzzle game the main character (Headstone, the brown head shaped stone, in the real world you can meet them on some islands somewhere - that's what I called him) need to find exit by pushing and rolling rounded stones. It is a 2D puzzle game with the view from the side.
.
I really miss that game, I achieved level 70 something? And the puzzle kept coming.
It's really good experience and challenging.

Thanks Dennisvdg, I have downloaded vneslight, now if only I know where to find the ROM then it will make my day

Think that game was called moai kun. It was only released in Japan

Yes, that Maoi Kun is the character I am talking about, Good Job amryama. Although it may not the exact resemblence to my memory (about 90% similarity). Hmm, perhaps my memory does not serve me right or there is another game that looks like Maoi Kun.

Thanks a lot amryama, I am going to search for it

I still have snes8x on my Lumia 920 :)

The worst is that I formatted my Lumia 620 recently and when I went looking for these apps ...
: (

How do you add cheats on vba8? (I saw the tutorial it didn't make sense to me)
Windows Central Newsletter
Thank you for signing up to Windows Central. You will receive a verification email shortly.
There was a problem. Please refresh the page and try again.