Drift Mania Championship 2 updated with MOGA Pro Controller support at last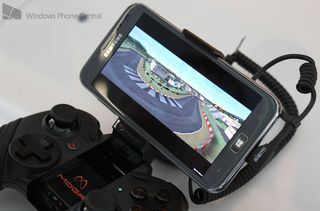 When Microsoft and Power A announced that the MOGA Pro Controller gaming accessory would support Windows Phone during GDC 2013 back in March, serious gamers were understandably excited by the news. Windows Phone 8's improved Bluetooth accessory support was finally going to receive some of the accessory love that Windows Phone 7 always lacked.
To show off that support during GDC, Microsoft and its partners already had the indie game Drift Mania Championship 2 up and running on the show floor. Apparently it took Ratrod Studio less than a day to integrate that support into their game. But when the MOGA Pro Controller actually launched at the end of April, the game's controller support was nowhere to be found. Windows Phone gamers who bought the controller had nothing to play it with.
Well, almost two months after the MOGA Pro Controller launched (and three months since GDC), Drift Mania Championship 2 has finally received the controller compatibility update!
Connection pains
I haven't actually received a MOGA Pro Controller for review just yet; it would have been pointless before Windows Phone software started to support it. As such, I can't post my own impressions of the connection process. But tipster/Achievement hunter TNTJudbud has filled me in on his own experience with the controller. On Android the device connects easily and works with a variety of games.
On Windows Phone, however, connecting wasn't so easy. The controller's printed instructions make no mention of Windows Phone, nor does the MOGA website itself (ouch). The controller has two separate Bluetooth modes: A and B. Which should it be set to in order to work with Windows Phone? Well, when the switch is set to B, it connects to the phone but quickly drops the connection, so it looks like A is the way to go.
When the controller is searching for a device to connect with, its LED light blinks blue. Once you've launched the game and tap the screen, the controller light apparently turns green and then goes off. That's how you'll know it's connected.
More MOGA support to come?
VBA8, the GameBoy Advance emulator for Windows Phone 8
Now the question remains whether more Windows Phone games will support the MOGA Pro Controller in the future. Keep in mind that games have to be Windows Phone 8 native – not Windows Phone 7 games running on Windows Phone 8 via compatibility mode – in order for their developers to add controller support.
We know that emulator developer M.K intends to support the Pro Controller in his SNES8X, VBA8, and VGBC8 emulators, but the last time we spoke with him, Power A hadn't provided him with the MOGA SDK yet. Hopefully they've gotten that squared away and that support will soon be forthcoming.
Getting Gameloft onboard
Modern Combat 4
The next company we'd like to toss their hat in with the MOGA Pro Controller is undoubtedly Gameloft. After all, the big G already supports MOGA controllers on Android. How hard would it be to add that support to their Windows Phone 8 games?
Unfortunately, Xbox certification complicates things. Any game currently undergoing certification (such as Six Guns) can't have controller support added in as that would restart the certification process. And once a game is actually published, like say Modern Combat 4 and N.O.V.A. 3, it would need to go through the costly and time consuming certification process in order to be updated.
We already know Gameloft (like many Xbox Live developers) isn't crazy about updating their games. Remember, the blame for that falls on Microsoft before anybody else. There are platforms like say Android and Steam in which developers can update their games whenever they want at no charge. Xbox platforms sadly do charge hefty fees and add other hurdles towards software updates. But Gameloft did at least fix Ice Age Village up a bit post-release, so adding controller support isn't flat out impossible.
The best thing gamers can do is tweet @gameloft and tell them you want MOGA support in their Windows Phone 8 games. Also tell them in their forums. Even if we don't convince Gameloft to add controller support to their existing games, it's very possible that the NEXT batch of games (unannounced) could receive the support before they go into Xbox certification.
Purchase details
Get the MOGA Pro Controller for $49.99 from PowerA.com or online retailers like Amazon.
Drift Mania Championship 2 - Windows Phone 8 - $1.99 - 215 MB - Store Link
Thanks to Ahmed Jan and TNTJudbud for the tips!
Paul Acevedo is the Games Editor at Windows Central. A lifelong gamer, he has written about videogames for over 15 years and reviewed over 350 games for our site. Follow him on Twitter @PaulRAcevedo. Don't hate. Appreciate!
Mad, any word on Australian availability?

I would be onboard with gameloft if they games did't MURDER my battery life.

Stupid Xbox live certification!

Ahmedjan, let's try to make comments with more than one word. Just saying welcome doesn't make much sense.

Ahh, you're welcome
Better ?

Ohhh! Yes indeed. Whoops, I didn't even realize you were the tipster. Sorry, I'm sleep deprived right now. We really do appreciate your support. :)

Haha you should go to sleep

You played yourself on that one, Son!.. Lol!

I'll buy it, when more games are made. More games will be made when people buy it... So should I pull the trigger or what? Any good Indie games have support? That 2d game you just previewed?

Instant buy when SNES8X receives support! ;)

Yea, or even VNESlight...

NES and SNES...would be epic..

Me too. I would even pay for SNES8X if necessary.

Just get snes support in and I am down for one.

Only available in us tht must be brought up in this article so click back right now !! Dont waste ur time :)

Once again it seems an archaic MS policy is slowing the betterment and advancement of this promising platform. Come on MS, fix up.

Wait a minute!!! MOGA Pro works on Windows phone????
I have the MOGA Pro, and I use with my Android device, but I didn't know that I could use my Windows phone too!
Is there an app available for the WP8? Thanks.

The article lays it out for ya... There's no specific app. Just one game that works with it, as of now.

Is it only the Pro controller that works? I see that Amazon lists a $50 Pro conotrller and a $40 one as well.

MOGA "PRO" (looks like an 360 remote) only as it supports both bluetooth & bluetooth hid via an A & B selector switch. the Cheaper MOGA has no support.

Is WPCentral about to sell the controller?

Is this supposed to be a new update? Like as of today? Because I have had a MOGA Pro for a couple of weeks now and it has worked with Drift Mania just fine the whole time.

Has only been supported since 6-12-2013 update v 1.0.5.0

Are asphalt 7 and mc4 already supported anyone?

What's the Xbox game tomorrow Paul? Any clues?

ADD COMPATIBILITY GAMELOFT.

Can you use MOGA controller on PC? it would be nice to have a universal controller for all the devices
Windows Central Newsletter
Get the best of Windows Central in in your inbox, every day!
Thank you for signing up to Windows Central. You will receive a verification email shortly.
There was a problem. Please refresh the page and try again.