MOGA SDK available, SNES and Gameboy Advance emulators to support Pro controller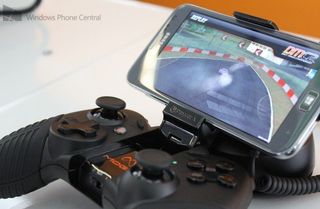 A lot of you love mobile games. And Windows Phone doesn't exactly have a shortage of great games to keep you occupied for hours and hours. Mobile gaming on a phone hasn't always been this awesome, touchscreens really took it to another level. They aren't without their faults though and some games work best with tactile controls, something like a gamepad. Is there one for Windows Phone? Yes, MOGA.
The MOGA Mobile Gaming System is ready for Windows Phone. What's MOGA? It's a system of gamepads designed to integrate into any smartphone or tablet and allow for physical controls. It's like an Xbox controller rebelled against his parents, left the confines of the living room and wanted to live life on the mobile road. A picture is worth a thousand words, so check out what it looks like above and below. Or check out our hands on.
There is now an SDK out for the MOGA system and one of your favorite developers is already planning on supporting it. Windows Phone Central reported a few days ago that M.k (the mad man behind Snes8x and VGBC8) was planning on supporting MOGA. He confirmed it again via an email to a user who shared it on Reddit earlier.
If you want to add MOGA support for your Windows Phone game you can start now with the SDK. You'll want to contact the development team to get started with the SDK.
There is one game that currently supports it, Drift Mania Championship 2. You can see our hands on with the device and game below.
Any developers out there interested in adding MOGA support to their game? Any readers want to sound off on which games they'd love to see support the MOGA Pro controller? It's not a bad device for about $50, especially if you're heavily into mobile gaming.
Get the Windows Central Newsletter
All the latest news, reviews, and guides for Windows and Xbox diehards.