Game Troopers: Dedicated Xbox for Windows Phone publisher seeks Lead Programmer for 'drastic' expansion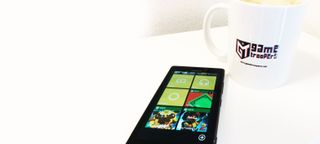 The heroic publisher Game Troopers arrived last year to save Xbox for Windows Phone from the jaws of mediocrity. The company are now advertising for the position of Lead Unity Programmer ahead of what they're are calling a 'drastic' expansion of operations.
Game Troopers have thus far published the addictive virtual finance game Make It Rain and the adorable top down squad shooter Tiny Troopers, both with full Xbox integration. The company also recently announced the imminent arrival of Overkill 3, a popular third person shooter making the leap from Android and iOS.
The full job listing points explicitly to the development of console titles (one has to presume this means Xbox), and Game Troopers also state that they'll have more vacancies to announce in the near future.
Click here to view the full job listing.
Considering Unity's strengths for portability between platforms and ID@Xbox's arrival to Windows 10 devices, the prospects for future Xbox mobile games, and indeed Game Troopers, seems bright.
Jez Corden is the Managing Editor for Windows Central, focusing primarily on all things Xbox and gaming. Jez is known for breaking exclusive news and analysis as relates to the Microsoft ecosystem while being powered by caffeine. Follow on Twitter @JezCorden and listen to his Xbox Two podcast, all about, you guessed it, Xbox!
Win10 is a make or break. More devs will mean good for platform and us consumers. Keeping my fingers crossed.

Surely. And last hope for the last clinging loyal WP Users.

Exactly.... Good thing W10 looks promising, or this would be really, really bad.

I just hope they include my 925 on WP10 update as what I've read that the update will only be available to some selected device. *deep sigh*

All current devices running windows phone 8.1 will upgrade to 10 :)

You, sir, made my day! Now I can sleep well :)

Well, all WP8.0 devices CAN get the WP10 update... Doesn't mean that they all will necessarily get it....
.....
We go through this every time...
Nevertheless, im pretty confident the US 925 will get it... T- Mobile usually cooperates... But, those devices are what should be 3 generations old... So, nothing is set in stone.

Nokia Lumia 520 (and variants) and Nokia Lumia 620 will not get WP 10. And don't forget the HTC issue also. OEMs' future is also uncertain.
And am betting.

Don't worry.... It'll get it.

Hell yeah. Windows needs some success stories like this.

We have arrived to the point of making two games being considered "dedicated".

More likely because that is all they do and will do. They're a studio who's sole purpose is to bring games to Windows and Windows Phone with Xbox support. They're new and expanding. Let's not degrade that.

Sorry. Not trying to degrade. Love Windows Phone and appreciate support. Just frustrated as to why they cant get over the bullshit image that people who have never used on place on it. I've used iOS and Android extensively and both OS's seem half baked and cheap compared to Windows Phone. If they could some how break this image, they would get users and the devs would follow. On side note, used both games and both are high quality.

Certainly a complicated problem and a challenge for Microsoft. However, the general tech media are finally giving the company some credit. All will hinge on this fall: Windows 10, new flagship phone, HoloLens, Surface Pro 4, new fanless Surface...that is an exciting lineup if they can execute.

Only really concern for me as a big Microsoft purchaser is two things: 1. Will there be a high end 1520 replacement? Love the size. Didn't think id get use to it, but after a week of having mine, all other phones seem way to small when I use them. 2. With the killing of the RT line, where will those of us that want a Microsoft branded tablet and not a full blown laptop look to? I just want an iPad alternative close to the same price point. Sounded like that may be a thing of the past. Good talk. Thanks.

I have a 1520 and will probably just be sticking with it for a while since it is getting Windows 10, there isn't anything I feel like I'm lacking that would require an upgrade to new 6" flagship - they would have to really wow me with something. For number 2, see here: http://www.windowscentral.com/microsoft-will-reveal-new-surface-tablet-b...

I think you don't know what you're talking about it.

Guess he doesn't even know what Game Troopers is.

Making a game is not like making crappy apps that take few days to complete. only becuase these games are not AAA, it doesn't mean their games that are only on Windows platform, didn't take time. if you visited their site you would see a "Game Troopers can publish your games on Windows Phone and help you reach million of new fans" how is that not dedicated? they are doing that kind of job if game developers aren't interested or think it takes too much time and effort. that's why Overkill 3 is coming to WP and Windows 8. because they can also do that kind of job even if it's "just a port" and not a new game. They won't do the same for other platforms, they are DEDICATED to bring games and develop games to WP and Windows 8 and help the platform. no matter if they have not published 500 games, they are still dedicating their business on Microsoft platform.

Calm down. It was a joke. Im just saying that for a while they were making a dent in the app number issue. But as of late it seems like most of the store is a few ass clowns taking the same half baked app and rebranding the damn thing twenty five ways to Sunday and flooding the market with it.

Jokes on comment section... how can't people get the joke?? oh yeah, it's text. learn to write /joke, (jk) or anything in the end. so people don't waste time replying to your comment, a comment that was/ sounded ignorant. I mean you got underrated for a reason. oh but yeah, I was angry... so angry i was explaining to you that they port games, maybe they are still few games, but they are dedicated to bring games to the platform. but yes yes I will calm down next time /s

W10.... Already changing things.

Take note, other developers. Game Troopers came out of nowhere, dedicated their work to bringing Xbox titles to Windows Phone, and they've seen great success, now requiring them to increase their staff. Whereas other publishers opted not to bother taking the extra steps for Xbox integration, and undoubtedly saw decreased sales as a result, Game Troopers took the opposite approach and are doing well, allowing them to reach all gamers on Windows Phone. Smart move, and one of the main arguments of #SaveXboxWP, details here.

Jez, is that header image from Game Troopers themselves or are you beta-testing Tiny Troopers 2 and the other game I don't recognize on the bottom left? :)

I stole it from their Facebook page. :3

The other game is probably Monster go, which will be their next Xbox game on WP. Looks super fun.
They got a lot of stuff in the pipeline!

Sorry, app developer here. No desire to get into games

No one has asked you too?? lolol

What? Lol are you stating something because I can't tell with the question marks there

I said from the very beginning that this project will rocket through the roof and supported them.
They are doing such an awesome job, just look how often they update their games.
This will be a big push for Xbox on WP and very vital for the ecosystem.
Windows Central Newsletter
Thank you for signing up to Windows Central. You will receive a verification email shortly.
There was a problem. Please refresh the page and try again.