GameStop stock price plummets, dividend payouts suspended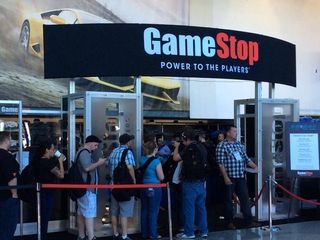 What you need to know
GameStop recently posted its earnings and they fell short of expectations.
Used game and hardware sales are down by 20 to 35 percent.
The company has suspended divided payouts to shareholders.
Analysts don't expect the company to recover.
It's no secret that the gaming industry is rapidly moving towards complete digital distribution, and it looks like GameStop may be one of this trend's biggest casualties. Yesterday, the struggling company revealed its earnings, and they missed target revenue. According to a report by VentureBeat, "the company's stock price has crumbled to $5, which is the lowest this has been since 2013... GameStop's outlook is dire in part because its core business — selling hardware and used games — is starting to dry up."
The report added that used games sales were down 20 percent year-over-year. Unfortunately, hardware decreased 35 percent year-over-year, too. GameStop eliminated the dividend payouts so shareholders no longer get paid. Due to this, even more individuals may sell their shares. This isn't a good position to be in, and many analysts believe that the company won't recover from this.
GameStop needs to diversify in order to be successful once again, but that may not happen in time. The company has tried its hand at publishing, but those efforts haven't been as fruitful. It's unclear what the future holds, but we wish the institution the best going forward. Only time will tell how this plays out.
Xbox accessories you'll love
Every one of these quality accessories is guaranteed to enhance your Xbox experience.
PowerA Enhanced Wired Controller for Xbox One (opens in new tab) ($20 at Amazon)
PowerA's take on the Xbox One controller is an attractive pickup for budget-conscious gamers that nails all the basics.
Talon PDP Xbox media remote (opens in new tab) ($20 at Amazon)
The Talon PDP Xbox media remote is great for watching shows on your console.
Xbox One S vertical stand (opens in new tab) ($10 at Amazon)
Stand your console upright with this accessory.
Asher Madan handles gaming news for Windows Central. Before joining Windows Central in 2017, Asher worked for a number of different gaming outlets. He has a background in medical science and is passionate about all forms of entertainment, cooking, and antiquing.
As much as I enjoy watching these vultures feel the burn of internet /digital retail, Guest_atof made a good point that this company fills a specific need in the non-gamer community. Wal-Mart, Target, or even Best Buy won't educate parents on purchase desicions like the gamers that actually work at the store will.

Meh MS tried to integrate them into the digital adoption, they ran from it. They could tend modernized their website and compete better like best buy did, they didn't. They could have focused more on accessories to offset and go with hardware sales, they didnt. They could have expanded more in the retro gaming scene like a lot of mom and pop ls are doing with success.. they didn't. I think they'll be fine, but they're going to have to shrink considerably

Gamestop is like Blockbuster. They didn't want to innovate and they thought no one would buy into digital just like Blockbuster thought no one would buy into streaming. It doesn't pay to put all your eggs in one basket with one line of business anymore.

I think it's more, doesn't pay to have physical stores anymore, especially specialist stores, no amount of digital sales can offset the increasing rents of retail properties. If you main competitors are running a bunch of servers in a place where they're getting huge tax discounts, and then avoid paying tax on their profits or route profits through an offshore tax haven or have a huge warehouse, paying non-expert staff, minimum wage and have a deal with USPS that barely covers their costs, then is there any wonder Gamestop and other stores are slowly disappearing. A similar picture can be found in the UK, companies that have stores, mostly struggle against those that don't, it's far less about innovation, more about not having costs in the first place.

This is mostly true, but Walmart is a good example of how Retail doesn't exactly have to die just because you have online competition. They saw the need to innovate and change their strategy 5-8 years ago, and they did an excellent job in doing so. Even their app is one of the best shopping experiences you can have (at leary for American stores). American companies that chose not to do this have suffered. Toys R Us died, Sears is dying, and JC Penney is around the corner. Malls, and their stores, are also feeling it.

The Canadian arm of Gamestop, EB Games did diversify into all kinds of petroleum based landfill material in collectible figurines, board games and the like. Is digital the only thing to blame or are there larger socioeconomic forces at play??????
I'm thinking a little from column A, a little from column B.

The American GS stores have that crap in them too, I'm not sure how well that stuff really moves. I loved the way you phrased that BTW, petroleum based landfill material is the proper term for a lot of things in life.

Ha, we have EB Games in Oz as well, plus their pop culture offshoot Zing, which basically sells in larger quantities the various "petroleum based landfill material"

GameStop should really think about getting into board games and the like. These are having a resurgence lately and they could do with closing mall stores, and focusing more in "strip malls" where they can have the room for friends to go in, purchase board and role playing games, and play those games.
Windows Central Newsletter
Thank you for signing up to Windows Central. You will receive a verification email shortly.
There was a problem. Please refresh the page and try again.