GameStop won't close stores because they are 'essential' during coronavirus pandemic
As if GameStop couldn't get any scummier, it's now risking the health and lives of its customers and employees for profit.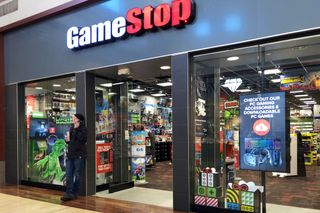 (Image credit: Shutterstock)
What you need to know
The COVID-19 (coronavirus) global pandemic has shut down stores across the country.
GameStop is remaining open because it considers itself an 'essential' business.
Employees are told to turn away law enforcement attempting to close down the stores.
And the award for "Worst Company During a Global Pandemic" goes to.... GameStop. The video game retailer is keeping its stores open during lockdowns and quarantines despite the health risks because it considers itself an "essential" business. Kotaku reports that employees have been instructed to turn away any law enforcement attempting to shut down the stores and direct them to GameStop's corporate office number.
The document mentioned above is a list of GameStop's policies and contact information for its corporate office.
The "essential" products that it's carrying? Well, GameStop considers items like webcams, microphones, mice, keyboard, monitors, chargers, and audio equipment to be essential for people working from home during this pandemic. It's a flimsy excuse at best, and downright shameful at worst. We all know no one goes to GameStop for those items. They're going to buy video games.
Many people see this as a last ditch effort to save a sinking ship, but it's incredibly dangerous. Even after local governments urged GameStop to close and the company received criticism online over its decision, it actually doubled down on calling itself an essential business.
Maintaining its position that it's an essential business like that of grocery stores, pharmacies, and medical centers is deplorable. Unfortunately, it looks like GameStop is willing to risk its customers' and employees' safety for money.
Just so we're all clear, you probably shouldn't shop at GameStop again. Ever. I know I won't.
Jennifer Locke has been playing video games nearly her entire life, and is very happy Xbox is growing a stronger first-party portfolio. You can find her obsessing over Star Wars and other geeky things on Twitter @JenLocke95.
For some companies, greed is essential during a pandemic.
The best way to let them know you disapprove is with your wallet.

They can spin this anyway they want. They can't close stores because if they do they more than likely go bankrupt. They have become a dinosaur in gaming retail.

This is actually true in my opinion... If they spend the next few months closed, they will die. Is that a bad thing though?

I don't feel it's a bad thing for Gamestop to go under...I feel for the employees that will lose their jobs because of incompetent leaders. Gamestop Leadership failed to read the changing market and flounders now because of their inability to adapt.

This is nothing but greed. Anytime I've gone into GameStop in the past year or longer, stores aren't as busy as they use to be. Yes, people still go, but I don't see the crowds the way I use to. Each time I've gone, I could get in and out fairly quickly. Digital content is what many people choose, now. Just to add context to my point, each time I've gone, maybe one out of the 6 to 8 people int the store actually purchased a game. People where there for physical items like controllers l, consoles and other accessories.

They should be fined, heavily. All they want is increased sales.

I manage a grocery store that, before covid, saw roughly 5500 people come through the doors everyday. Now it has increased significantly due to everyone hoarding food. I was glad this week when I was off that I was able to stop by Gamestop. There were 8 people in the store including my son and I. I honestly don't see a problem with that and I support the fact that by staying open people are able to keep a job and some resemblance of normalcy, which is good for morale.

By doing so the time of this virus circulating is extended significantly and the number of illnesses and fatalities increased. It's far better to lock down and eliminate it as quickly as possible than to extend it with useless activities that put other's lives and health at risk.

This is not about greed though it would appear that way. It is about them not going bankrupt. Good business reason to stay open and bad social reason to not close. They are screwed either way. They are going to pay for staying open by losing many customers. I don't envy their position, but their decision lacks moral weight

"Employees are told to turn away law enforcement attempting to close down the stores" Isn't it illegal to fail to comply with a lawful order? I mean... It's a weird situation cause it's a private business, but a lot of places are also in a state of emergency... Either way if you're a rank and file employee, I'd advise to not turn them away and instead summon your manager and let them catch the fallout.

Look up Camelot331 on YouTube. He's been reporting on the GameStop situation for a while. In his last video, he was actually listening in on a conference call with corporate and it showed how the corporate people at GameStop only care about profit and nothing else. It was disgusting.

I went to smoothieking today and they were only letting 3 people in at a time, maybe they should do the same as a precaution

Tarrant county (Fort Worth/Arlington, TX) just ordered all malls to close at 6 pm today for a minimum of 7 days with the declaration renewable every 7 days. That will force at least some of the GameStops to close.

That's where I am from, Arlington / Grand Prairie.
Windows Central Newsletter
Thank you for signing up to Windows Central. You will receive a verification email shortly.
There was a problem. Please refresh the page and try again.