Destiny 2: Get this god roll PvP Exotic from Xur before it's gone
One of the best Hand Cannons is currently available with excellent perks, but not for long.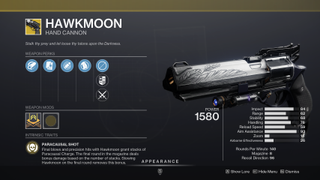 (Image credit: Windows Central)
What you need to know
Right now, Destiny 2's Exotic vendor Xur is selling the best Hawkmoon Hand Cannon PvP god roll that he's ever had.
The roll features Eye of the Storm, Hammer-Forged Rifling, and Smooth Grip. Eye of the Storm buffs accuracy and handling as you take damage, which is perfect for duels. Meanwhile, the other two perks improve the weapon's range, handling, and stability.
Hawkmoon itself is one of the most popular PvP Hand Cannons in the game, as it feels great and has the potential to two or even one-tap enemy players with enough stacks of Paracausal Shot (obtained by landing crits).
Xur is in the Hangar in The Tower. The Hawkmoon god roll can be purchased for 125,000 Glimmer, 200 Legendary Shards, an Ascendant Shard, and an Exotic Cipher.
---
Ever since the original Destiny launched way back in 2014, the vendor NPC Xur has arrived every weekend to sell players Exotic weapons and armor. These are some of the best and most unique pieces of gear in the game, and since Exotic drop rates are fairly low in normal gameplay, giving Xur a weekly visit to see if he's selling something you're looking for is worth doing.
During The Witch Queen era, developer Bungie updated Xur so that in addition to selling a random Exotic weapon and an Exotic armor piece for each class, he would also offer players a variety of other items. This includes randomly rolled versions of the Hawkmoon and Dead Man's Tale Exotic weapons from Destiny 2 Year 4, which are both popular in PvP modes. And right now, Xur is selling the best Hawkmoon Hand Cannon he's ever had — and possibly ever will.
The god roll on offer features the Eye of the Storm trait, along with Hammer-Forged Rifling and Smooth Grip as the barrel and grip perks. Eye of the Storm significantly buffs the weapon's accuracy and handling as you take damage, which is incredibly effective in PvP duels. Hammer-Forged Rifling gives a large boost to range, while Smooth Grip moderately improves both stability and handling.
This roll is pretty much everything you could ever ask for on an Exotic Hand Cannon geared for the Crucible, Iron Banner, or Trials of Osiris. More accuracy and handling will improve your ability to aim down sights quickly and land consistent headshots, while more range allows you to deal max damage to opponents from a farther distance. Stability is helpful, too, as it reduces the amount of recoil you have to adjust your aim for after each shot.
The stat bumps provided by the aforementioned perks are perfect for complementing Hawkmoon's unique functionality, which is its ability to build up stacks of "Paracausal Shot" with each headshot or final blow that you land. Then, damage of the final shot in the weapon's magazine is massively increased depending on how many stacks of Paracausal Shot you have. Four or five stacks allow you to two-tap enemy players as long as one of your shots is a crit, and with six stacks, you can instantly kill someone with a headshot. With seven stacks, you can one-shot with a body shot, and can even one-tap players using a Super with a crit. If you've gotten enough kills with Hawkmoon to equip its Exotic Catalyst, these stacks will also buff handling, reload speed, and range.
You won't get much out of the weapon if you struggle to hit crits, but consistently accurate players can absolutely tear up PvP lobbies with Hawkmoon — especially if they have a roll as spicy as this one. Even in the current Pulse Rifle-focused meta, Hawkmoon is a top-tier choice, and will remain so throughout Destiny 2: Lightfall and Year 6. To snag Xur's god roll, visit him in The Tower (see the image above for his location) and purchase the Hawkmoon with 125,000 Glimmer, 200 Legendary Shards, an Ascendant Shard, and an Exotic Cipher (you can these by completing Xur's easy "Xenology" weekly quest). Make sure you buy it before Xur leaves at weekly reset on Tuesday, February 21!
Destiny 2: Lightfall is slated to arrive on February 28 on Xbox Series X|S, Xbox One consoles, Windows PCs, and PlayStation systems. The DLC costs $40 and takes them to Neptune and the city of Neomuna, where they'll face off against Emperor Calus and his powerful Shadow Legion. Ahead of its launch, check out our Destiny 2 Lightfall prep guide for an overview of the best ways to get ready for the expansion.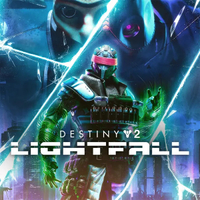 Destiny 2: Lightfall
The upcoming Lightfall expansion takes players to the neon-soaked city of Neomuna on Neptune and pits them against the fearsome Shadow Legion — all while the threat of Darkness pyramids, The Witness, and his new Disciple Emperor Calus looms overhead.
Get the Windows Central Newsletter
All the latest news, reviews, and guides for Windows and Xbox diehards.
Brendan Lowry is a Windows Central writer and Oakland University graduate with a burning passion for video games, of which he's been an avid fan since childhood. You'll find him doing reviews, editorials, and general coverage on everything Xbox and PC. Follow him on Twitter.