No VR? No worries. Half-Life: Alyx is now playable with a mouse and keyboard
Experience Half-Life: Alyx on a traditional PC at the cost of some missing puzzles.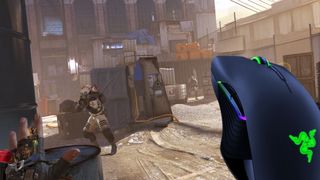 (Image credit: Valve | Razer)
What you need to know
Half-Life: Alyx was released for PC by Valve on March 23, 2020, and designed exclusively for VR headsets.
Half-Life Alyx NoVR is a mod created by Björn Feber that allows the game to be played with a traditional mouse and keyboard.
---
Valve's latest entry in its iconic Half-Life franchise was released in 2020, and Half-Life: Alyx excited fans with brand-new canonical prequel content despite its exclusivity for virtual reality headsets. Supporting a wide range of VR variants, with even more unlocking compatibility in time thanks to efforts from the gaming community, it has been reasonably accessible to anyone with even a cheap headset but not for those sticking to a mouse and keyboard.
Our biggest update yet is out now!The campaign can now be completed from start to finish! Gravity Gloves are working, combine fabricators can be used to upgrade your weapons & much more!Check the reply for the link that has all the details in an article and a download link! pic.twitter.com/rcxSMgO9EwApril 9, 2023
All that changes with the Half-Life: Alyx NoVR mod from Björn Feber, also known as bfeber or @GB_2_, and collective help from the modding community. Designed to allow a full playthrough of the story, some gameplay sacrifices were unavoidable, dividing gamers as to whether or not the mod should exist at all. Nevertheless, the NoVR script is available from ModDB for anyone to try if you own the game on Steam, offering a more interactive alternative for those without access to VR headsets than watching a pre-recorded playthrough.
Currently, save files created while playing Half-Life: Alyx in VR are incompatible with the NoVR mod, and vice versa. If there is a particular section you've struggled with in the virtual world, this isn't a quick solution offering a switch to the mouse and keyboard and then back again. The entire game is explicitly designed around interactivity, and many features have been cut or adjusted to facilitate the completion of the single-player campaign.
Keyboard and mouse controls:
Left Click: Select in Main Menu/Throw Held Object/Primary Attack
W, A, S, D: Move
Space: Jump
Ctrl: Crouch
Shift: Sprint
E: Interact/Pick Up Object
F: Flashlight (if you have it)
H: Cover your mouth
F5: Quick Save
F9: Quick Load
M: Main Menu
P: Pause
V: Noclip (if you get stuck)
Windows Central take
Half-Life has been a massive part of my gaming life, growing up with the mainline storyline games and becoming hopelessly addicted to its multiplayer mods like Counter-Strike and Day of Defeat. The lack of a conclusion to Half-Life 2 is painful, as any series fan would understand, so expanding the story with a prequel was thrilling enough, even if it were locked behind a kind of VR paywall.
Picking up a Meta Quest 2, I've played Half-Life: Alyx via SteamVR, and it was a fantastic experience, albeit interrupted by bouts of motion sickness. Before readers jump to the usual list of recommendations, I tried them all. Using teleports for movement certainly helped, but there's no way I can spend extensive time in an action-packed VR game for half as long as I can with mouse and keyboard alternatives.
Losing out on some puzzles is a shame, and I understand the frustration of die-hard Half-Life: Alyx fans coming to Valve's defense. Still, I'd argue this mod is a more exciting experience than watching a playthrough on YouTube for Half-Life fans who otherwise can't, or don't want to, use a VR headset to play it. Accessibility may not have inspired this mod, but it's a valid reason for it to exist. Besides, the Source 2 engine is beautiful, and it's a joy to explore it without needing my Quest 2 headset.
Get the Windows Central Newsletter
All the latest news, reviews, and guides for Windows and Xbox diehards.
Ben is the channel editor for all things tech-related at Windows Central. That includes PCs, the components inside, and any accessory you can connect to a Windows desktop or Xbox console. Not restricted to one platform, he also has a keen interest in Valve's Steam Deck handheld and the Linux-based operating system inside. Fueling this career with coffee since 2021, you can usually find him behind one screen or another. Find him on Mastodon @trzomb@mastodon.online to ask questions or share opinions.