Razer's new physical store in LA picks up where Microsoft left off — and we love it
Razer recently opened its 10th physical store and we went eyes-on to see the layout and what's new!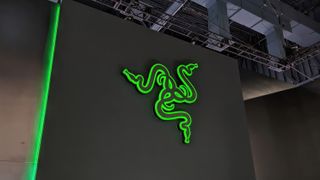 (Image credit: Future)
Buying expensive laptops and gaming gear online is a giant leap of faith. First, you must pour over reviews, and research the company's return policy, history of quality control, and general user satisfaction.
But with their 10th physical location launch, Razer just took the guesswork out of pre-purchase jitters (and fears of an arduous return process, if necessary) for those living in Los Angeles. In addition, the company held a media day and grand opening for their new store on my birthday, so it was a treat to attend and see what Razer had to offer me on my special day. Oh, and what they had to offer Angelenos, they did NOT disappoint.
The Westfield Century City outdoor shopping mall is a two-level, 1.3 million-square-foot venue in Los Angeles, California. It's a beautiful location with multiple dining options, a large movie theater, and plenty of high-end shops, so Razer had to bring their A-game! Behind London and Las Vegas, the new Century City location is Razer's third largest store globally, with 2,161 square feet of space. You'll get to test most of the products on their website in the store, minus any online exclusives. They've even included a streaming studio in the back of the store. That feature means on any of your visits to the retail space you could be standing on the other side of the glass from your favorite eSports star as they live stream during an in-store appearance.
Walking around the store, you'll find five different lifestyle stations. At one, Razer product is set up as it might be in your gaming room to give you an idea of how their precision keyboards, mice, and monitors work together for a setup you may be considering. Maybe you're a content creator and more interested in laptops, headphones, docks, and capture cards? They have a station for that. Whatever the case, it's all there, right on the shelf or desk setup, just waiting for our grubby little game-loving hands.
Two items in the productivity space caught my attention, along with one special surprise I had to get a look at that blew me away. I'm always looking for an excellent mechanical keyboard engineered for productivity. I'm not a hardcore PC Master race gamer, but I am a video editor and writer who loves a little clickity clack, mated to the flare of RGB pulses and multi-device connectivity.
My current favorite keyboard, attached to my iMac Pro where I do all of my editings, is Razer's first-gen Pro Type keyboard. When I bought it, it was the only 10-key keyboard I could find, which was also backlit, mechanical, and multi-device ready, supporting Bluetooth and 2.4ghz connectivity. But it was missing the RGB part. At the Razer store grand opening, I met my new love. The productivity-focused, low-profile Deathstalker v2 Pro White Edition with "clicky optical switches."
The Deathstalker has RGB lights. Check. Multi-device connectivity? Check. Clickety-clack? Check-ish. Being a productivity keyboard means it's meant for the office where a louder mechanical would potentially irritate your cubemates, so it's relatively quiet.
But have no fear! Almost every Razer product is here. Razer Blackwidow has entered the chat. This Halo Edition mechanical keyboard also ticks all my checkboxes and is one of the sexiest keyboards I've ever seen. This Halo Spartan green keyboard would feel right at home in my studio.
Something you'll never get from an online experience that makes the trip to the store well worth it is trying out Razer's stock of gaming chairs, the Iskur, Enki, and Enki Pro. Though we all share some general characteristics, our bodies are different. So being able to sit in each chair and game is as good as going to a store to try on shoes.
And speaking of trying things on, the highlight of my birthday adventure was trying out, kind of, the yet-to-be-released Razer Edge. If you're reading this, you've likely already read about this beast of a machine, but I'll briefly run down the specs for you:
Swipe to scroll horizontally
| Header Cell - Column 0 | Razer Edge |
| --- | --- |
| OS | Android 12 |
| CPU | Snapdragon G3X Gen 1 Gaming Platform |
| GPU | Qualcomm Adreno GPU |
| RAM | 8GB LPDDR5 |
| Storage | 128GB |
| Display | 6.8 inches, touch, 2400x1080, AMOLED, 144Hz |
| Audio | 2-way speakers with Verizon Adaptive Sound, 2 digital mics |
| Wireless | Wi-Fi 6E, Bluetooth 5.2, Sub 6, mmWave Verizon 5G |
| Battery | 5000mAh |
| Dimensions | 259.7 x 84.5 x 10.83 mm |
| Weight | 263.8g, 400.8g with controller |
| Color | Black |
Razer PR Team Lead, Will Powers, took a moment to show off the device and get in some gaming to see just how fluid gameplay is and how responsive that high refresh, high touch sampling rated touch screen is. But, design-wise, the most impressive thing about the device is the porting and how insanely good that G3x Gen1 processor appears to be regarding heat dissipation. Powers had been carrying the device around all day, playing and demoing it for media, and you couldn't hear any fans (because there are none), but the machine didn't feel warm to the touch like you'd expect.
The Razer Edge is due to launch on January 26, so you should be on the lookout for more here at Windows Central.
And with the Razer Edge preview, I concluded my time in the Razer store. If you're in the area, I highly suggest checking them out. Also, if you have children who are eSports hopefuls, find out their in-store appearance schedule and get them down there to chat it up with an eSports athlete when they come through for live streams. If my children were that age, I'd make the trip!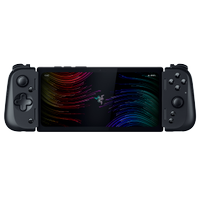 The Razer Edge is a full-fledged Android gaming handheld from Razer, tapping into all the latest mobile games, with easy access to the growing range of game-streaming services like Xbox Cloud Gaming and NVIDIA GeForce Now.
Buy from: Reserve at Razer
Get the Windows Central Newsletter
All the latest news, reviews, and guides for Windows and Xbox diehards.
Guest Writer, Android Central