PSA: GDR2 update rolling out to a few more European countries for the Lumia 820 and 920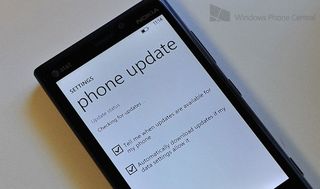 We know, we know. You really want GDR2 and Amber on your Nokia Lumia 920 from AT&T, but today is not that day. For our other friends around the globe we do have a few more countries on the list that are receiving GDR2 for their devices. Let's check them out.
First off you do know how to check if you have an update right? You'll want to go to settings, scroll down then click on phone update, and finally click" on "check for updates". If your device has an update ready you'll see it there and will just follow the on screen instructions. During the update process let it do its thing. Depending on how much stuff (videos, photos, apps, games, etc.) you have it might take some time.
We're now getting various reports about updates becoming available for the Lumia 820 and 920 in these countries:
Bosnia and Herzegovina
Turkey
Switzerland
Poland
Ukraine
Slovenia
Croatia
Now, there's no way we can confirm these ourselves, but you can.
Don't see your country on there? Don't forget you can go to the Nokia Support (opens in new tab) to see the status of your country, phone, and carrier.
Source: Nokia (opens in new tab)
Thanks everybody for tipping us!
Poor you at&t costumer #nooffense

None taken, well maybe a little ;)

For all us that's late to the party, go ahead and clear out 1.5GB of free space on your phones. Then attempt this massive 1GB download.
T-mobile USA Lumia 810.

I got tired of waiting and just flashed the unbranded version. Better move I think as it gives me data sense, other than the annoying physical AT&T branding, the phone now operates how Nokia and Microsoft intended. Much happier.

I thought data sense needed to be supported by the carrier? Maybe since it is working for you, this may indicate that AT&T plans to support it. That could be a good sign.

And EE in UK fail again. So much for biggest and fastest overall network!!

Yup, looking like Sept before we see this update!

At&t and EE were the first to put out the 920 and would each have the largest amount sold in their respective countries, hence I would like to believe that extensive testing is being carried out to avoid bugs and incompatibilities that could cost them millions. Also they've got a large set of IMEI's that probably takes time to compile. This assumption keeps me from going mental on EE.

maybe it just takes some time for them to add the favorites in the explorer again..

Thanks for the positive outlook.

Have EE sold the most, though? From what I recall, their promotion of the device was nonexistent and their staff were utterly clueless about it even after its release.

+920. And as much as i like your optimism, im a pessimist due to EEs lack of promoting WP. 6months exclusivity and all they have returned with is EEFilm and a poor attempt at managing your account via myEE. Cant even check data usage over Wifi.

I would assume so. If anyone wanted 4G and a Lumia, they would have to go with EE as they had exclusive rights for a while.

Clove.co.uk had intermitter stock.. no way I was going get a EE branded device... lol

EE devices aren't branded. Also, good luck getting 4G on yours

I'm not so sure about that in the US, here the 822 on Verizon is the best selling WP8.

Probably, but I was talking about the 920 alone. For that, I'm assuming at&t and EE have 'sold the most 920s', and not 'sold the most windows phones'

First? Pretty sure Rogers in Canada had that by the hard to find first shipment of unlocked phones everyone was going nuts with trying to hunt down. Rogers has also gotten their gdr2 out now...so at least one of the main country partners is doing it right.

By their respective markets I meant EE in UK and At&t in US. Don't know if At&t operates in Canada but if they do, just to clariy, I meant the US market (unless Rogers also operates in US?). Either way I'm not too concerned about the facts, like I wrote above, these are the assumptions I make that makes sense to me and keeps me sane or I'll be bombarding EE with calls, emails and tweets.

I need this update before uni!

I'm on EE and have Amber now on my Lumia 920, in fact I got it last night, so I wouldn't be surprised if you got it soon.

I was checking for this update everyday down here in Malaysia. So who is from Malaysia, you guys can check for the update on your 920. Im downloading it now, while writing this so may be the news here will be updated for Asia Pacific here as well.
My last phrase almost makes no sense, but Im very exited for this update. Hoping that my battery won't be dying too fast, as it usually does.

WHY IN EUROPE IN COUNTRY OF THE OLD URSS *sarcasm off*

sill waiting in latin american

Shame shame shame !!!! Stil nothing in Belgium, atleast for German branded device's, they told me that it will be rolled out this week, i'm betting that tomorrow there will still be nothing for German 'country variants' :)

I think i have a Germany unbranded device. No update for me. My version isn't listed on nokias website to see,if,its,coming soon

This is the unbranded version --> 1232.5957.1308.0001 it matches mine ...

my version is 1232.5957.9200.10211.142

Strange, where did you bought the device?

I live in New Zealand and got it imported here. My Mobile operator is 000-DE (my understanding that it means a Germany Varient) RM-821_eu_euro2_248.

I got the first Update at the begining

Hmm i see, mine is also 000-DE, and RM-821_eu_euro2_248.
I guess you have the German variant, but strange of your version ...

In Germany, Vodafone has released for the L620 but the L920 is still "waiting for approval". The country variant and T-Mobile is coming soon. I really hope that T-Mobile arrives tomorrow or during the week end 'causa my L920 is branded to them...and they've released the update on other countries.

Oh yes i see, is the update for the 620 launched just 45 minutes ago? on 11PM? Sadly that they also told me that they would start with the 920 :(

I have no idea when exactly did they released the update since I don't know how many times a day Nokia updates their page. But yeah...it's weird that Vodafone started with the lower ends in some markets.

Will the dell venue pro get GDR2???

Huh? Does Dell have a Windows Phone 8 device? Correct me if i'm wrong but i'm petty sure that they don't have one ...

No, the Dell Venue Pro was a Windows Phone 7 device.

I was being sarcastic :-P

Venue Pro isn't even a WP8 device. So no.

Got mine tonight! Unlocked UK 920!

How?! It says coming soon :(

Yeah im unlocked 920 in uk, nowt for me

I bet Bigsro got a keyboard / language update lol... Unlocked 920 in Uk and checked again now - nada.

you're kidding right? coz i don't have an update yet..

EXTRA EXTRA!!!!!!!! AT&T will not be, I repeat, I can confirm AT&T will not be releasing the GDR2 update today.

:::Shakes fist in the air:::

Makes me glad I flashed mine last week after everyone else was getting it but not us AT&T customers. :D

How do you like it? I have an unlocked 920 and just inserted a T-Mobile sim today. I have no idea if I'll ever get the update. Thinking about flashing the unbranded version.

Loving it! Couldn't be happier! O even have data sense which, supposedly, is not coming with the AT&T version.

Confirmed deployment here in Slovenia on Lumia 920.

And the lumia 620 Vodafone version has received the update to..

Confirmed in Turkey for 820 CV, 920 CV, 920 Turkcell Carrier.

I have just updated my lumia 920. However my firmware is 1232.5957.1308.0002. This update is not amber. WTF Turkcell and Nokia Tr!

Just downloading an Update on my Lumia 920 on the Rogers Network in Canada!!!

Maybe Nokia is saving the best for last that being the l920 on at&t

AT&T first in the US to release the Lumia, last to the party to update it.

Same for the unbranded devices in Europe. They got first released unbranded in lots of countries, but the branded ones are the ones to get Amber first.

We got gdr1 first so yea.

If anyone gets it on O2 720 UK give me a blow job and I'll hit you right back

Turkey.... Lumia 820 no data sense. Firmware revision last four number is 3001. data sense is 3002

Weird I only got gdr2 update in turkey on my l920 even Nokia's Turkey site tells amber is available.

I got nothing related to amber even my phone's code is 12xx.xxxx

Hmm weird. Well, keep tapping 'check for updates' or soft reset.

Same here. No amber features...

Still waiting for Deutsche Telekom on my L920 (it's "coming soon") and Proximus on my L620 ("waiting for approval"...though Proximus has already available the update for the L920 so hopefully it shouldn't be long now). I thought that the update would be rolled out from higher to lower, first the L920 and then from there. It's what everyone seems to be doing...and then Vodafone came and decided to send the update to the L620's in Portugal, Germany, Greece and Italy before the higher phones...go figure. I wonder if I shouldn't just go to Vodafone (my carrier) and ask them
to flash their version of the software in my L620...

Hi you are from Belgium right? I also imported my 920 from Germany , i have the country variant ... Still waiting, Nokia Germany told me they would push the update this week ...

Nop, I'm from Portugal. I bought the L620 when I was visiting my sister, she's the one living in Belgium. That's why it's branded to Proximus (even though I bought it at Media Markt). But I normally get my Lumias from T-Mobile Deutschland because of the exclusive grey tiles. Anyway, I should expect both T-Mobile's and Country variants to be available by Sunday. If not, I'll be really annoyed.
(If you had bought your L920 in Belgium you would have the update by now. And if I had bought it from my country, I would too. Ironic, I know =P)

Oh lol, & yesss if i had bought it here in Belgium then i would have been playing around with GDR2 right now :( but Nokia never releases a Cyan version of their flagships here in Belgium and they are always so late to release it here, & it is much more cheaper on amazon.de, today the Lumia 920 costs around €550 here, in some stores €500 if u give an older smartphone but on amazon, around €350? & in the color i love, then my choice is made instantly lol.

I really hope you are right about the update, because i'm also going to be annoyed if they don't release it by sunday ....

Bosnisand Hercegovina still no update on my lumia 820

The Lumia 800 is an older WP7.x device and will not receive GDR2 or Amber. You need a WP8 device.

You need to read more carefully, my friend. He said 820.

He said 800 but edited his comment.

AAAAAAGHHHHHHHHHHHHHHHHHHHHH!!!!!!!!!!

:P

Ukraine - still no update.

Microsoft and at&t officially suck ass. With apple everyone would be getting up same day. I hate freaking at&t. Europe, Canada even t-mobile. Wtf

Well still it sucks. I don't care who's fault it is. If there is an update for tour device and OS it should be for everyone right across the table. Why should one customer have a better experience than the other

You know Apple only produces one phone and most things are handled in house. MS has to make it work for multiple devices & manufacturers, then the manufacturers have to add their approval & twists. Its a larger process on WP than iPhone.
Whenever someone compares situations says something about how iPhone or Android does it makes me wonder why they didn't just buy one of those phones.

In Italy Lumia 620 brand Vodafone has just received amber

Cuz they're crap. I'm facing the same problem as you. So much for fastest overall network. Time to fry Kevin Bacon.

I received the update this evening in Hungary. (Telenor, Lumia 920) Glance screen, double tap and data sense are amazing!

Confirmed for unlocked 920 from Croatia! Even though I live and purchased it in the UK! Surprising to get the update before most of the UK Lumias!

Unlocked L820 from Portugal too :)

Confirm, unlocked 820 in Portugal received Amber today :)

Me too, Lumia 920, telcel mexico

Yay, I ve just updated my Lumia 920! Poland, Plus mobile operator.

Do you know by any chance if 920 on Orange PL got it as well?

Nice! My 920 unbranded in Switzerland is upgrading right now!

Rolled in New Zealand as well :) on my 920

How come operator devices are released sooner than country variants? I was under impression it takes some time for the operators to test and approve it, but who approves it for CV's?

2nd sentence and you lay into us poor saps on ATT, oh that hurts Sam.

Still coming soon for us on country variant Nokia 920

I can confirm Switzerland has got it!!!! :D (orange unlocked)

Still waiting here in UK.. Lumia 620 on vodafone

Its down to the carriers. Each network had to test and approve each update to make sure they work on carrier locked handsets. In no way related to Microsoft.

Just be patient att customers the update will come. I'm an att customer as well but there isn't anything we can do except wait or flash it. So those of you who have them out, put away your torches and pitchforks and have a cup of chamomile tea and relax

If ya ain't first yur last!!

FYI Vodafone NZ update available now (Lumia 820) if you do a manual check! YAY

Ukraine dont have update, not yet

Australia- over a week ago yipeekyeaye mofos

Not for unbranded, only Telstra!

I got an update for Lumia 920 on Swisscom (Switzerland) already on Tuesday, there's no data sense, though. I also noticed Nokia ringtones sound different now. There seems to be a battery improvement, but I have to wait a while to see if it's permanent.

Got the update on Orange Switzerland for 920 today!

Just got it. NL820, Austria, A1.

Cheat! I wait for Singapore

Amber update now up for the Philippines for 820 and 920, country variants. :) Done updating mine, and it is awesome!!!

Malaysia and Taiwan got it today as well....

I'm downloading the update at the moment. I'm from Indonesia. 7 hours ago it's yet available

YES!! AT&T Released it!... Just kidding, needed to practice for when it finally happens.

Darn it, I got all excited for a second there.

WHAT???? My heart began to flutter, until I read the rest of your rotten post. :-)

Sorry, couldn't resist. It was either that or scream at the top of my lungs in frustration :-)

Today I received the update for t-mo l920 in the Netherlands, including data sense. Really happy now!

Just installing GDR2 + Lumia Amber update on my Lumia 920 here in Indonesia. Data Sense included.

installed last friday (16th August) - Portugal, L920, unbranded

Did not recieved any notification, but when I checked for updates it was available.

Just got the update for my L920 - Kenya.

Its finally available in Malaysia too!

At&t sucks man. It's the biggest company to date, but is the last to get the Amber Update

Just updated mine! Unlocked from Saudi Arabia - Lumia 920.

Any word on when the T-mobile USA 8X will get it?

That's what I'm saying... WTH!! I have a 925 now but still, my 8X is waiting for this update. Come on...... Has anybody gotten it?

My danish Lumia 820 just got updated!

Updating my Lumia 920 here in Indonesia

UK CV has been on coming soon for a while now :/

Also available in for 820 and 920 in Malaysia & Indonesia :)

When amber was going to russia!?!? I do not know, why i need it, but i very want amber.

Nokia site says update is now available for 820 and 920 New Zealand devices. Still getting the "you phone is up to date" message on my 820 though.

Currently downloading update....Lumia 920 in Saudi Arabia! :)

Awesome! All the features mentioned in GDR2 are available after the update. I have noticed low battery life after update but I guess it has something to do with the upgrade process which has drained the battery easily. I will charge the battery when it reached 20% thru the night and see if the battery will do well. But still, very good job Nokia! :)

Nokia Lumia Amber Update for the Lumia 820 and Lumia 920 is now available in the Philippines!

The Mobily variant for Saudi Arabia just got GDR2 for the 920. Phew.

Philippines is online. My Lumia 820 got the update. I've started enjoying the radio. Funny it doesn't have a speaker mode just headphones. It says Lumia Amber now.

My Polish (Polkomtel) Lumia 920 just got the update as well.

Hungary, unbranded lumia 920 has got even 4 updates today, now installing. 3 from MS and 1 from Nokia.

Just received GDR2 for Lumia 920 in Saudi arabia

received GDR2 on my 920. - Malaysia

I can confirm that it's rolling out in Switzerland - got the update on my unbranded Swiss 920 last night

Still nothing in Finland for 820! Shows how much they appreciate their home base. Lumias would actually sell here very well if they just would release those new phones / sw updates here amongst the first.

Are you freaking kidding? And at&t has not even released this shit yet? Whhhoooat?

Argh. Germany was one of the first countries in Europe to get the lumia 920, now they are the last to receive gdr2 so it seems... Aaarrgghhhhh.... Frus to tha trating...

No update for Lumia 820 in Slovenia yet.

Rogers 920 updated, no problem.

Got the update in Croatia lumia 920

CAN SOMEONE PLEASE HELP??

In Turkey we have received the OTA update (L920) with the 1232.5957.1308.0001 number. But in Nokia's site it says it should have been 3047.0000.1326.2001.
After the OTA update none of the AMBER featured have come ; glance, radio, color profile etc.
So what's wrong?
http://www.nokia.com/global/support/software-update/wp8-software-update/availability-in-europe/

The first one is Portico update. It was before GDR2. So maybe you will get it later. Just check for update every day.

I love the new features. Nokia rocks.

I can confirm that yesterday Lumia 820 got update in Latvia too.
Btw, all of those countries are updated on Nokia site too.

Hi from Indonesia, currently downloading GDR2. Don't know the size, but it's an average 10% every 5 minutes. Can't hardly wait to use the updates..

my L 820 got amber update in India


Lumia 920 in Croatia confirmed (mine).

Can confirm amber in Ukraine anybody??

Nothing in Ukraine. And still "waiting for approval" on nokia web page. http://www.nokia.com/global/support/software-update/wp8-software-update/availability-in-europe/

In Turkey, I received GDR2, but no Amber. That's weird.

Are you sure it is Amber update? As someone previously has written, he recieved the Portico today, not the GDR2.

Yes of course, My OS version reads: 8.0.10328.78 and that is GDR2
However Firmware is 1232.5957.1308.0002.
I got portico in February I think.

Same here (Turkey - Lumia 920). I have no idea what is going on!!! It should have been bundled together!!!

Same issue. I blame Nokia Tr and Turkcell for this.

wy is germany always so late for updates? s**ks

Germans are too precise to trust faulty american technology. Maybe you will get it later, but it will have no errors :)

I live in the Netherlands, have provider T-Mobile . Received the GDR2 update for my Lumia 920 already a week ago...

Nothing for now in croatia. L920, vip

I got it, but I didn't recieve any notification. You should check it manually.

Nothing in Slovakia yet -__-

......that depends (my 920 is from Finland tho)

Oh my great goodness. This will really take some time.

At least I can follow the Nokia support page to see if things are moving.

In Belgium we got the GDR2 for L920 Monday late at night for the CV(country variant) and it installed smoothly on my L920CV. Yesterday the GDR2 also became available for L820CV. And today the L920 for Proximus also is available.

I got my Lumia 820 updated to Amber update yesterday here in India.
The update is quite NICE, best things - FM, Smart Cam App, Glance & Double tap to unlock!
Also one more useful app to keep track of your data - Data Sense, finally it's here!

So far loving it!

Polish 920 still no luck :(
My friends already updated theirs 820s

Romania. Nokia Lumia 820 unlocked. I have Amber+GDR2!

Per Nokia Support page> Hungary Lumia 920 Country variant 3047.0000.1326.2002 Available I have unlocked Lumia 920 (RM-821_eu_poland_324). But no GDR2 update available.
So, not sure if Nokia support info is accurate :)

Acording to nokia, there is no country variant for Poland yet. Only branded devices.

Thanks for the reply, demonp82.
I am in Budapest, using T-mobile prepaid for my unlocked Lumia 920.
Shall I follow the following Nokia support page for Hungary or Poland?
http://www.nokia.com/global/support/software-update/wp8-software-update/availability-in-europe/

I got my GDR2 + Amber just yesterday for 920 country variant for Poland (I'm on Play network). All works incl. DataSense!

L920 VIP Croatia got it, but no notification, had to check it manually.

well, this is awkward... L920 on vip and i`am cheking all morning and still nothing.

Available in Saudi with mobily network

I've got a lumia 920(unlocked, unbranded) that's been bought in Austria and I'm using it in Bosnia and Herzegovina.
According to the update support page, I'ts available in both of these countries, but, I'm seeing nothing.


8/23 ATT, still waiting for approval. Fuggin A!

Finally, I got the gdr2 & amber update but I noticed that the Windows button is not flashing or blinking at all while my L920 is charging. Can anyone explain that please ?

The Windows button has never flashed while charging on my non-GDR2 920...

I heard that Nokia Lumia 920 Windows button will flash just like L925 after the Amber update, was it true ???

Turkey L920 got amber update but cant see any features. no glance, double tap, data sense or radio. I can use amber apps like smart cam and pro cam but cant see any amber features.
any ıdea for the problem?

Confirmed for 920 & 820 gdr2 updates availlable in India

Us ATT customers might get exclusive first dibs on things but we're the last damn people on the planet to get an update. :P

Nothing yet for O2 UK 820.

Ditto. Coming Soon (in the words of Jim) my arse!

I thought the updates are controlled and released in one go to all the devices like Apple does?

Got the amber update today! very pleased -from PH Lumia920

I can confirm Finland/Lumia 820. Just updated mine.

Malaysia rolled out today morning!!! Installed with Data Sense and radio...

This morning update on 000AT (Austrian I guess) L920 purchased in germany runing in Italy on Vodafone. :-)

I'm not so pissed about the 920 update delay as I am the lack of any news at all. I would be happy if they simply told us what they are doing and gave us a general ballpark of when we can expect it barring any issues that arrise in testing.

Still nothing for O2 UK 820.

Hello guys, flashed gdr2 update here with Lumia 920 in Vodafone Germany, and I have something to say for ALL OF US OUT THERE.
After the update, after done with EVERYTHING and searching the phone "inside out", I found something. I don't know if it is a bug or it is meant to be like this but...here it comes...
THE DOUBLE TAP TO WAKE THE PHONE..DOESN'T WORK WHEN YOU HAVE COVERED THE FRONT HIGHEST PART OF YOUR PHONE, YES TO THE PLACE THAT FRONT CAMERA EXISTS.
Yes even if you only put your finger over there, simply, DOESN'T WORK. Is it a bug?? Let's see if we take an answer, in case they are really interested in commenting this.

My guess is the proximity sensor located in the same area keeps it from working so that it doesn't accidentally wake it if say in a pocket or purse. Same thing that disables the screen when you have the phone to your ear. Makes sense to me.

Just started updating my 920 @Latvia

Guys I have a question! If my Lumia is unlocked will I still be able to receive updates?

By the way, no data sense application in Germany after my flashed gdr2 update of L920. Hopefully it will come when they officially release the update. Everything else works perfect!

26th has come and gone for AT&T, still nothing.
Windows Central Newsletter
Get the best of Windows Central in in your inbox, every day!
Thank you for signing up to Windows Central. You will receive a verification email shortly.
There was a problem. Please refresh the page and try again.