Heaps of Borderlands news and more from the Gearbox panel at PAX South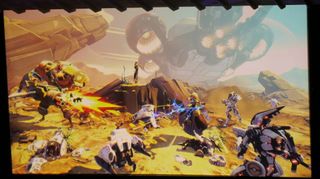 The first ever PAX South (PAX stands for Penny Arcade Expo) has been keeping me extremely busy in San Antonio, TX this weekend. We already reported my impressions of State of Decay for Xbox One, and I have impressions of several more Xbox One and mobile Windows games to share with you soon. But first, let me tell you about this morning's Gearbox Panel.
Gearbox, best known as the makers of Borderlands, have a significant presence at PAX South. With one dedicated theatre, a community room and non-stop panels all weekend, you could be forgiven for thinking of PAX South as Gearbox's equivalent of QuakeCon. Today's panel took place in the convention's main theater and focused on the future of Borderlands and Tales from the Borderlands, plus Gearbox's Battleborn and Homeworld projects.
Read on for complete details and photos of everything revealed during Gearbox's highly entertaining presentation!
Borderlands: the Handsome Collection
The panel started out with Gearbox CEO Randy Pitchford and a couple more high-ranking staff members taking to the stage to spread the word about Borderlands: the Handsome Collection for Xbox One and Playstation 4. The collection, which includes Borderlands 2 and Borderlands: the Pre-Sequel, was first announced last week.
The mainline Borderlands games have always allowed players to play solo or team up online with others for cooperative play (and some versions support 2-player split-screen). New to the Handsome Collection is 4-player split-screen co-op, a first for the series.
To demonstrate this welcome feature, Gearbox brought four players onto the stage. Each held a Dual Shock 4 controller, as the demonstration build ran on Playstation 4. The team of four basically ran around an indoors environment for a couple of minutes, looking at each other and firing their guns a bit. Not the most exciting gameplay scenario, but we still got a taste of how well 4-player split-screen works on the current generation of consoles.
Each player's UI (health, ammunition, etc.) was perfectly legible on the quarter portion of the screen. The frame rate maintained an impressive fluidity as well. It looked smoother than the 2- and 4-player split-screen modes in Microsoft's own Halo: the Master Chief Collection. Provided the text for viewing missions, equipment, and other elements isn't too tiny, local 4-player is going to become many fans' favorite ways to play Borderlands.
Gearbox is so busy with its own future projects that it doesn't have the bandwidth and resources to bring these two Borderlands games to the new consoles. Luckily, they recruited Iron Galaxy (developers of Divekick, who also ported Borderlands 2 to Playstation Vita) and Austin-based Armature Studio (Unfinished Swan, Injustice: Gods Among Us) to port the games and spruce them up for the target systems.
The Handsome Collection started life as simply a current-gen port of Borderlands: the Pre-Sequel. Many players (including yours truly) missed the Pre-Sequel the first time around because it released so close to the Xbox One and Playstation 4 launches.
Luckily for gamers, the Pre-Sequel runs on the same engine as Borderlands 2. The developers discovered that it would be easy to add Borderlands 2 to the package, and hence the Handsome Collection was born. And yes, that's why the first Borderlands didn't make it into the collection.
Borderlands: the Handsome Collection includes Borderlands 2, Borderlands: the Pre-Sequel, and every bit of downloadable content that has been created for both of those games – a tremendous value at $59.99. Players can even transfer their save data from the Xbox 360 and Playstation 3 versions! The Handsome Collection launches on March 24.
Borderlands: the Pre-Sequel
Not only will the Handsome Collection include all of the DLC that has been released for both games so far, it even includes stuff that hasn't come out yet! 2K Australia is still hard at work on Borderlands: the Pre-Sequel, which has title updates and more downloadable content in store for it in the months to come.
Gearbox revealed that current-gen versions of the Pre-Sequel will receive a new title update on Monday the 26th that fixes bugs and other issues. But within the next month or two, a major update will add a much-requested feature: farmable bosses!
Originally, the game was designed so that when players killed most bosses, they stayed dead. The developers wanted gamers to feel like they had really impacted the game world, wiping the big bads from the map. But loot-seeking players want to get more loot from bosses who will respawn. In the end, the developers acquiesced. Soon you'll be able to revisit past bosses, fight them again, and earn new boss drops for your trouble.
Publisher 2K will also be releasing a brand-new expansion called 'Lady Hammerlock the Baroness' on Tuesday the 27th. We caught the first glimpse of the new expansion's trailer, a capture of which I'm embedding in this story.
The trailer introduces us to Lady Hammerlock, a new playable character designed by Jonathan Hemingway, who designed all of the character trees for Borderlands 1 and 2. The team's goal with Hammerlock was to create a more reliable and definitive sniper, so she is better at sniping than existing snipers Mordecai and Zer0.
Lady Hammerlock's action skill is to fling deadly ice shards at opponents. She can also turn another player into her manservant, which creates a synergy in which each player's actions helps the other. This power is different than any other character's and makes her great for cooperative play.
Finally, the developers briefly teased yet another campaign DLC for the Pre-Sequel. This mysterious new content will put gamers inside the mind of Claptrap, the lovable/annoying wheeled robot who serves as mascot of the Borderlands series.
Battleborn
Moving on from Borderlands, Gearbox started to hype the audience on its next big IP: Battleborn. A first-person shooter with MOBA (multiplayer online battle arena) elements, Battleborn is coming to PC and possibly consoles sometime in the future. Randy Pitchford described it as "the future of the company… What we're betting on."
Because MOBA games are entirely focused on team-based competition, Battleborn will feature multiple ways to play. That includes a co-op campaign built around lessons learned from the Borderlands series.
Much of Borderlands' unique appeal revolves around collecting and wielding thousands of different guns and other weapons. Battleborn on the other hand focused on an extensive arsenal of characters. The developers compared the game's character selection to the experience of collecting Star Wars action figures.
Battleborn takes place in the distant future, after all, but one stars in the universe have burned out. All surviving life exists within proximity to the last remaining star, Solace. And a number of factions want control of Solace. The game will present their conflict through the lens of many characters and perspectives, seemingly implying a wealth of replay value to its story modes.
Homeworld Remastered Collection
Another of Gearbox's projects is to revive the classic science fiction franchise Homeworld. In 1999, Relic Entertainment released the first Homeworld, and then a sequel followed in 2003. The series storyline concluded with that sequel, and even its creators thought Homeworld would end there.
Fast-forward more than ten years, and some of those same creators are now at work on a prequel while Gearbox finishes remastering the first two games. The Homeworld Remastered Collection will include freshly revamped versions of Homeworld 1 and 2 as well as the untouched original versions of those games.
Today's Homeworld presentation started off with the trailer we've embedded into this story. Watch it, and you'll see some monochromatic footage of spaceships and plants. This segues into footage of the classic Homeworld games, and then we see the same scenes Remastered in high definition. The new graphics are much more colorful (even outer space features dazzling patches of color). Explosions, weapon trails, and other effects look more impressive than ever before.
Gearbox has aimed to go above and beyond typical game remasters with the Homeworld Remastered Collection. They've tried to honor the original and do things right as much as possible. That includes rebuilding all of the Homeworld games' 3D models for ships and other objects and hiring the original audio director to redo all of the sounds for the Remastered Collection.
Homeworld Remastered Collection launches on PC on February 25th. Fans can preorder it now for under $30 on Steam. No word on console versions yet, but here's hoping!
Magic tricks and giveaways
Gearbox partnered with gaming hardware giant Nvidia to help future-proof Homeworld Remastered Collection's graphics. On sufficiently beefy hardware, the game can run at an absolutely stunning 4K resolution.
To promote that partnership, Nvidia gave out free graphics cards to five lucky audience members. Each walked away with GeForce GTX 970 graphics cards based on Nvidia's Maxwell chip architecture.
The fifth and final winner also had the good fortune to participate in a stage magic demonstration from Gearbox CEO Randy Pitchford! Randy presented the 16-year old winner with the Homeworld Remastered Collector's Edition, opening it to reveal a statue, keychain, art book, and more.
Randy then flipped through the art book and asked the participant to pick insert a Homeworld bookmark on the page of his choosing and focus on a random printed word from that page. Next the magician successfully guessed both the page and the word, the boy had picked (discovery).
The winner then turned over his Homeworld Steam code sheet to reveal a note saying the exact page and word Randy had just uncovered from him. Looking at the book once again, the page had gone missing. Somehow, it ended up encased in a plastic page holder on a stool behind them! Randy Pitchford explained that the trick requires a time machine – a running joke throughout the presentation.
Tales from the Borderlands
The final stage of Gearbox's presentation focused on Tales from the Borderlands, the episodic adventure game from Telltale. The Tales staff opened with a trailer for Tales from the Borderlands Episode 1 that included footage from the game's reveal event that I attended last year.
After that, we saw the first public screenshot from Tales Episode 2. It depicted two new characters, hoodlums Fitch and Croeder (sp?). A second screenshot revealed Athena, a character from Borderlands: The Pre-Sequel. What will she be up to in Tales from the Borderlands?
Last but not least, Telltale played a clip from Tales Episode 2. The clip features the return of Scooter, a mechanic and NPC from Borderlands 1 and 2. Fiona asks Scooter to repair her vehicle, which took some damage in the first episode. Scooter responds with a lewd joke about his willingness to look under any vehicle's skirt, and the clip ends.
Telltale did not reveal a release date for Tales from the Borderlands Episode 2 (an annoying habit of theirs) but promised it would be soon. And with that, the big PAX South Gearbox presentation drew to a close.
As for Borderlands 3? Gearbox still has a few more hours of PAX South to announce that game. If they do, we'll be here to report on it!
Get the Windows Central Newsletter
All the latest news, reviews, and guides for Windows and Xbox diehards.
Paul Acevedo is the Games Editor at Windows Central. A lifelong gamer, he has written about videogames for over 15 years and reviewed over 350 games for our site. Follow him on Twitter @PaulRAcevedo. Don't hate. Appreciate!