Hands on with State of Decay for Xbox One at PAX South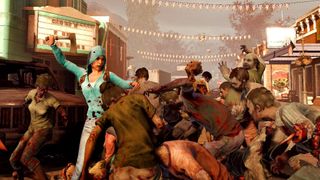 The Penny Arcade Expo, also known as PAX, is a videogame and board game-themed fan convention that takes place in a variety of regions across the US and even Australia. The first ever PAX South is currently taking place throughout the weekend in San Antonio, TX at the Henry B. Gonzales Convention Center. Your man in Texas, Paul Acevedo is right there hunting for choice gaming scoops and interviews.
Microsoft itself has a relatively low key presence at PAX South, but they have teamed up with Undead Labs to offer an early taste of State of Decay: Year One Survivor Edition to the masses. Newly upgraded for Xbox One, State of Decay looks and plays better than ever. Read on for my full impressions and video interview with Jeff Strain of Undead Labs!
State of Decay
State of Decay was originally released as an XBLA game in June 2013, where it went on to become one of the best-selling XBLA games of all time. If you haven't played the game, prepare for a fairly realistic depiction of human life after a zombie apocalypse. We're talking about a third-person action game with RPG and strategy elements, a combination which makes for a deep and challenging experience.
Step outside into State of Decay's world and you'll find that hordes of zombies roam the streets. You'll have to evade and/or kill them as you work to gather supplies and rescue fellow survivors. These survivors will join your crew and either help you going out scavenging or stay at home and defend your base.
As the player, you'll have to carefully choose how much time you spend outside of the base and how much time you spend at home, fortifying against the countless zombies plaguing the area. Spend too much time away and your base not be strong enough to keep its inhabitants safe. But if you don't go out and look for supplies, you'll run short of food, medicine, ammo, and other materials necessary for survival.
Meanwhile, the team you take out scavenging can fall prey to zombies all too easily. You might enter a house looking for food and find that one of your partners has gotten overwhelmed. You'll want to help them develop their skills as fighters, but don't get too attached. Once the zombies kill a member of your team, that person is gone forever. Luckily you can switch to another survivor when your previous one dies or simply needs to rest, continuing to fortify your base and battle against the undead.
Hands on at PAX South
My first Xbox One play session with State of Decay took place within 'Breakdown' one of the two extra modes that were originally released as paid DLC on Xbox 360.
'Breakdown' is the game's sandbox mode. Rather than playing through a story, players simply choose from a vast assortment of characters and then try to survive the zombie apocalypse for as long as they can. Initially you're all on your own, so the first thing you'll want to do is discover a survivor camp and ask to join it. From there, your focus will shift to fortifying the base and hunting for supplies.
Eventually you'll need to repair an RV and escape with five fellow survivors… But the next town you settle in will have even more zombies to deal with. The struggle for survival will grow greater and greater each time you're forced to relocate.
From what I've seen, State of Decay has received a fair visual upgrade for Xbox One. The game now runs at 1080p resolution at a fixed 30 fps frame rate. The Xbox 360 version couldn't maintain 30 fps, so this version is certainly a lot smoother. I wouldn't mind seeing a game with this level of graphical detail run at 60 fps, but it's perfectly playable as-is.
Besides a more fluid frame rate, the key upgrade this new version brings is a much improved draw distance. I climbed a tower in order to survey the city and I could see much farther than before. This helps a lot with identifying new buildings to forage from or packs of zombies to avoid. State of Decay has a lot of driving too, which is only improved from being able to see farther down the road.
State of Decay: Year One Survivor Edition arrives on Xbox One on April 28. Undead Labs is hard at work refining the new version and squashing any (zombie) bugs that pop up between now and then. The Xbox One version will cost $29.99, but owners of the Xbox 360 version can snag it for $19.99. Previous owners also get a bonus character, an Indian-American named Gurabani.
Are you guys looking forward to the fight to survive the zombie hordes when State of Decay comes to Xbox One?
Windows Central Newsletter
Get the best of Windows Central in in your inbox, every day!
Paul Acevedo is the Games Editor at Windows Central. A lifelong gamer, he has written about videogames for over 15 years and reviewed over 350 games for our site. Follow him on Twitter @PaulRAcevedo. Don't hate. Appreciate!
I played the game for a while and I liked it for a few hours... after that I must say it became pretty boring. Would be cool to see some multiplayer aspect being added to the XBONE version

Indeed. Even the DLC didn't help much. The biggest problem was that the game doesn't have enough variety to be as repetitive as it is. It's still a fun game and worth playing, but I felt like it fell short on a few aspects. Multiplayer would be sweet though.

Well it is an arcade game. Didn't expect it to have that much content. I was actually surprised it had as much as it did for 20 bucks.

Really enjoyed the original version. It was a bit buggy but unique and pretty fun too. I'm sure they've been able to work most the bugs out by now and it should be a really good game for X1.

Yes!! Can't wait for this! The stuttering on 360 caused me to play it a lot less than I should have Posted via the Windows Central App for Android

its ok but with the newest version of the preview I cant use Windows 8.1 start screen? I really enjoy that

The Xbox One version is cost $29.99 :D

I just got an Xbox One and I never played this game.

As you grow up and have responsibilities and due to work and other priorities, you get less time to enjoy your gaming habbits. So open world games tend to be either boring forme or not a good option. I dont get much time to enjoy them. State of decay though I did enjoy. Even if I only played it twice, both those times were very very long sessions like I hadnt done with other games the past few years. ( Im 30 btw not 50 :P ) So judging by how much addicting it is and doesnt let you move from your seat and leave the damn controller Id say its an amazing game. When I purchased it I thought it was going to be one of those arcade games that I would drop within minutes and purchase them for no apparent reason. Ended up an amazing buy. Very unexpected for me to enoy so much such a game. And I am talking about a release window full of bugs and such. Must buy. Waiting to purchase it again on Xbox One.

I picked up the standard version in a Steam sale for about $5. Played about 2 hours and then did an available mission that was meant for higher leveled characters. The game glitched and there were no supplies in the mission where there was supposed to be. Lost my 2 best characters. Never played it again. Hopefully the Year One edition improves the issues

Paul, keep up the superb game coverage. It is great. Not a zombie fan myself, but great to see that you are on the floor at some of these shindigs. The games are coming out at a fair rate for the One, sometimes I look in the recent release section and surprise myself as there are games I was not aware of. As soon as Sniper Elite drops real low, I'm gonna give it a blast. Off topic, I am hoping EA pick up a couple of I'd games to add to their vault. Sure would sweeten the deal. Their main offerings ate slow to arrive, for obvious reasons, and the odd low price game in there would sure broaden the selection.

So is it worth re buying it if we had the 360 version?

It's smoother but not as vastly improved as GTA V was on Xbox One and PS4. If you don't own the DLC though, that would make it a pretty nice upgrade for $20.

I can't wait. Sorry again I missed you in SF

No, pretty sure they're saving co-op for part 2. If it was going to be in this game, of course I would have mentioned it in the article since that's a major feature.

Paul, please tie one of them down and try to get some details about Class 4 out of them. I've never wanted a game so much that I knew next to nothing about.

Is Class 4 a State of Decay sequel? Undead Labs is realllly busy at the show. I was lucky to get some time with them before the convention fully started yesterday.

From what I understand, State of Decay is actually a sort of proof of concept and likely a means to raise enough money for further development of Class 4 , which is supposed to be a full-blown game with multiplayer, and much more in-depth survival, etc... Just find one of them in the bar later tonight, buy them lots and lots of drinks and then grill them. :D P.S. Accidentally added my comment to the top instead of replying properly... Sorry!
Windows Central Newsletter
Thank you for signing up to Windows Central. You will receive a verification email shortly.
There was a problem. Please refresh the page and try again.