Gears 5 bakes up Chips Ahoy cookie deal for exclusive game content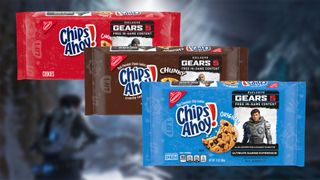 What you need to know
Microsoft and Chips Ahoy have partnered up ahead of Gears 5

(opens in new tab)

's September 20 release.
Marked Chips Ahoy cookie packs feature exclusive in-game Gears 5 items.
Gears 5 is on track to hit store shelves on September 10, and as with any blockbuster game launch, we have an accompanying snack promotion. From Halo's love for Mountain Dew to Assassin's Creed's perfect pairing with Totino's Pizza Rolls, Microsoft has unveiled an (unexpected) collaboration with Chips Ahoy for its gritty shooter. Cracking open cookie packs will soon net you exclusive in-game Gears 5 content, alongside entry into prize package sweepstakes.
Gears 5-marked Chips Ahoy packages are slated to roll out over the weeks ahead, via redeemable codes planted through branded packs. This U.S.-only promotion grants a pool of exclusive content across the game and broader Xbox One ecosystem.
Diving into the Chips Ahoy website details exclusive banners and marks up for grabs, alongside one-day XP boosts, supply drops, and codes for Xbox Live Gold and Xbox Game Pass. Raffles for three additional prizes provide a chance to win a complimentary trip for two at E3 2020 in Los Angeles, alongside "Ultimate Gaming Room" and "Mondelēz" packages brimming with gaming items.
You'll have a few days of calorie counting before the promotion, starting on August 30. Players can redeem four in-game content codes per person, ahead of closure set for December 31, 2019. In the meantime, Gears 5 is available for preorder ahead of September 10.
Save on Gears 5
(opens in new tab)
Uncover the past

Explore Sera. Skim across glaciers, sail over deserts and descend into sunken ruins to discover the largest and most diverse Gears sandbox ever created. Amazon is stocking it cheapest, currently at just $50.
Windows Central Newsletter
Get the best of Windows Central in in your inbox, every day!
Matt Brown was formerly a Windows Central's Senior Editor, Xbox & PC, at Future. Following over seven years of professional consumer technology and gaming coverage, he's focused on the world of Microsoft's gaming efforts. You can follow him on Twitter @mattjbrown.
Pathetic! So from exclusive content for pre-orders, to exclusives content for different retailers, now it's exclusive content for buying some junk... And the stupid fanboy sheep on twitter celebrating and asking where they can buy this rubbish...

its strange that there are people who even care about this game in the first place

It's giving away billions each e-sports event so...

@Hirox
It is giving away billions at each e-sports event?? wow do you have a link or proof about this?

Sorry, millions. Wrong figure.

So, you're the newest person responsible for negativity in the comments??
I have seen others do much better job than you.
Honestly, I'm disappointed...

I'm not sure you're talking to me, but you know what? For me, it's about gaming. It's not about being positive or negative. I can understand that for fans of company being positive and promoting products of the company is important. Also criticism is very difficult to read and almost touch them personally... When I criticise them for doing this bs, I think I'm doing something very positive towards gaming.

> When I criticise them for doing this bs, I think I'm doing something very positive towards gaming.
Haha, is that why you called Windows Central (and many users) bias, favoring Mixer when Ninja tweet about nude streaming on his channel?
How about Epic being responsible for locking PS4 away from cross-playing with other platforms?

You didn't understand both cases. So I'll ignore your bs.
I've gone in more details in that other topic.

1) Yet, tech or game sites like The Verge, Engadget, IGN, Gamespot are all covering the same news.
Q: Why should WC skip it?
Q: Are all those game or tech sites bias too? 2) [quote] When it comes to the Fornite issue, the problem is with epic accounts. Epic should be the one to solve that issue. [/quote]
Those are your words.
[quote] Epic should be the one to solve that issue [/quote]
So you are saying Epic had failed (or incompetent?), to achieve such a simple task, failed to achieve their vision.
* This reminded me, you also said xbox live for Android / Switch / iOS is just some simple API calling, some low tech, unadvanced stuffs?

I replied to your copy-paste answers in that other topic.

I understand that you are trying to constructively criticize them for doing this, but your wording and tone for the comment says differently, if you just stated that it is not effective to have those partnerships and you will not be buying them, well we all can agree, but there are people who prefer certain retailers, and hence will be rewarded for going to that retailer, nothing is wrong with that, the cookies part, I actually like the idea, but not with the cookies, I don't think big rough and tough men eat cookies, I think they drink rum.

@Johnathan
Why the **** do I need to be constructive? **** that. I'm not here to sugar coat things. They know what they are doing. There is nothing positive about it and I would trash any companies doing this. This is the continuation of the breaking up of a video game. It started with DLC, then microtransactions, then pre-order bonus, then special editions, then special exclusive retailer and now you got to buy crap. You don't "reward" the people who goes to a certain store, it PUNISHES all those who don't. When each store has different exclusive content, the only way to get all content is buying the game in different stores. That itself is bs.
Look at how much a game with all content really cost. Now they tell people buy this and that so that they get content. If you don't, you are punished and you won't get it. This turns people into consumers of things they may not really want. Making them sheep. Making them buy certain stuff at certain retailers and at certain time.

Well, maybe you should ask, why Chips Ahoy didn't come up with this kinda collaboration with Sony?

@Hirox
If Sony does it it'll be as bad.
Windows Central Newsletter
Thank you for signing up to Windows Central. You will receive a verification email shortly.
There was a problem. Please refresh the page and try again.