This Gears of War-themed PC is a glorious custom beast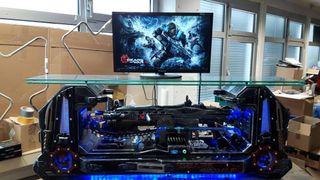 The PC modding community has come up with endless crazy custom machines over the years, but nothing is quite as cool (at least for fans of the game) as this Gears of War-themed rig. Appropriately called "Lancer Unleashed," the custom rig was recently featured on NVIDIA's GeForce Garage (opens in new tab), where creator Ali Abbas showed off his insanely awesome creation. Check it out below:
Abbas has a number of mods under his belt, having already won 49 awards from his previous creations. That experience shows in this case mod, which holds a pretty powerful PC inside of its aggressive frame. There's even a replica Lancer —with working chain — inside that can be removed. From the LEDs to the Gears of War logos and war-torn paint job, the mod exhibits a pretty extreme aesthetic that sticks close to that of the game itself.
While this particular mod is crazy in itself, Abbas tells NVIDIA that he could "easily create a fleet of GoW-inspired PC mods and each would turn out vastly different from the other." For the sake of Gears fans, it'll be interesting to see if Abbas brings any of those other ideas to fruition.
Image 1 of 4