Get $100 off the no contract price of select Windows Phones for a limited time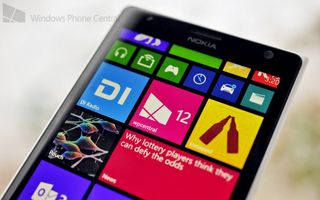 If you're looking for a new Windows Phone device but don't want to deal with the hassle of a contract, Microsoft has a few deals happening right now that you might be interested in. From now until April 7th, you can get $100 off the no contract price of select Windows Phones at Microsoft Store retail locations. Which devices are on sale you ask? Well, we've got the whole list for you.
AT&T Nokia Lumia 1020 – Experience the quality of the Nokia Lumia 1020's 41-megapixel camera sensor1, PureView technology, Optical Image Stabilization, and amazing high-resolution zoom. Take stunning pictures while exploring the world of photography with Nokia Pro Camera. And Nokia Rich Recording makes it possible to capture sharp HD video with distortion-free sound. Regular price (no contract): $599.00 | Sale price (no contract): $499.00
AT&T Nokia Lumia 1520 - The Nokia Lumia 1520 comes with all the exclusive features of Windows Phone 8, like Live Tiles and People Hub. And they're all optimized for the big screen, making your Windows Phone 8 experience even better. Regular price (no contract): $549.00 | Sale price (no contract): $449.00
Verizon Nokia Lumia 928 - With the Nokia Lumia 928, you're prepared to preserve life's unforgettable moments with high-quality photos and video, no matter where or when they happen. Regular price (no contract): $399.00 | Sale price (no contract): $299.00
That's a sweet deal on some great devices and with Windows Phone 8.1 around the corner, you'll be all set to take the update when it starts to roll out. Again though, this is only available at Microsoft retail locations.
Update: It appears the sales prices are also available at Microsoft's Online Store (opens in new tab). Not sure how long the online pricing will last, but it is a great opportunity to join in on the savings should you not have a Microsoft Store in your neighborhood.
Source: Microsoft Store (opens in new tab)
Windows Central Newsletter
Get the best of Windows Central in your inbox, every day!
Too bad Icon is not there. And I think you can find 928 even cheaper online, paid $560 for mine)

In LA you can get a new in the box 928 for less than 300 on craigs list

Well that's what I'm saying. Online and Craigslist you'll find it cheaper. But I got mine in MS store before it went to even Verizons store, that's why I paid that much

Five Finger discounted probably LOL

Omg I just bought my 1520 on Sunday!!!

If only it was the Nokia Lumia 1520 RM938. Model.

Seriously. I want one but the cheapest I can find it is for $625 on Newegg. Maybe if WP8.1 convinces me to switch back to WP full time I'll grab one.

You might be able to take it back and say you want the new price on it (or return it within the 30 day period they sometimes have)

I wouldn't mind the Lumia 1520

I assume they are talking about the 16gb 1520. Does that one have an SD slot?

Then that's tempting. I think I can live without qi for 100$

adding Qi is not that hard mine has it now I think I need a bigger Qi charger now though.

I'm interested in adding Qi to a 1520 if I get one soon...How do I go about doing that?

I thought you could buy a charging case for it!

The ATT is setup to take PMA I think.

Yes u can as long as u buy a charging pad meant for that case.

Its a sign that new phones are on the way. If your smart you'll wait. If you can afford $450 than just wait.

You forgot *It's and *then.

Correct, but I guess you missed that I was pointing out the irony of him saying "if your smart" and getting such a basic word incorrect.

I did miss that. Very nice!

Too bad there's carrier logos on those phones.. Would wish there weren't any carrier logos on the 1520 or 1020..

Id get a 1520 if it wasn't gimped on AT&T - Who REMOVES a feature like Qi charging? Ass holes...

Without a doubt they are such freaking idiots for doing that...I have one and am considering hardware modding it to get the feature but I'm not very happy with AT&T for that BS.

Is there a reliable mod for that? I'd consider doing that.... The 1520 is huge though....

Wow this is very tempting to get the 1520... Only $449??

Consider for a moment that for the same price you can get a Surface 2...

I have a sp2 though... And yea its a bit costly but that's actually really low for a smartphone let alone a smartphone with the 1520 specs

Try holding that up to your face to make calls... only slightly more ridiculous than the 1520 :P

I'd consider one for use on Rogers Canada, but I really don't want the AT&T logo on top of the screen.

Its just a small logo and barely noticeable on both phones. I have them both and hate logos but it really isn't bad (like Verizon)

The phone is locked to At&t

If only this deal was offered for the Lumia 520. Heh heh heh....

If that was the case, it would be free, although this could significantly increase WP market share by offering a free phone sans contract.

That's the joke. In fact, if this was the case, they'd probably have to give you $20. Hahahahaha!

Retail cost is $150-200, so not quite :P

The 1520 can take the 128gb SD card. I have it in mine now

Btw are ATT devices are unlocked as Verizons?

No they are all locked. You would have to get an unlock code from ATT or buy an unlock code elsewhere.

I thought I would miss the wireless charging but the battery life is much better than my 920.

That moment when you read a huge article then scroll to the bottom and find a video -_-

None of these are a better deal than what the T-Mobile 925 has been going for lately. 'Nuff said!

Yup. Got my 925 from Newegg 3 weeks ago for $200 brand new, not refurbished.

Now $100 off on the 925 HSN $200 price would be something to talk about!

Very tempting...but I think I'll wait for green 1520. Maybe it will come preloaded with 8.1

All of those prices will be increased because of tax, remember. Posted via the WPC App

You pay taxes either way, but now you pay 100 bucks less

Wait for another 925 sale at Newegg or HSN for a lot cheaper than this offer.

The best ones! Had this happened two months ago, I would have gone with a lumia 1520 over a nexus 5..

Surprise: get the 1520 global version at Expansys USA for $450 with 32gb and qi

Is no-contract the same as unlocked? And how well do these phones play with T-Mobile's LTE?

They are not unlocked. I have a buddy with an unlocked one on TMo and everything works except he can't get his tethering enabled.

Even the 4g LTE works with tmo ?

The 1020 is more expensive than the 1520? Man, that's surprising. Also, this sale came too late, my girlfriend just ordered a Moto X unlocked last week. She wanted a windows phone (a good one, not a compromise mid-range) but they were too expensive.

yeah that surprising also is the camera worth that much more then the larger screen and faster processer? (Gazelle will give you more if you sell a 1520 back though. $170 nokia 1020 $182 nokia 1520)
I bought the 1520 from fry's when it was on sale for$79 with a 2 year contract and the free halo assault game the $25 app store credit from nokias site stuck a 64gb sd card in it and am very happy with it. I still carry both a 1520 and my iphone 5s do to apps. although one of the apps I need for the windows phone truecrypt is in beta

The non-sale price on the 1020 is ridiculous at $599, considering it itself is coming up on a year old, with hardware that's 2 years old (save for the camera tech). Sale price of $399 and it's worth considering.

$449 for the only high-end flagship with microSD expansion? Oh yeah!! All I need to know is can it be unlocked for T-Mobile and I'm in.

Anyone knows how i can get it unlocked ?

man, and i get payed on the 15. and this deal is until next week :(

If the icon was there I would have done this

I don't see the deal online :( This is very tempting since I can use locked at&t phones on Aio. Will I get firmware updates on a different carrier though? How does that work? I'm still waiting for Aio to approve Black fro my 620.