Get up to design speed with this handbook for Windows 8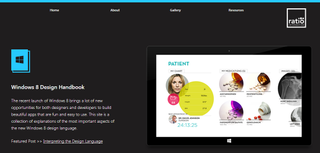 We don't cover too much on the topic of design around here, but this was too handy to pass up for developers looking to do more with Windows 8. Ratio Interactive (http://www.ratiointeractive.com/) is a digital agency up in Seattle that makes various apps for companies across a lot of platforms.
But lately they've been doing some kickass work with Windows 8 apps. Between running contests around app design and actually making apps (AllRecipes and various Conde Nest properties) they know a thing or two about Windows 8.
So here's a handy handbook for Windows 8 design from the Ratio Interactive team.
Both Windows Phone and Windows 8 have their own nuances when using Metro the Microsoft Design Language (is it obvious how passive aggressive I am about not wanting to call this the MDL?). If you're working on Windows Phone, you can't go wrong using the 24 Weeks of Windows Phone Design by Arturo Toledo. But Windows 8 doesn't really have a comparable guide, this Windows 8 Design Handbook from Ratio is a good starting point. Here are the different topics:
Understanding Live Tiles
Choosing a Live Tile
Designing a Splash Page
Designing a Hub Page
Key Windows 8 Terminologies
Utilizing Semantic Zoom
Mastering the App Bar
Designing the Detail Page
Interpreting the Design Language
Developers had a bit more time getting up to speed with design on Windows Phone, but not too much with Windows 8. This should help everyone involved with creating apps for Windows 8 to be on the same page with design. For example, I'd love if more apps took advantage of semantic zoom, easily one of the coolest features available to Windows 8 apps.
If you're developing an app for Windows 8 or work with a team planning on coming to dark (but awesome) side you'll want to bookmark Ratio's handbook. You'll also find some good Photoshop and Fireworks templates.
Source: Windows 8 Design Handbook
Get the Windows Central Newsletter
All the latest news, reviews, and guides for Windows and Xbox diehards.