Get up to design speed with this handbook for Windows 8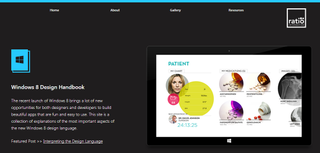 We don't cover too much on the topic of design around here, but this was too handy to pass up for developers looking to do more with Windows 8. Ratio Interactive (http://www.ratiointeractive.com/) is a digital agency up in Seattle that makes various apps for companies across a lot of platforms.
But lately they've been doing some kickass work with Windows 8 apps. Between running contests around app design and actually making apps (AllRecipes and various Conde Nest properties) they know a thing or two about Windows 8.
So here's a handy handbook for Windows 8 design from the Ratio Interactive team.
Both Windows Phone and Windows 8 have their own nuances when using Metro the Microsoft Design Language (is it obvious how passive aggressive I am about not wanting to call this the MDL?). If you're working on Windows Phone, you can't go wrong using the 24 Weeks of Windows Phone Design by Arturo Toledo. But Windows 8 doesn't really have a comparable guide, this Windows 8 Design Handbook from Ratio is a good starting point. Here are the different topics:
Understanding Live Tiles
Choosing a Live Tile
Designing a Splash Page
Designing a Hub Page
Key Windows 8 Terminologies
Utilizing Semantic Zoom
Mastering the App Bar
Designing the Detail Page
Interpreting the Design Language
Developers had a bit more time getting up to speed with design on Windows Phone, but not too much with Windows 8. This should help everyone involved with creating apps for Windows 8 to be on the same page with design. For example, I'd love if more apps took advantage of semantic zoom, easily one of the coolest features available to Windows 8 apps.
If you're developing an app for Windows 8 or work with a team planning on coming to dark (but awesome) side you'll want to bookmark Ratio's handbook. You'll also find some good Photoshop and Fireworks templates.
Source: Windows 8 Design Handbook
I hope this gets known because even with the simplicity that windows phone 8 shows, interfaces and UI's in general suck a lot. There are exceptions to the rule but still, just exceptions.

Check this out! And please leave a comment!!
http://betanews.com/2013/04/22/why-do-you-use-windows-phone/

Thanks for this post. Microsoft needs to do more on the designing of apps for both win8 and wp8. Majority of the tutorials are too developer orientated.

I can see where more synergy between app design could greatly help on W8 because currently it does kind of seem like a mess.. Especially would help new users of W8 seeing that people are having trouble finding their way around without a start button.. Please!

I Love these Nice article

Yeah, its going to be a slow week before Instagram is revealed for WP.

Is it this week we get Instagram rodneyej?

Lol!! I knew that would ruffle your feathers Sam.. Sorry, not this week. Read my comment again.

I really want to get in and build a couple of apps, but it's really sort of confusing to know where to start or who to listen to. Would really be nice if there was a central location for Microsoft and Developers could help beginners on how to get started and advice along the way as well.

Can MSFT just pay that stupid German grocery store so we can start calling Metro Metro again.

Too bad there isn't a download available
Windows Central Newsletter
Get the best of Windows Central in in your inbox, every day!
Thank you for signing up to Windows Central. You will receive a verification email shortly.
There was a problem. Please refresh the page and try again.