Get a first look at Halo: Spartan Assault for Windows Phone 8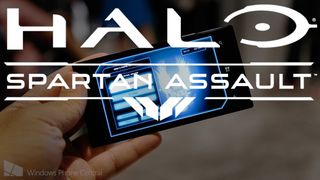 The Windows Phone Central crew is down here at E3 to bring you the latest in gaming. While E3 isn't heavily focused on mobile gaming, there are some treats to be found on the showroom floor if you're wanting to get your game on with Windows Phone. One game that is highly anticipated in the community is Halo: Spartan Assault. It's a twin-stick, top-down shooter for both Windows Phone 8 and Windows 8. Videos after the break.
Windows Phone 8
Most of your mobile gaming probably takes place on your smartphone. They're easier and more convenient to lug around than even a tablet. So how's Spartan Assault on them? Not bad at all. Screen real estate is obviously a luxury on smartphones, even among devices in the 4.5 inch range like the Lumia 928. But Spartan Assault worked well in the few minutes we played with the device in the Xbox press lounge. The current build of the game had only one level on the device but was still able to give us an example of the overall experience you'll be getting sometime in July. We even managed to snag some screenshots of the game for anybody at work without access to YouTube.
Main menu and mission brief (click to enlarge)
Halo: Spartan Assault gameplay and post game awards (click to enlarge)
Windows 8
Windows 8 is where I think Spartan Assault will really shine. The larger screen real estate works out to more rooms for controls and you aren't blocking the action with your fatty mcfatfat thumbs. Just by luck when we were playing with the Windows 8 version Graeme Jennings sat at the chair next to us to rest up before he hit the showroom floor. You'll remember him as the senior producer at 343 Industries that we interviewed a few weeks back in Santa Monica. He shared some interesting insight into the game and how it will run on Windows 8 vs. Windows RT. Right now on the Surface Pro you'll get 60 frames-per-second when playing Spartan Assault. Obviously the weaker performing Surface RT won't be getting rates that high, but still gets a respectable 30 frames-per-second.
Long gaming periods probably won't be a blast on a device as heavy as the Surface Pro (Bro, do you even lift?). But with the future of Windows 8.1 bringing better support for tablets in the 7-8 inch range I think we'll have a winning combo with those devices and Halo: Spartan Assault.
What do you guys think of the game so far? Buying it for just Windows 8 or Windows Phone 8? Or are you going to be like me and get both on day 1. Halo: Spartan Assault is coming to Windows Phone 8 and Windows 8 sometime in July for the price of $6.99 each.
P.S. Don't' forget to grab these Spartan Assault wallpapers.
Get the Windows Central Newsletter
All the latest news, reviews, and guides for Windows and Xbox diehards.