Get ready to "Spin That Wheel!" with Wheel of Fortune for Windows 8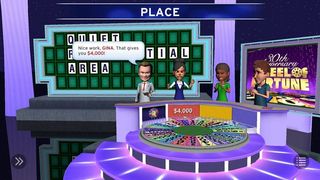 The hit game show, Wheel of Fortune, is now available as a downloadable game for Windows 8 PCs and Tablets. The game includes over 1,000 different puzzles that you can tackle alone or with friends in multiplayer mode. Pat Sajak will be your host as you rack up the dollars and fight for first place.
The game also includes a "split-screen mode", so you can play locally with your friend, but it is only available on select machines including the Dell XPS 18, Sony Tap 20, Sony Tap 21, HP Rove, Lenovo Horizon, and Acer Rio. We are unsure if select machines have actually been handpicked, or if only machines with larger size screens can support the game (let us know).
The game currently costs $2.99 on the Windows Store and is available now - click here to download (opens in new tab).
Will you be testing your Wheel of Fortune skills with this latest game?
Source: Microsoft (opens in new tab)
Windows Central Newsletter
Get the best of Windows Central in in your inbox, every day!
Hopefully it'll be available for WP8 in due time. The graphics are awesome.

Awesome! Not for me, but something that will definatly help out our marketplace :)

Same. I would like to see Jeopardy.

Im not falling for this again. I purchased this for Windows Phone 8 and then they came out with an update that removed half the game and half the features. Stick it Sony...some of your consumers have a memory.

The Windows Phone version is not the same game.

Its a fun game. Been playing it since Saturday. It hits bankrupt way to often though. I hit it 3 times in a row. Guess I should add I've been playing it on my Dell Venue pro 8.

The split-screen pass and play definitely seems to be based on size and resolution.. It doesn't work on my Surface Pro's built-in display, but it works on a 27" 1440p external display. What's really dumb to me is that it doesn't have notifications when it's your turn on the online mode... or at least if there is, I haven't seen one yet.

This game is also available for WRT.

graphics are nice, even if they are a little on the bland side.

WP version: http://www.windowsphone.com/s?appid=bf5fc803-9229-4af7-aee8-af545427ff4d

No trial? That's bloody lame, mate.

The WP8 version is not the same at all. It's based on the old iOS version with bland 2D graphics and static characters.

Anyone know why this app is no longer available? I installed it on 2 or 3 machines last week, but when I went to install it on one today, it's not available. If I type in the name in the search it shows up, but when I click on that result, it says that it's not available for my PC - even on a machine that already has it!

So, I paid to download the game from the Windows store on my HP (running Windows 8), but I cannot figure out how to make it spin. Does anybody out there know the trick?
Windows Central Newsletter
Thank you for signing up to Windows Central. You will receive a verification email shortly.
There was a problem. Please refresh the page and try again.